CRPF jawan feared taken hostage by Maoists
The abducted constable, Rakeshwar Singh Manhas, is a resident of Jammu and Kashmir and a member of the elite Cobra commando unit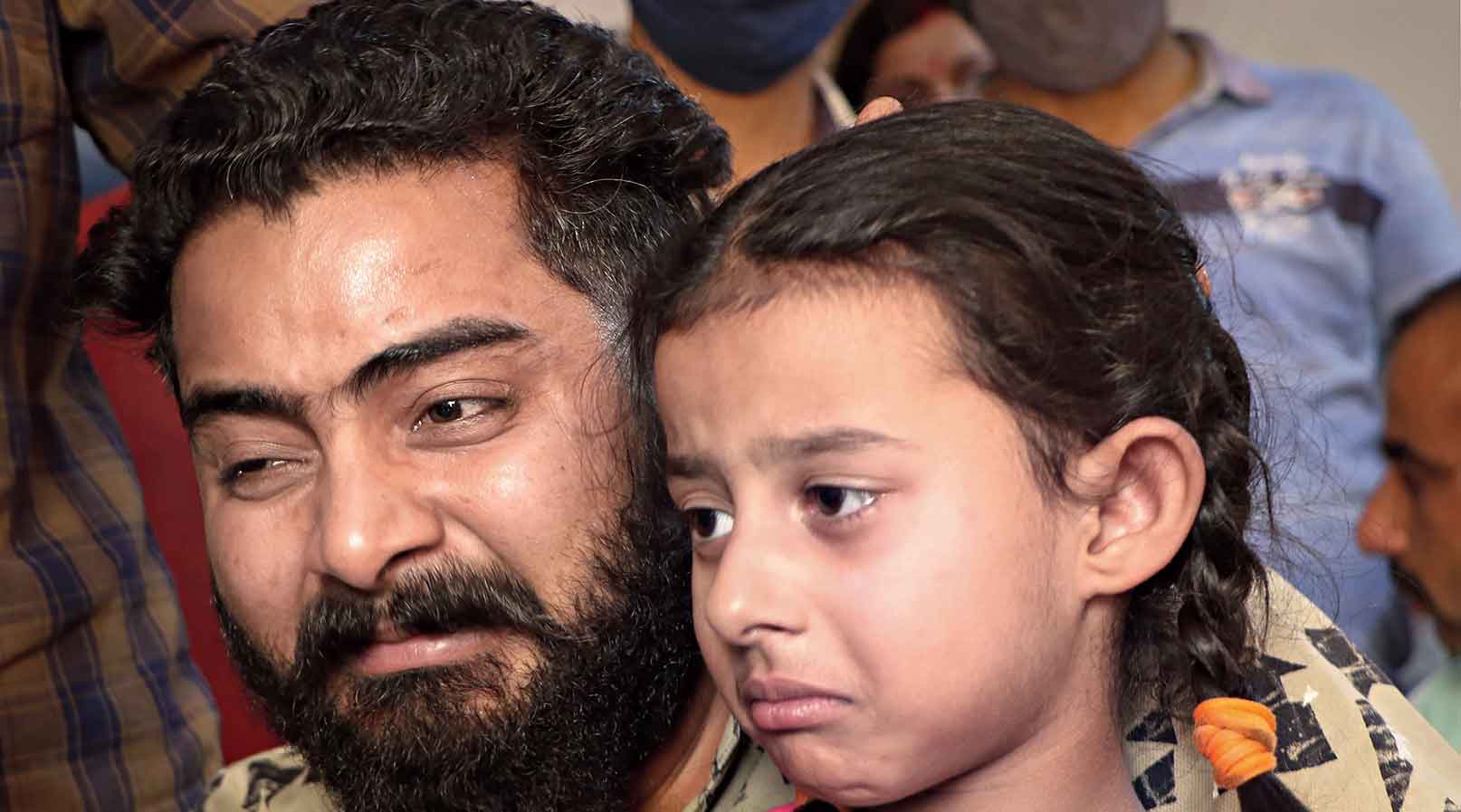 ---
---
The CRPF jawan missing since Saturday's Maoist ambush in Chhattisgarh that killed 22 security personnel has been taken hostage by the insurgents, sources in the security establishment have told The Telegraph.
The abducted constable, Rakeshwar Singh Manhas, is a resident of Jammu and Kashmir and a member of the CRPF's elite Cobra commando unit.
"We got a message from the Maoist leadership that he is in their custody. Talks are on with them to ensure his safe release. The Maoist leadership has assured us that no harm will come to him," a security official attached to the Union home ministry said.
He declined to reveal whether the Maoists had put up any demands in exchange for the constable's release.
A joint team from various police and CRPF units had apparently walked into a trap during an anti-Maoist combing operation on the Sukma-Bijapur border. The four-hour gun battle that followed killed 22 personnel and injured 31 while one jawan was declared missing.
Security officials have alleged an intelligence failure and poor leadership by the CRPF commanders but CRPF director-general Kuldiep Singh has denied any lapses.
Sources in the security establishment suspect the Maoists planned the ambush meticulously with the intention of drawing the forces in and then inflicting the maximum possible casualties.
"Reports from the ground suggest that the Maoists used light machine guns, under-barrel grenade launchers and desi (indigenous) rockets," a security official said.
A CRPF officer posted in Chhattisgarh said: "The Maoists were conducting a 'tactical counter-offensive campaign' and were present in numbers giving arms training to their cadres inside the jungle. Their aim was to cause the maximum damage to the security forces."
Union home minister Amit Shah travelled to Chhattisgarh on Monday and chaired a high-level meeting at the Police Coordination Centre in Raipur. Chief minister Bhupesh Baghel and senior officers of the state police and the CRPF attended the meeting.
Congress leader Rahul Gandhi on Monday criticised a statement issued by the CRPF chief that denied any intelligence failure and claimed that around 30 Maoists had been killed.
Rahul alleged that the anti-Maoist operation was "incompetently" executed and "poorly designed". The body of one Maoist, a woman, has so far been recovered. The rebels are known to carry off their dead and injured.
"If there was no intelligence failure, then a 1:1 death ratio means it was a poorly designed and incompetently executed operation. Our jawans are not cannon fodder to be martyred at will," Rahul tweeted.
"No Indian jawan should face an enemy without body armour in the 21st century. It needs to be made available to every soldier."
Of those who died on Saturday, eight were from the CRPF — seven Cobra commandos and a jawan from the Bastariya battalion — eight from the District Reserve Guard and six from the state police's special task force.