Covid vaccine Day 1: 43% missed
More than 191,000 healthcare workers from government and private hospitals received the jabs at 3,352 vaccination sites across the country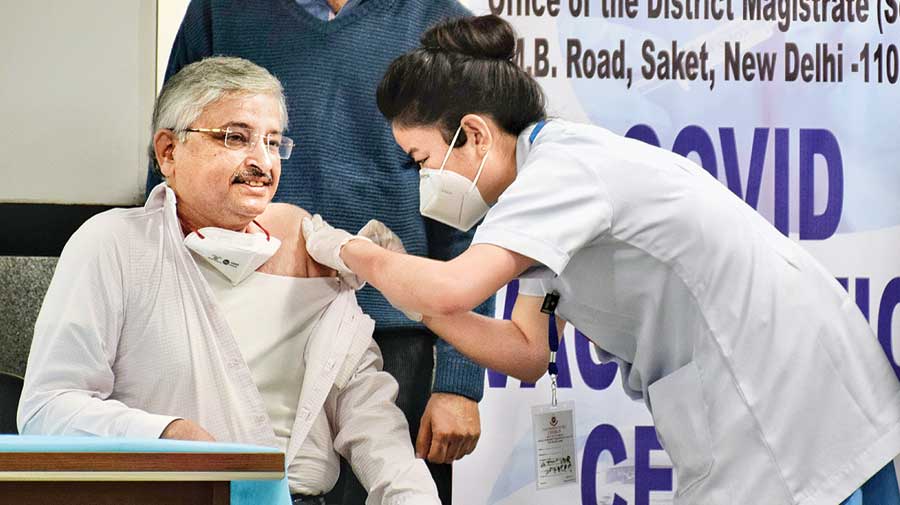 AIIMS director Dr Randeep Guleria receives the vaccine in New Delhi on Saturday.
Prem Singh
---
New Delhi
|
Published 17.01.21, 01:35 AM
|
---
India launched its nationwide Covid-19 vaccination campaign on Saturday with the number of those vaccinated falling short of the day's target by 43 per cent, which health officials and doctors attributed to opening-day delays, technology glitches and some vaccine hesitancy.
More than 191,000 healthcare workers from government and private hospitals received the jabs at 3,352 vaccination sites across the country after Prime Minister Narendra Modi launched the campaign via a video address on Saturday morning.
Medical experts expect the vaccination campaign to accelerate the population's move towards herd immunity — a threshold at which so many people are protected either through vaccines or through natural infections that the epidemic vanishes.
The campaign's first round seeks to immunise around 10 million healthcare workers and 20 million frontline workers. It will be followed by a second round to immunise 270 million people, either aged above 50 or afflicted with chronic health disorders.
Under guidelines issued by the Union health ministry, each site was to aim at vaccinating 100 people each day.
The 191,181 beneficiaries reported by the ministry on Saturday evening made up about 57 per cent of the target of about 335,000.
A health official said one of the "issues" that contributed to the shortfall was delays in uploading the list of beneficiaries on the digital platform deployed to manage the vaccination campaign at some sites.
The official said no vaccination site had till 5pm reported any adverse effect that required hospitalisation. However, a PTI report at night said a nurse in Calcutta had been hospitalised after she fell unconscious following vaccination.
The digital platform, which is also designed to record adverse effects following immunisation (AEFI), recorded 51 minor AEFIs and one serious AEFI in Delhi.
The campaign is using two vaccines — the AstraZeneca-Oxford vaccine, produced in India by the Serum Institute of India and called Covishield, and the home-grown Covaxin from Bharat Biotech, granted accelerated approval by India's drug regulatory authority.
Both vaccines have been shown to be safe and capable of generating an immune response. But while Covishield has demonstrated its efficacy in trials in the UK and Brazil, Covaxin is yet to prove its efficacy through trials currently under way in 12 Indian cities.
The health ministry said all states and Union Territories had received Covishield consignments while Covaxin had been sent to 11 states — Assam, Bihar, Delhi, Haryana, Karnataka, Maharashtra, Odisha, Rajasthan, Tamil Nadu, Telangana and Uttar Pradesh.
Doctors in some government hospitals said some of their peers had declined the jabs saying they preferred Covishield and would accept Covaxin only after its efficacy had been proven.
The Resident Doctors Association at the Ram Manohar Lohia Hospital in New Delhi issued an appeal to the hospital administration saying its members would prefer Covishield. The RML Hospital was one of six government hospitals in the capital that had received Covaxin vials. Seventy-five other hospitals in the city, including all the 42 private institutions, received Covishield.
"Some of my colleagues on the list stayed away — at least today," said a doctor at the All India Institute of Medical Sciences, New Delhi. "After that, other healthcare workers who were not on the original list for today were vaccinated."
This caused some delay. Although, 8,117 healthcare workers were to receive the vaccines in Delhi, the number vaccinated till 5pm was 4,319.
Health officials and doctors expect the pace of vaccination to pick up in the coming days.
"The initial hesitancy we saw today could wane in the coming days as more people get vaccinated," the AIIMS doctor said.
Sanjay Rai, a community medicine professor at AIIMS, said he believed Covaxin was the safest among the vaccines approved. "It has an inactivated (killed) virus, there is no issue about safety at all," he said.
Rai said as more people get vaccinated, India would move closer towards herd immunity, a threshold at which 60 to 70 per cent of people are protected either through natural infections or vaccines.
Over 10 million people across India have already been infected and recovered from Covid-19, but earlier surveys of infection prevalence suggest that the actual number of infected people is many times higher.
The Centre has ordered 11 million doses of Covishield and 5.5 million doses of Covaxin to start the campaign. India will require around 600 million doses to immunise the four priority groups identified for the campaign.