Covid tests: Dismal average seven-day daily count
Marginally increases by about 20,000 despite Centre's strict directives to states to enhance surveillance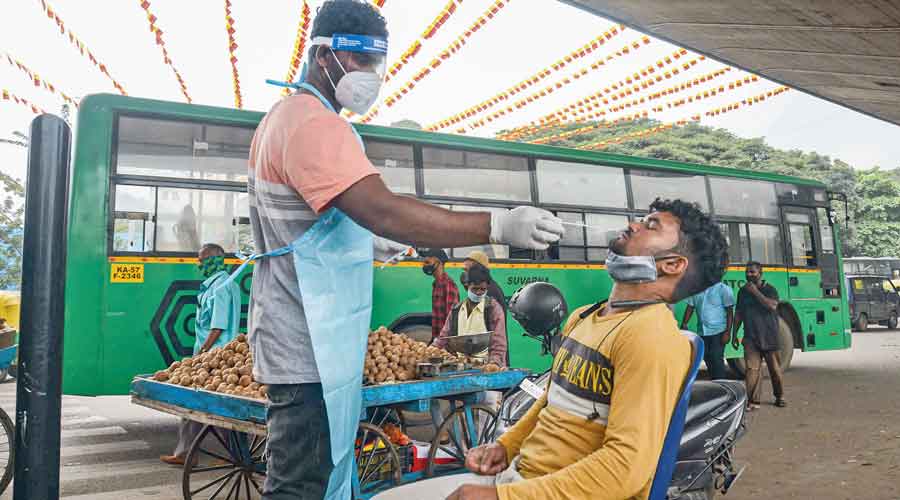 A man being tested for Covid
File Picture
---
New Delhi
|
Published 16.12.21, 02:40 AM
|
---
The nationwide seven-day average count of daily Covid-19 tests has increased only marginally by about 20,000 despite the Union health ministry's directives to the states to enhance surveillance and testing amid rising omicron cases in the country and fears of fresh surges.
On Wednesday, Bengal recorded its first omicron patient. (See Metro)
India conducted an average 1.15 million Covid-19 tests daily during the week that ended on December 14 compared with 1.13 million during the preceding week, according to ICMR figures. 
Both numbers are lower than India's average 1.5 million daily tests during the second half of September when the country reported 30,000 daily cases compared with less than 10,000 daily infections over the past two weeks.
A fall in new infections is likely to translate into fewer tests because the numbers of contacts and secondary infections to be tested also fall. But health experts are concerned that without much higher levels of testing, districts or states will miss recognising the start of surges.
"If you wait to act till you see growth, it is already too late," said Bhramar Mukherjee, professor of epidemiology at the University of Michigan in the US.
"India needs to increase testing, identify its proportion of omicron, and determine how quickly omicron might replace the delta variant."
India's count of omicron cases rose beyond 60 on Wednesday and included Bengal's first case — a seven-year-old boy in Murshidabad with a travel history from Abu Dhabi and Hyderabad. Surveillance efforts had until last week not detected any omicron-driven clusters of infections in India.
While some health officials have argued that the available early evidence indicates that omicron causes mild disease and underlined that large proportions of India's population are protected by either prior Covid-19 infections or vaccines, other experts say this is no time for such assurances.
"We should increase tests and be testing people with any symptoms," said Giridhar Babu, an epidemiologist at the Indian Institute of Public Health, Bangalore.
Amid evidence that omicron increases the risk of re-infections in prior Covid-19 patients and infections in vaccinated people, Mukherjee said, India's large population only implies that it would have larger pools of people susceptible to omicron.
The Centre has over the past three weeks asked the states several times to enhance surveillance and testing, investigate all clusters of cases, and augment their health infrastructure including critical care beds, oxygen supplies and ventilators in preparation for surges.
The health ministry on Wednesday asked all the states to conduct mock drills this month to ensure that the more than 3,200 pressure swing absorption (PSA) oxygen-generating plants located on hospital premises were in "fully operational status".
The ministry said 3,246 PSA plants had been installed and 114,000 oxygen concentrators were being provided to the states. The Centre has sanctioned funds for 958 liquid medical oxygen storage tanks and medical gas pipelines at 1,374 hospitals.
At a meeting called with state officials to review oxygen preparedness, health secretary Rajesh Bhushan urged the states to ensure that the gap between the equipment and systems delivered to the districts and those that got actually installed in hospitals was reduced to zero.
While equipment and systems have been sanctioned and delivered, these have in many states not been sent to district healthcare facilities or not made functional, the secretary said.
The states have been asked to complete, by the end of December, mock oxygen drills designed to ensure that oxygen with the required quantity, pressure and purity reaches patients' bedsides.