Scientists suggest full vaccination for travel and social gatherings
Recommendation aims to reduce the risk of fresh localised Covid-19 surges amid growing tourism and the upcoming festive season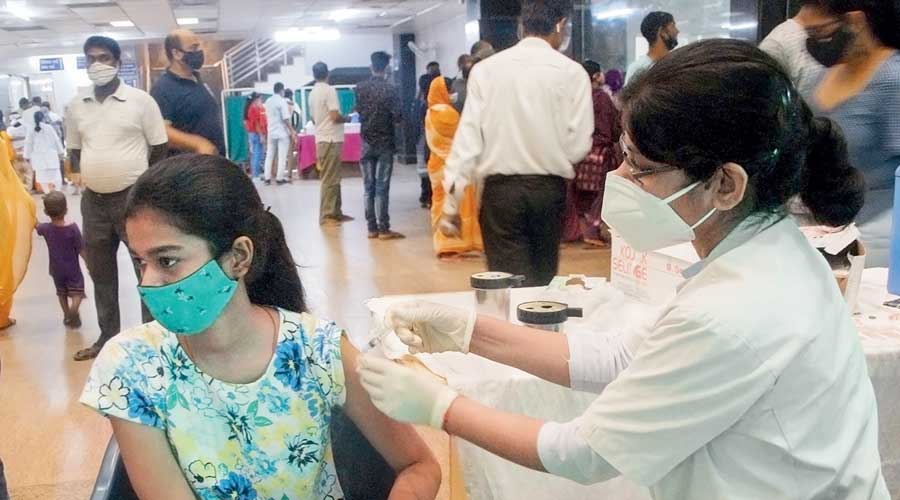 ---
New Delhi
|
Published 22.09.21, 01:22 AM
|
---
Scientists with India's health research agency have proposed that states adopt full vaccination among prerequisites for tourist travel and social gatherings to reduce the risk of fresh localised Covid-19 surges amid growing travel and the upcoming festive season. 
The prerequisites are primarily intended for holiday travel and tourist sites awaiting guests but are also relevant to cultural, religious, or social gatherings that might cause large increases in the population density, the researchers with the Indian Council of Medical Research (ICMR) said.
The ICMR researchers have said states may consider seeking proof of completed vaccination status or a Covid-19 negative test result from people seeking to stay at hotels within the state.
Local health authorities would need to maintain high levels of infection surveillance through vigilance and testing at tourist sites or other places of congregation even in periods of low infection activity, the researchers said.
"The possibility of a severe third wave in India (is) still looming, it remains critical to recognise and mitigate the risks involved," the researchers said in a report. An increase in population density due to tourists or mass congregations due to social, political or religious reasons "can worsen the third wave scenario".
An earlier ICMR study based on computer simulations of likely surges had suggested that a third wave — if at all one occurs — was likely to be less severe than the second wave that rose to a peak of around 400,000 daily infections.
The latest simulations have, however, also suggested that the peak of a possible third wave at a typical tourist site that experiences a 40 per cent increase in its population density would increase by up to 47 per cent.
India on Tuesday recorded 26,115 new Covid-19 infections, the lowest daily count in 184 days, but 32 districts across the country, including 13 in Kerala,  have test positivity rates of 10 per cent or higher, implying large epidemics.
An additional 25 districts across the country, including Calcutta, have test positivity rates between 5 and 10 per cent. Health officials view an epidemic under relative control when test positivity rates are below 5 per cent.
Health experts say India's epidemic, while near-continuously shrinking since early May, retains the potential to trigger localised surges wherever large proportions of the population are susceptible and wherever the virus can spread.
"The greater the population density, the more conducive the environment for the virus to spread — and population density can rise significantly both at tourist sites and sites of large congregations," said Samiran Panda, the chief of epidemiology at the ICMR and a member of the simulations team.
The ICMR researchers have said the national government cannot always issue mandates at a federal level and states may adopt guidelines according to their own circumstances and needs.
However, hospitality industry executives have said the Covid-19 pandemic has hit the tourism sector so hard that hotels are unlikely to turn away unvaccinated or partially vaccinated guests.
An executive with the Federation of Hotel & Restaurant Associations of India had told this newspaper last week that most hotels and restaurants would be hesitant to decline services to potential guests who are unvaccinated.