Centre cites rising domestic production
India to resume exports of Covid-19 vaccines from next quarter
The country has been able to fully vaccinate only 34 per cent of its people aged 45-59 and only 38 per cent of those aged 60 or older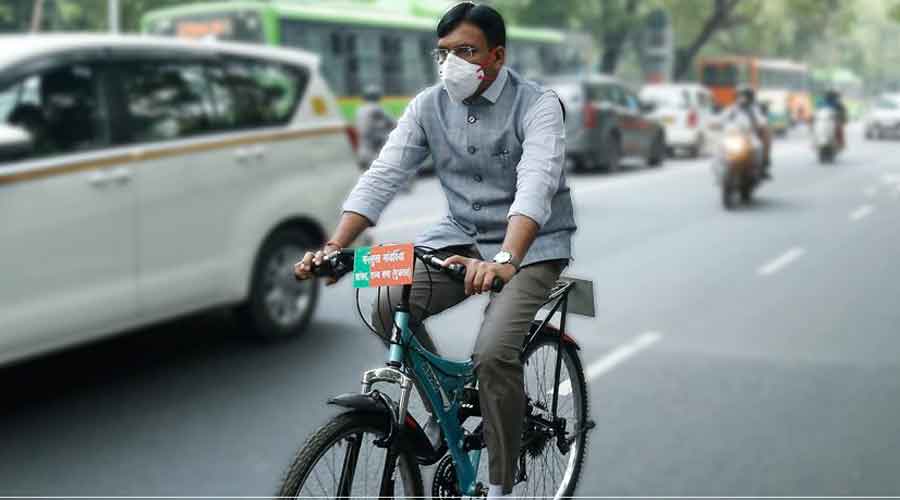 ---
New Delhi
|
Published 21.09.21, 01:34 AM
|
---
India on Monday signalled plans to resume exports of Covid-19 vaccines, citing rising domestic production, although it has fully vaccinated less than half its population of those aged 45 or older and considered most vulnerable to severe disease.
Union health minister Mansukh Mandaviya announced that India would in the fourth quarter of this year start providing Covid-19 vaccines to the world and to Covax, an international initiative to deliver vaccines to the poorest countries.
The minister did not specify if he meant the calendar year or the financial year but officials later clarified that the exports would resume from the October-December quarter.
"Our vaccination pace is increasing, vaccine production is rising…. Taking this into consideration and after meeting our requirements, we will proceed with vaccine maitri (friendship)," Mandaviya said.
"In the coming fourth quarter, we will help the world and meet our responsibility towards Covax."
Health rights advocates concerned about the skewed distribution worldwide hailed the announcement. But sections of public health experts said India should ideally resume its exports only after all adults in the country have received at least one dose.
"We're happy to hear India will resume exports — without India's help, Africa will not be able to beat Covid-19," said Leena Menghaney, a lawyer campaigning for equitable access to drugs and vaccines. "In many African countries, just 3 to 10 per cent people have received doses."
Mandaviya said India had had access to around 260 million doses of domestically produced Covid-19 vaccines during September and expected over 300 million doses during October. He said the rising production had helped India increase the campaign's pace steadily.
Some experts, however, are concerned about the timing of the proposed exports because under its limited supplies, India has been able to fully vaccinate only 34 per cent of its people aged 45-59 and only 38 per cent of those aged 60 or older.
Vaccination data from the Union health ministry up to Monday also suggests that while India has administered over 808 million doses, only about 151 million (73 per cent) of the estimated 207 million people aged 45-59 have received at least one dose.
In people aged 60 or older, around 97 million (69 per cent) have received at least one dose.
"We must ensure at least a single dose reaches all adults before we start exporting," Rijo John, a health economist and adjunct professor at the Rajagiri College of Social Sciences, Kochi, tweeted.
"If we maintain the current 7-day average speed, it'll be 60 days more before all adults are covered with at least a single dose and which takes us to the second half of November."
Large vaccine producers such as India and the US are under pressure to export to African and other poor countries.
But lack of planning and advance investments by the Indian government has meant India has had limited supplies of vaccines in relation to its population in contrast to other countries. In the US, more than 64 per cent of people aged 40-49, 72 per cent aged 50-64, and over 80 per cent aged 65 or older have been fully vaccinated.
Under the vaccine maitri initiative, India had supplied around 66 million doses of Covid-19 vaccines to 95 countries between January and April this year before the Centre announced a ban on exports amid concerns that limited supplies would slow down India's domestic vaccination campaign.
Those exports — commercial or routed through Covax — included 10 million doses to Bangladesh, 550,000 to Bhutan, 1.2 million to Sri Lanka, 7 million to Morocco, 4 million each to Brazil and Nigeria, and 828,000 to Sudan. Covishield, the AstraZeneca vaccine made in India, made up most of the exports.