Covid: Lockdown turns Odisha bus owner into vegetable seller
Panchanan Sahu cites need to pay insurance premium and permit fee — both of them hiked during the pandemic — and road tax for his fleet of five mini buses as reason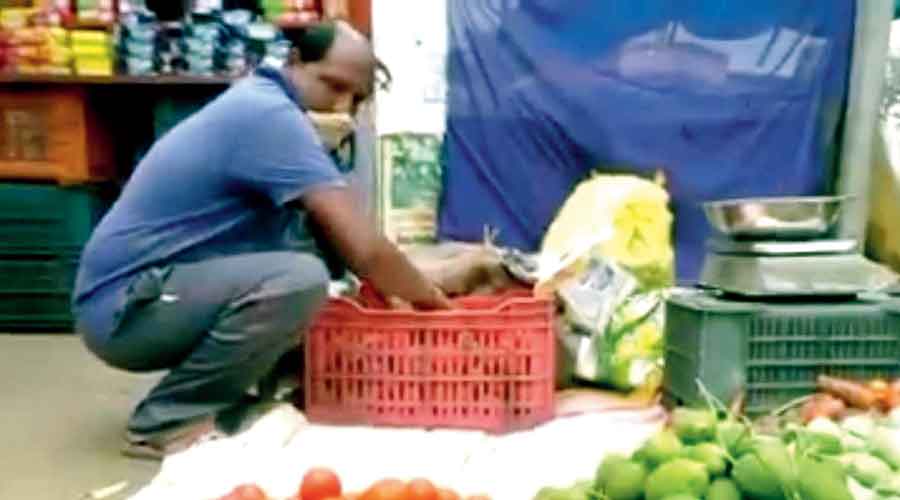 ---
Bhubaneswar
|
Published 28.06.21, 02:54 AM
|
---
Panchanan Sahu, a 42-year-old bus owner from Kandhamal with a fleet of five minibuses, now sells vegetables with the pandemic having frozen the transport business.
Sahu said one of his problems was that while his income from his buses had plummeted to zero, he still had to pay the insurance premium and permit fee — both of them hiked during the pandemic — and road tax.
"Most of my 20 employees have left, their dues unpaid. Only five have stayed on, selling vegetables with me and looking after the buses, which are in poor condition," Sahu told The Telegraph.
"Whatever the earning from selling vegetables, I share with them."
Sahu, whose buses plied within Kandhamal district, said he had started his transport business with loans in 2004.
"Within 15 years, I had bought five buses for myself and two for my brother. But things began getting complicated with the hike in insurance premium and the prices of fuel, tyres and other bus parts," he said.
"Still I managed to remain afloat. But the pandemic has spelt doom for the transport business."
Sahu fears that even if the government lifts the lockdown on July 1, as expected, he might not be able to run his buses.
"None of the buses are in fit condition. Their tyres, batteries and engines are damaged from prolonged non-use. It will take Rs 40,000 to Rs 50,000 to get even one bus roadworthy," he said.
"I have survived the past one year selling vegetables. Now I shall have to take a loan to have the buses repaired."
During the last 15 months, Sahu's buses have run only from October 2020 to April 2021, that too at half capacity.
Another bus owner from Kandhamal, Tulu Patnaik, 56, said: "Panchanan Babu is young and started his career as a support staff member in a bus. He may be selling vegetables for a living but that's not possible for everyone. I, at least, cannot do it. Age is a factor."
Patnaik too complained that apart from the lockdown, the high insurance premiums and permit fees and the rising fuel prices have "made life miserable for a bus owner".
Debasis Nayak, a senior member of the All Odisha Bus Owners' Association, said: "Bus owners have begun evading their own staff because they can't pay salaries. Many bus owners have failed to pay their EMIs for their new buses, which come to at least Rs 30,000 a month. Sometimes it crosses Rs 1 lakh."
Nayak, whose transport business is based in Bhubaneswar, added: "Besides, the road tax varies between Rs 10,000 and Rs 20,000 depending on the nature of the bus. Insurance money is another headache for a bus owner. You can't imagine how the bus owners, especially those from lower-middle-class backgrounds, have survived in these times."
The government should give Odisha's nearly 14,000 bus owners "a consolidated amount of Rs 1 lakh as interest-free loan which can be repaid in a year", said the general secretary of the association, Debendra Kumar Sahoo, a bus owner from Cuttack.
Sahoo said the government should also exempt bus owners from paying road taxes at least for the period between July and September this year.
Prodded by the association, the Odisha government has written to the Centre asking that bus owners' EMIs on bank loans be deferred by a year.
Transport minister Padmanabha Behera said the state had also sought an interest waiver on bus owners' bank loans for the period between April and June this year.
"We have further requested that their insurance coverage be extended without the payment of any extra premium," Behera said.