Covid delay in polls allows Reshma to throw hat in the ring
Twenty-one just in time to fight election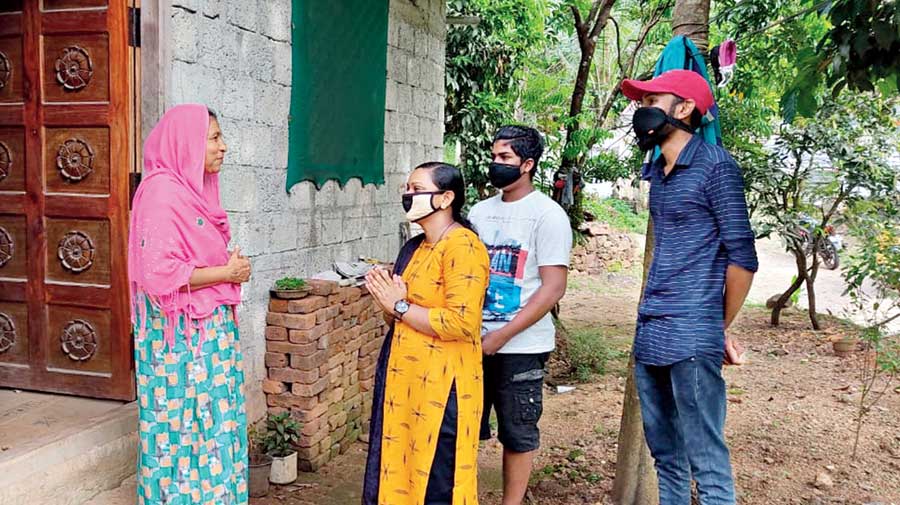 Reshma during a house call as part of her campaign for the local body polls
Telegraph picture
---
Bangalore
|
Published 26.11.20, 02:19 AM
|
---
If you are looking for some positive news amid the gloom and doom of the pandemic, look no further than Reshma Mariam Roy.
Reshma, Kerala's youngest local body election candidate who attained the cut-off age of 21 on November 18, would not have been able to contest the election had voting not been deferred from October to December in view of the Covid-19 outbreak.
Reshma, contesting for a village panchayat ward in Pathanamthitta district, filed her nomination on November 19, a day after turning 21.
"It was sheer luck that the elections were postponed due to Covid. Otherwise I wouldn't have been able to contest although my party (CPM) had suggested my name," Left Democratic Front (LDF) candidate Reshma told The Telegraph.
"I could have filed my nominations on the day I turned 21. But I didn't want any controversy. So I waited for one more day," she added.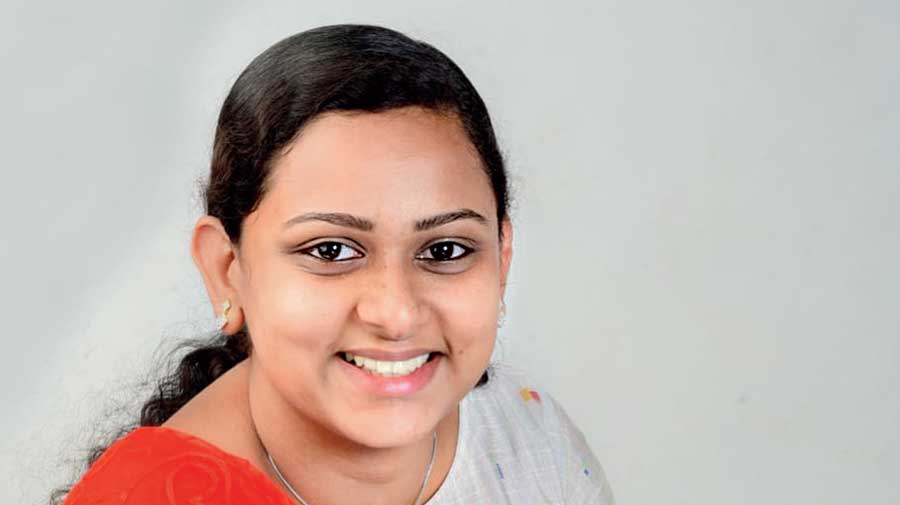 A typical campus-to-campaign story, Reshma completed her Bachelor of Business Administration (BBA) course only this year from VNS College in Konni, Pathanamthitta. She is contesting from her home ward — No. 11 of the Aruvappulam village panchayat.
The local body polls in Kerala will be held on December 8, 10 and 14 with southern districts such as Pathanamthitta going to polls on the first day.
Reshma had been actively involved in campus politics as a member of the Students Federation of India (SFI) and had been elected the lady representative in the college union.
She is now a district secretariat member of the SFI and a district committee member of the Democratic Youth Federation of India (DYFI), the youth wing of the CPM.
"Campus politics has been a major factor in my fledgling political career since I learnt a lot by attending to problems faced by students. I am sure this experience can be put to good use as a panchayat member," Reshma said.
Her main objective is to wrest the seat from the United Democratic Front, which has been continuously winning in the last several elections, and take control of the panchayat that the LDF lost to the UDF by a margin of one seat in 2015.
Reshma is the first CPM member in her family of traditional Congress supporters. But her family's political leaning was never a deterrent for her ambitions.
"I have the full support of my family. My elder brother even joins me in the campaign," she said.
While the pandemic has wreaked havoc across the world and in her own state, it provided Reshma a platform to work for the people.
She was involved in the "Helping Hand" programme of local CPM MLA K.U. Jenish Kumar after the early outbreak in Pathanamthitta, one of the first Covid hotspots in Kerala.
"We ran errands for local people who were scared of stepping out of their homes. We took them to hospital and even sanitised houses of Covid patients. I headed the programme in a large area comprising my village panchayat constituency," Reshma said.
The DYFI's "Recycle Kerala" campaign was another recent project she was part of. Reshma and her comrades raised Rs 1.15 lakh from her neighbourhood by collecting recyclable waste and selling handloom products.
The DYFI had raised Rs 10.95 crore, much of it from collecting and selling 3,281 tonnes of recyclable waste, for the chief minister's disaster relief fund.
Reshma spoke with clarity on the importance of youth and their role in active politics. "People want youngsters to be part of politics. That's why I feel I have a good chance of winning," she said.
While her Congress rival, Sujatha Mohan, is above 50, the BJP doesn't have a significant presence in the area.