Covid booster jabs for adults at private centres from April 10: Govt
The Union health ministry said all who are above 18 years of age and have completed nine months after their second dose would be eligible for the shots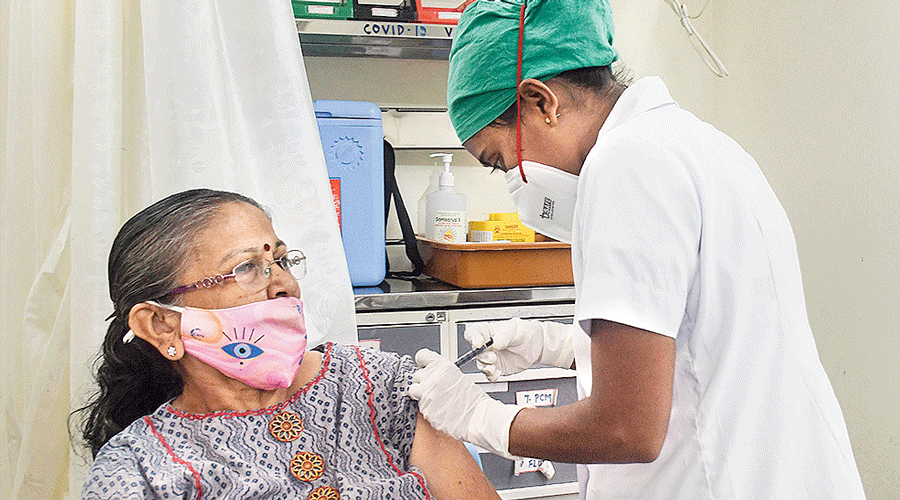 A medic administers a Covid-19 vaccine in Mumbai on Wednesday.
PTI Photo
---
New Delhi
|
Published 09.04.22, 01:30 AM
|
---
Anyone above 18 years may seek a Covid-19 vaccine booster on payment at private inoculation centres from April 10, the Centre said on Friday, announcing plans to expand its precaution dose already available to high-risk-category people.
The Union health ministry said all who are above 18 years of age and have completed nine months after their second dose would be eligible for the booster. More than 82 per cent of India's estimated 940 million adults have already received two doses and are or will be eligible for the booster dose.
The decision to expand precaution doses to all adults appears primarily intended to make available boosters to immunocompromised people and to enable people to travel to countries that require incoming passengers to have taken three doses of Covid-19 vaccines, jab experts said.
The Centre had introduced booster doses for healthcare and frontline workers and people aged 60 years and above in January this year in government and private centres.
The health ministry said it would soon issue guidelines for the expanded booster campaign. Under current guidelines, vaccine recipients get the same booster as the primary vaccine series — in other words, Covaxin recipients would get Covaxin, and Covishield recipients would get Covishield.
Covishield from the Serum Institute has been available to private hospitals at Rs 600 per dose, Covaxin from Bharat Biotech at Rs 1,200 per dose. But private vaccination centres are permitted to charge a small amount as administration fees.
The health ministry also said free vaccines would continue to be available at government immunisation centres for the first and second doses to the eligible population and the precaution doses for healthcare workers, frontline workers and those aged 60 years or older.
Two top vaccination advisers to the Centre did not respond to queries from this newspaper asking why the expanded booster campaign is confined to private vaccination centres.
Health experts said that while boosters are expected to enhance antibody levels in recipients, there is no evidence to support their introduction as a public health measure for the country's general population.
Multiple countries — Australia, China, Japan, the UK and the US among others — have introduced boosters for adults. But experts say India's unusually large proportion of people already infected with Covid-19 and its high vaccination coverage put a question mark on the public health gains of boosters.
"The decision to expand the precaution dose to all adults will benefit immunocompromised people and those who need to travel to countries that ask for boosters," said Gagandeep Kang, professor of microbiology at the Christian Medical College, Vellore.
Austria, France, Iceland, Israel, the Netherlands, Spain and Switzerland are among countries that require incoming travellers to have taken boosters.
Kang and other medical experts have long argued that immunocompromised people — patients with cancer, or those who are on long-term steroid treatment for any of a range of health disorders or those with immune system disorders — should have received boosters even before or alongside healthcare and frontline workers and people older than 60.
Health officials have asserted that India's vaccination campaign has helped avert severe Covid-19 and deaths, blunting the impact of the country's third wave driven by the highly transmissible omicron variant.