Coronavirus updates: Record 6,977 new cases in India in last 24 hours, tally now 1,38,845
Death toll climbs to 4,021; PPEs, masks procurement ramped up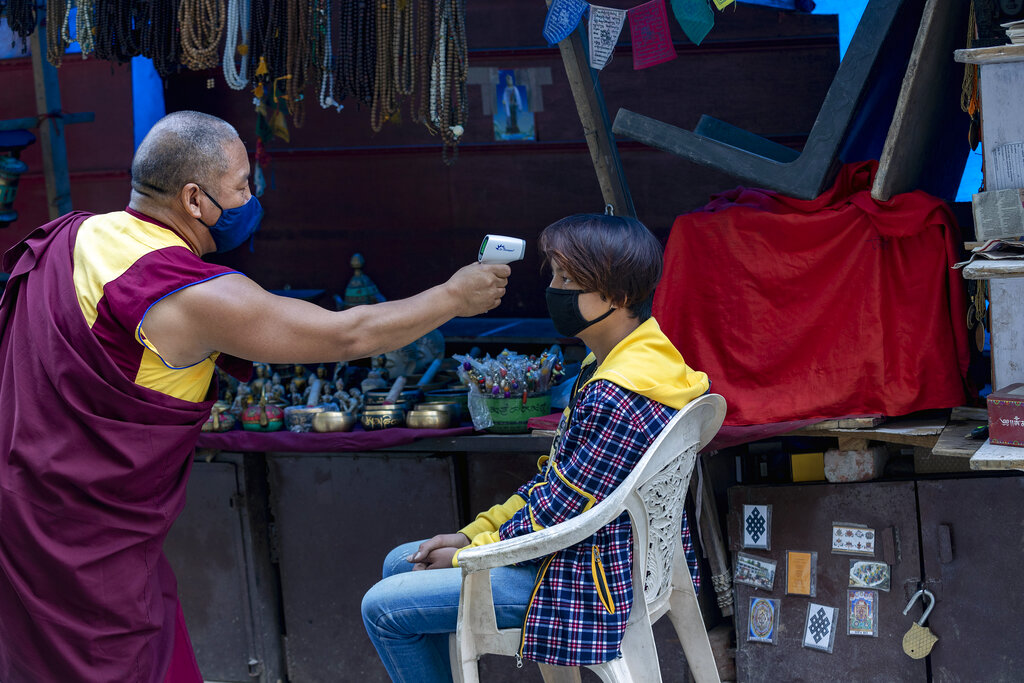 ---
New Delhi
|
Published 25.05.20, 05:23 AM
|
---
India registered biggest single day spike of Covid-19 cases for the fourth consecutive day on Monday with 6,977 new infections, reported in the last 24 hours, taking the country's tally to 1,38,845, while the death toll rose to 4,021, according to the Union Health Ministry.
A total 154 deaths were reported in the last 24 hours till Monday 8 am.
The number of active Covid-19 cases climbed to 77,103 while 57,720 people have recovered and one patient has migrated, the ministry said.
'Thus, around 41.57 per cent patients have recovered so far,' a senior health ministry official said. The total confirmed cases includes foreigners.
Of the 154 deaths reported since Sunday morning, 58 were from Maharashtra, 30 from Delhi, 29 from Gujarat, nine in Madhya Pradesh, eight from Tamil Nadu, six from Uttar Pradesh, four from Telangana, three each from Rajasthan and West Bengal, two from Bihar and one each from Punjab and Uttarakhand.
Of the total 4,021 fatalities, Maharashtra tops tally with 1,635 deaths followed by Gujarat at 858 deaths, Madhya Pradesh at 290, West Bengal at 272, Delhi at 261, Rajasthan at 163, Uttar Pradesh at 161,Tamil Nadu at 111 and Andhra Pradesh at 56.
The death toll reached 53 in Telangana, 42 in Karnataka and 40 in Punjab.
Jammu and Kashmir has reported 21 fatalities due to the disease, Haryana has 16 deaths while Bihar has registered 13 and Odisha has seven deaths.
Kerala, Jharkhand and Assam have reported four deaths each so far.
Chandigarh, Uttarakhand and Himachal Pradesh each have recorded three Covid-19 fatalities each while Meghalaya has reported one fatality so far, according to the ministry data.
According to the ministry's website, more than 70 per cent of the deaths are due to comorbidities.
Son, wife of adviser to J&K LG positive
The son and wife of an advisor to the Jammu and Kashmir lieutenant governor have tested positive for the novel coronavirus, officials said on Monday.
The advisor to lieutenant-governor G.C. Murmu has gone into self-quarantine at the super-speciality hospital in Reasi district where his son and wife are being kept at an isolation ward, they said.
The officials said the advisor's wife and son had returned from Delhi a few days back and were staying at a guest house.
The results of their samples came on Sunday night and they had tested positive for the disease, theys said.
The advisor's samples have been sent for testing.
Contact tracing is also being done at the guest house and samples will be collected, the officials said.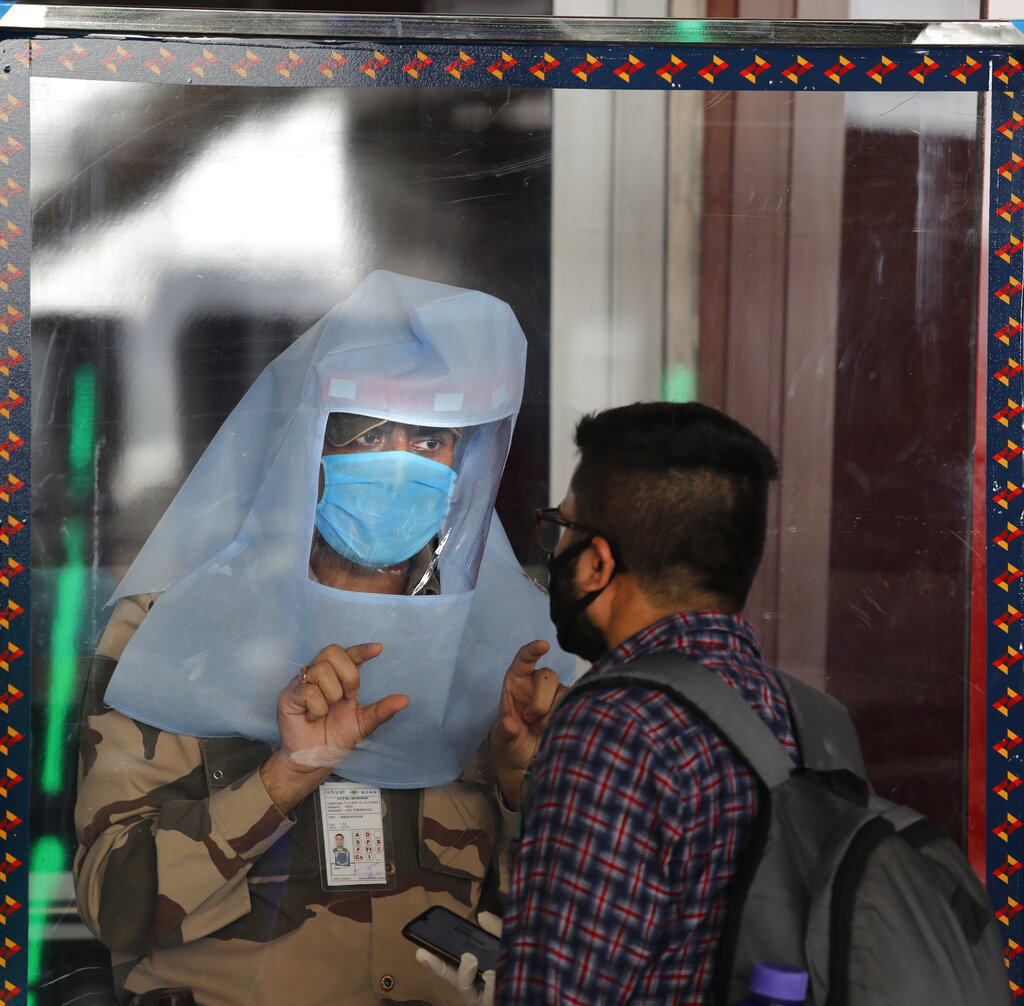 PPEs, masks procurement ramped up
India has significantly ramped up its production capacity of PPEs and N95 masks with three lakh units each being manufactured daily and their quality is being ensured through stringent protocols, the Union health ministry said on Monday.
The statement comes following some new reports expressing concern about the quality of personal protective equipment (PPE) coveralls.
'There are some reports in a section of the media expressing concern about the quality of personal protective equipment (PPE) coveralls,' the ministry said, clarifying that the products referred to in the reports have no relevance to the procurement being made by the central government.
HLL Lifecare is the procurement agency for hospitals and healthcare organisations under the ministry of health and family welfare.
The ministry said that the PPE coveralls are being procured from manufacturers/suppliers only after getting them tested and approved by one of the eight labs nominated by the Ministry of Textiles (MoT) for testing the same. 'It is only after their products qualify in the test prescribed by the technical committee (JMG) of the Ministry of Health that they are procured,' the statement stated.
Further, the HLL is also undertaking random sampling of the supplies being made for which a testing protocol has been devised, it said.

About 100 people, including magistrate, quarantined
About 100 people, including a Magistrate and some police personnel, have been asked to go into quarantine after an accused, who was produced before a lower court in Thiruvananthapuram following his arrest, later tested positive, officials said on Monday.
The accused, who was arrested along with two others in connection with a case relating to illicit liquor transportation two days ago, had been shifted to the Poojapura central jail after he was remanded to judicial custody.
With his sample testing positive on Sunday, the accused has been sent to a designated Covid-19 hospital.
The Nedumangad court magistrate, before whom he was produced, 34 police personnel, including a circle inspector, who were on duty at the Venjaramoodu police station when the accused was broughtafter his arrest, some employees of a government hospital where his swab sample was taken and 12 officials of thePoojapura central jail have gone into quarantine, police sources said.

AIIMS sanitation supervisor dies
A 58-year-old sanitation supervisor at the All India Institute of Medical Sciences (AIIMS), who had tested positive for the novel coronavirus, has died, sources said.
He was on ventilator and succumbed to the infection on Sunday around 7.30pm. He was a permanent employee of AIIMS and was posted at the premier medical institute's outdoor patient department, they said.
'Another corona warrior sacrifices his life in service of the country,' Dr Srinivas Rajkumar T., general secretary, AIIMS Resident Doctors' Association, tweeted with the hashtag 'IndiaFightsCOVID19'.
'AIIMS has lost its proud warrior. The virus is dangerous, very communicable and doesn't spare anyone,' he said.

Another Mumbai cop dies
A 57-year-old constable of Mumbai police has died of Covid-19, taking the total number of the deceased police personnel from the metropolis to 12 so far, a senior official said on Monday.
With the latest death, the number of police personnel who have succumbed to Covid-19 rose to 18 in Maharashtra, he said.
The constable, who was admitted in civic-run Nair hospital in Mumbai on May 23, tested positive for coronavirus on May 24 and died on the same day.
He was posted at the training branch at the city traffic police, the official said.
'The constable was not attending duty for the last one month or so as he was above 55-year-old,' said joint commissioner of police (Traffic) Madhukar Pandey.
The Mumbai Police had last month asked their personnel who are above 55 years of age with pre-existing ailments to go on leave as a precautionary measure amidst the Covid-19 crisis.