India looks at 5 lakh daily tests
Capacity boost by July, say health officials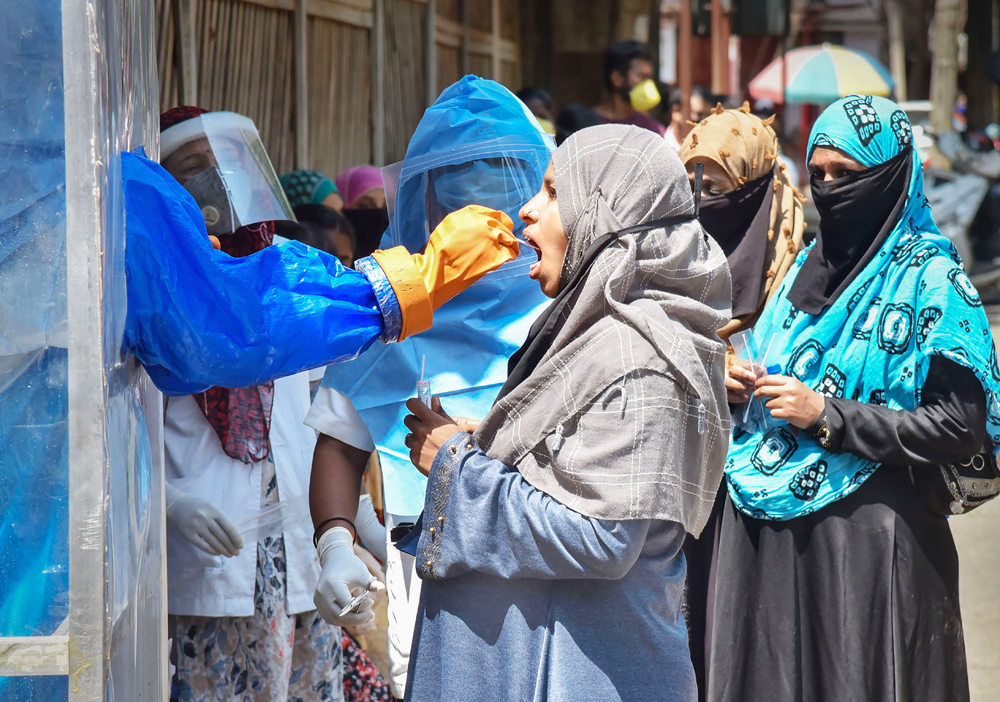 ---
New Delhi
|
Published 28.05.20, 10:24 PM
|
---
India will have the capacity to produce around 500,000 indigenous test kits per day for the diagnosis of the new coronavirus infection by July, senior health and science officials said on Thursday, outlining preparations for a long-haul epidemic.
The country's capacity for production of diagnostic tests has increased and roughly 20 companies could collectively make available 500,000 tests per day, said Vinod Paul, the chair of a national task force on Covid-19 and a member of Niti Aayog, the government's top think tank.
The half-a-million diagnostic tests would include both the standard tests that look for viral genetic material in throat or nasal swabs used to identify a person as infected and tests that look for anti-viral antibodies used for surveillance, Paul said.
India has over the past three months significantly ramped up testing capacity — testing for Covid-19 is now available in 446 government labs and 195 private labs, according to the Indian Council of Medical Research.
Although these labs currently perform around 100,000 tests per day, infectious disease experts believe the number could significantly rise amid the still exponential growth trends of the epidemic.
The Union health ministry on Thursday recorded 6,566 new Covid-19 patients, raising the country's confirmed cases to 158,333, of whom 86,110 are under medical supervision — either in hospitals or home isolation — 67,692 have recovered and 4,531 have died.
Experts predict the need for continued expansion of testing — in states such as Maharashtra or Delhi with already large outbreaks where infections will rise in the coming weeks and in states such as Bihar, Telangana or Uttar Pradesh where more tests will be required as new infections emerge.
But expanded testing will need to be accompanied by progress on other components of Covid-19 care, public health specialists said.
"The tests cannot be administered in a vacuum — we will need health systems capacity to respond to the test results," said Oommen John, a public health expert with The George Institute for Global Health, New Delhi. "Expanded testing will be reassuring, but states will need to prepare their hospitals and human healthcare resources to absorb the patients likely to be identified through more testing," John said.
Paul said India was expanding diagnostic capabilities while simultaneously pursuing indigenous projects on drugs and candidate vaccines against the coronavirus.
"We have around 30 research groups working on vaccines — around 20 of them are on a good pace," said Krishnaswamy VijayRaghavan, the principal scientific adviser to the government and former secretary department of biotechnology.
Worldwide, he said, there are more than 100 vaccine development efforts. "Vaccine development is a risky process. We don't know which one will work," VijayRaghavan said. The first vaccine that might emerge from these efforts is likely to be followed by more vaccines, each better in some way than the previous one, he said.
"The vaccine is not a switch that will be available to all on day one," he cautioned, saying public health and researchers are discussing the logistics of vaccine delivery when a vaccine emerges and priority populations — such as frontline workers or vulnerable people — would could be offered the shots first.