Naidu bristles at mask-off reminder
Trinamul MP recalls how the Rajya Sabha chairperson had objected to face cover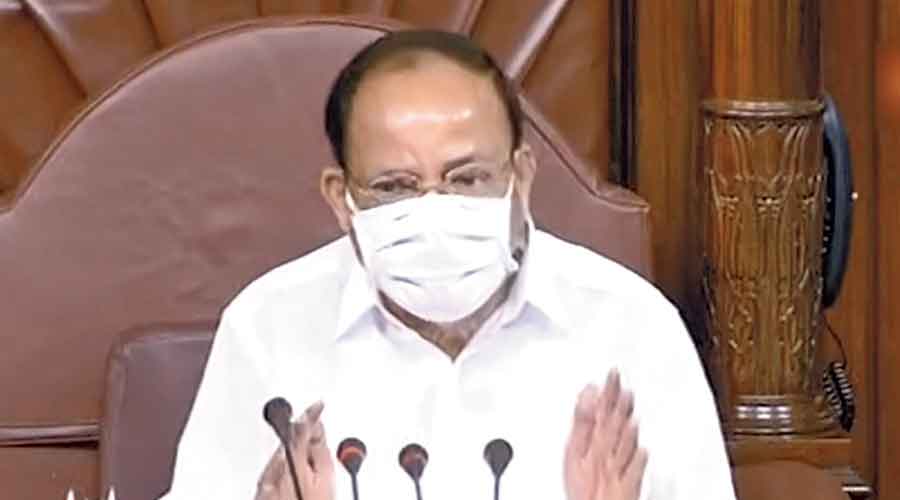 ---
---
Rajya Sabha chairperson M. Venkaiah Naidu ticked off Trinamul Congress member Santanu Sen on Wednesday for reminding the House how his party colleagues had been asked to remove their masks by the Chair in March during the budget session.
Clearly upset by repeated reminders by Trinamul members outside the House of the March 18 incident when he had asked them to remove their masks, Naidu stopped Sen to say: "Thank you for this information which has been relayed time and again. That day when the Chair had given that ruling, the ICMR (Indian Council of Medical Research) had not given any such advice, for your information."
"With confirmation, I am saying this information. At that time, the Chair was guided by the guidelines issued by the ICMR. On that day, when this comment was made, there was no such thing,'' he said.
Further, Naidu recalled how he had allowed members to continue wearing masks after Congress leader P. Chidambaram intervened on their behalf.
"But some people are not able to forget it and continuously calling TV persons, telling them also and relaying it again. Why? There is, actually, no factual information. Now you are happy I am wearing a mask. I am also happy you are wearing it but removing in between. Please wear it. Please wear and then go ahead.''
Sen had earlier begun his intervention on The Institute of Teaching and Research in Ayurveda Bill, 2020, by recalling what transpired on the morning of March 18 in the House.
"It is good to see everyone wearing mask in the august House as we recall in the early days of Covid-19 pandemic, when our members of the All India Trinamool Congress were wearing masks, we were asked to remove it by the Chair.''
Trinamul MPs had back then come wearing masks partly as part of a strategy to drive home the need to adjourn Parliament mid-session because of the growing number of coronavirus cases across the country. The chairperson twice asked Trinamul MPs to remove their masks, and when they did not comply, other MPs intervened on their behalf after which Naidu yielded.
By March 18, it was a week since the World Health Organisation declared Covid-19 a pandemic but the Narendra Modi government took another month to reconcile different opinions within the establishment on widespread use of masks.