Valley avoids big Friday gatherings
There was no consensus between Isalmic scholars over whether to avoid Friday gatherings altogether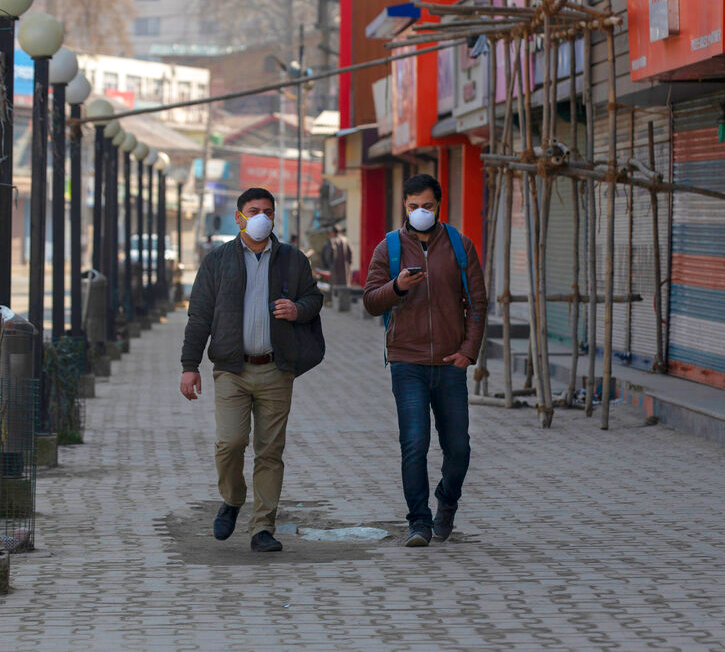 Kashmiri men wearing protective masks walk past closed shops as restrictions continued on the movement of people after the first person in the region was tested positive Tuesday for COVID-19, in Srinagar on Friday, March 20, 2020.
(AP)
---
Srinagar
|
Published 20.03.20, 10:55 PM
|
---
People in the Kashmir Valley avoided big Friday congregations and preferred small prayer-related gatherings or stayed home to contain the spread of the coronavirus, with authorities putting the region under lockdown to combat the virus.
A few people joined prayers at Srinagar's Jamia Masjid, Hazratbal and several other major mosques and shrines as the coronavirus scare played on the minds of residents after the detection of the first positive case in the Valley on March 18. Three people have also tested positive in Jammu.
Locality mosques, however, were packed with people for Friday prayers but witnessed shorter prayers. The Imams stressed for more prayers at their homes to rid humanity of the pandemic.
People had overwhelmingly rebuffed Srinagar mayor Junaid Mattu last Friday when he urged people on March 12 to avoid Friday prayers. But scare has since gripped the Valley after a 67-year-old woman who returned from a short pilgrimage tested positive.
There was no consensus between Isalmic scholars over whether to avoid Friday gatherings altogether.
Two prominent religious organisations, the Jamiat Ahlihadees and the Shia Association, had decided not to hold the Friday prayers in their mosques.
Jamiat chief Ghulam Mohammad Madni said the prayers had been put on hold till March 31. Imran Reza Ansari of the Shia Association said no Majalis (Shia gatherings) and Friday prayers would be held till further notification.
Molvi Rehmatullah, the head of the Valley's largest seminary, the Dar-ul-Uloom Raheemiya, a Deoband offshoot, said prayers could not be cancelled but he advised curbs on Friday sermons and conclude prayers in the shortest possible time.
Kashmir's Grand Mufti Nasir-ul-Islam said scholars would meet on Saturday to take the future call.
The government put no restrictions on prayers, although thousands of security personnel were deployed to restrict all kinds of movements on roads. Restrictions were also imposed on Thursday but they were tougher on Friday. Concertina wires were erected at multiple location to block the movement.
Srinagar's deputy commissioner Shahid Iqbal Choudhary said emergency and essential services including hospitals, power, water, fire and emergency, supplies and services, patient care facilities, waste disposal, sanitation, offices, ambulances, machinery have been exempted for the purview of the restrictions.
The authorities have also sealed the locality in the old city where a woman tested positive on Wednesday.
The woman is the mother-in-law of IPS officer Imtiaz Ismail Parray, who took to social media to announce he has gone into isolation.
"Updating all well wishers…Mother in law doing well at SKIMS. Rest of my family also following necessary protocol…. Although no direct contact was made yet I am also going into isolation…. Urge all to leave nothing to chance and follow govt directives strictly," the SSP posted on Twitter.
An official spokesman said 184 more travellers and others persons in contact with suspected coronavirus cases across Jammu and Kashmir had been put under surveillance in the past 24 hours, taking the total number of such people to 3,330.