Just grin and bear-hug it, Sir
Easy to swallow: Trump's pill threat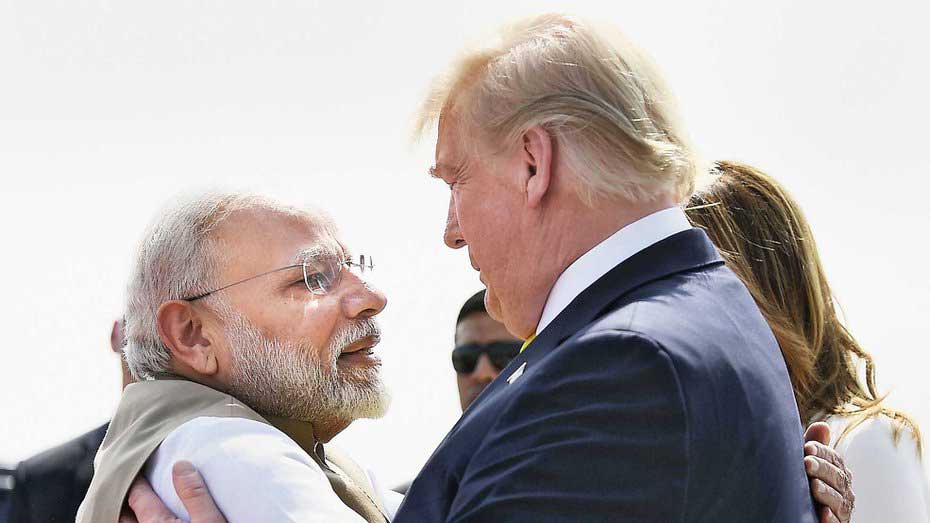 Prime Minister Narendra Modi hugs Donald Trump during the US President's visit to India in February.
(PTI)
---
New Delhi
|
Published 07.04.20, 09:38 PM
|
---
Thank you for the hugs, Uncle Sam has made an offer that Narendra Modi could not refuse.
"If he doesn't allow it to come out, that would be okay but, of course, there may be retaliation. Why wouldn't there be?" President Donald Trump had wondered aloud at the White House on Monday afternoon, when most of India was in bed.
A few hours after daybreak in India, the Modi government announced: "We will also be supplying these essential drugs to some nations who have been particularly badly affected by the pandemic."
The main drug in question is hydroxychloroquine (HCQ), an anti-malarial drug that is expected to reduce the severity of Covid-19 and which Trump believes should be widely administered to American patients.
On Saturday, the very same day Trump had made the request that has now turned out to be little else than a demand wrapped in an ultimatum, India had tightened the rules and completely banned the export of the tablets.
In popular imagination, the chronology, a favourite word of Amit Shah, will play out thus: Washington glared and India blinked.
This, in a country that once prided itself on having stared down the US when it sought to spook India by sending the Seventh Fleet steaming towards the subcontinent during the Bangladesh Liberation War.
The chronology need not have been so, had the Indian government been more transparent.
A dash of fleet-footed magnanimity might have allowed Modi to project the drug shipments as New India springing to the aid of an ailing superpower and other countries on humanitarian grounds. A pill for PL-480 — the US wheat programme that India had to swallow in the last century to survive.
The flow of information was almost always from Trump. Facing criticism that he was blindsided by the virus attack that is taking a heavy toll of lives in America, it was Trump who disclosed that he had asked for the tablets when he spoke to Modi on Saturday.
Modi on Saturday tweeted about the conversation but stayed silent on the demand for the drug, which was made public by Trump later in the night. Late on Monday, government sources suggested off the record that India was about to leave the door ajar so that some tablets could be sent to America.
But Trump waits for no friend, not even someone who had hosted him with so much exuberance and extravaganza in India and presented the US President with a crowd he would never forget in his life.
A few hours later on Monday, asked about the Indian ban on HCQ by a reporter at the White House, Trump said: "Sunday morning, called him (Modi), and I said we appreciate you are allowing our supply (of HCQ) to come out. If he doesn't allow it to come out that would be okay but, of course, there may be retaliation. Why wouldn't there be?"
The public arm-twisting comes in the face of an equally public "bromance" between Trump and Prime Minister Narendra Modi, touted by the Indian leader's ecosystem as a sign of a relationship between equals, and most recently on display during the US President's visit to Ahmedabad a month-and-a-half ago.
While HCQ and paracetamol will remain in the licensed category, India on Tuesday said "the stock position could allow our companies to meet the export commitments that they had contracted".
Keenly aware that the Modi government's 56-inch-chest facade would be dented by the perception that it buckled under US pressure, the Indian external affairs ministry sought to present the exceptions made as not just America-specific.
Appropriate quantities of HCQ and paracetamol will be sent on humanitarian grounds to neighbouring countries "who are dependent on our capabilities" and also to some nations "who have been particularly badly affected by the pandemic".
Spokesman Anurag Srivastava described the earlier notification as "temporary steps" taken as part of the government's obligation to ensure that there are adequate stocks of medicines for domestic use.
"In order to ensure this, some temporary steps were taken to restrict exports of a number of pharmaceutical products. In the meanwhile, a comprehensive assessment was made of possible requirements under different scenarios," Srivastava said.
"After having confirmed the availability of medicines for all possible contingencies currently envisaged, these restrictions have been largely lifted. The DGFT notified lifting restrictions on 14 drugs yesterday (Monday). With regard to paracetamol and HCQ, they will be kept in a licensed category and their demand position will be continuously monitored. However, the stock position could allow our companies to meet the export commitments that they had contracted," the spokesman added.
Till late on Tuesday evening, hours after the ministry announced India's decision, there was no new notification from the DGFT detailing the fresh exemptions. Officials said it was likely that consignments would be cleared on a case-by-case basis at the political level by the minister.
The spokesman claimed that the controversy over India's response to Trump's threat of possible retaliation as "unnecessary" and discouraged any speculation and attempts to politicise the matter.
But the tone and tenor of the response to the government's move was partially dictated by how the BJP in general and Modi in particular would have reacted had they been in Opposition.
An old speech of Modi mocking the idea of international pressure surfaced and CPM general secretary Sitaram Yechury said that while Trump's statement was "unacceptable", the Modi government has succumbed to the threat.
"That this happened after an expensive gala was organised for him by Modi, instead of preparing to contain Covid-19, shows how this Govt has let down India. India's priority must be treatment of Indians in this battle against Covid.... By succumbing to US pressures once again Modi has exposed the hollowness of his propaganda of championing 'nationalism'. Asked us to light candles while he compromises our fight against Covid by lifting ban on drug exports for Trump's benefit," Yechury tweeted.
Pushed onto the back foot by reminders of how India in the past — with much lower economic standing — had stood up to the US, some in the Right-wing ecosystem sought to fight back by peddling unsubstantiated claims of a quid pro quo from the Americans.