Covishield dosing window widened between 6-8 weeks
India's health ministry cited evidence for greater protective efficacy associated with the longer gap than the current four-to-six-week gap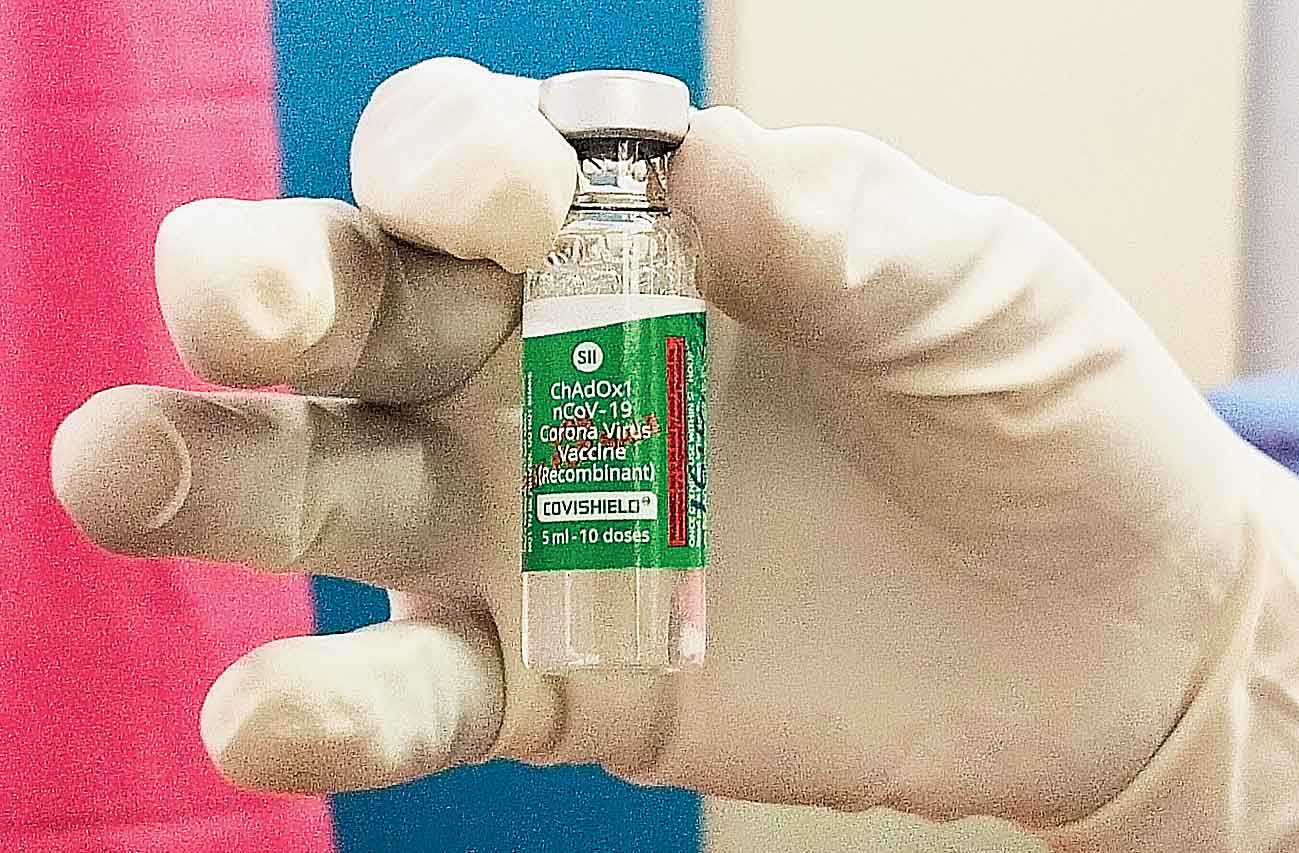 ---
New Delhi
|
Published 23.03.21, 02:35 AM
|
---
India's health ministry on Monday asked the states to administer the second doses of Covishield between six and eight weeks after the first dose, citing evidence for greater protective efficacy associated with the longer gap than the current four-to-six-week gap.
Union health secretary Rajesh Bhushan, in a note sent to the states, said the ministry had accepted recommendations from two national expert panels to revise the dosing gap for Covishield, AstraZeneca's Covid-19 vaccine produced in India.
"Keeping the existing scientific evidence in view, it appears that protection is enhanced if the second dose of Covishield is administered between 6-8 weeks, but not later than the stipulated period 8 weeks," Bhushan wrote.
A health ministry official said the longer interval would be implemented immediately.
The official's statement implies that  that recipients who get their first doses of Covishield from Tuesday onward would need to return for their second doses between six and eight weeks later.
Recipients currently awaiting their second dose would also need to wait longer and take it between six and eight weeks from the date they had taken the first dose.
AstraZeneca had on February 3 announced that a study in the UK, South Africa and Brazil had found that the vaccine's efficacy increased to 82 per cent after an inter-dose interval of 12 weeks or longer compared with about 55 per cent with an interval shorter than six weeks.
"The data shows a better response with a longer interval," said Gagandeep Kang, professor of clinical microbiology at the Christian Medical College, Vellore.
"The question is whether lengthening the gap improves performance even more than we know now. We will not know until we measure this," Kang added.
Kang said another open question was whether a longer gap would lead to better long-term protection.
The ministry's decision to increase the dosing interval for Covishield follows reviews of emerging evidence and recommendations by the National Technical Advisory Group on Immunisation and the National Expert group on Covid-19 Vaccine Administration.
India had till Monday evening administered over 47 million doses of Covid-19 vaccines to recipients across the country, featuring around 42.8 million doses of Covishield and 4.2 million doses of Covaxin, a home-grown vaccine.
The revised interval does not apply to Covaxin, whose dosing interval is 28 days.
AstraZeneca on Monday released interim results of its vaccine's clinical trial in the US that have shown that the vaccine is 79 per cent effective in preventing symptomatic Covid-19 and 100 per cent effective in preventing severe disease and hospitalisation.
The US trial, which involved around 32,000 participants, had adopted a protocol where the two doses were administered at a four-week interval.
A few European countries had earlier this month temporarily suspended the use of the AstraZeneca vaccine while probing concerns about blood clots in some recipients. The World Health Organisation has, however, said there is no causal link between the vaccine and the clots and that the vaccine's benefits outweigh any risks.