'We need everyone to wear masks... 100% compliance'
Covid cases dip but don't let your guard down
Public health specialists say any abrupt drop in new cases would be worrying, particularly because the epidemic still appears to be in its growth phase and the vast majority of the population across the country remains susceptible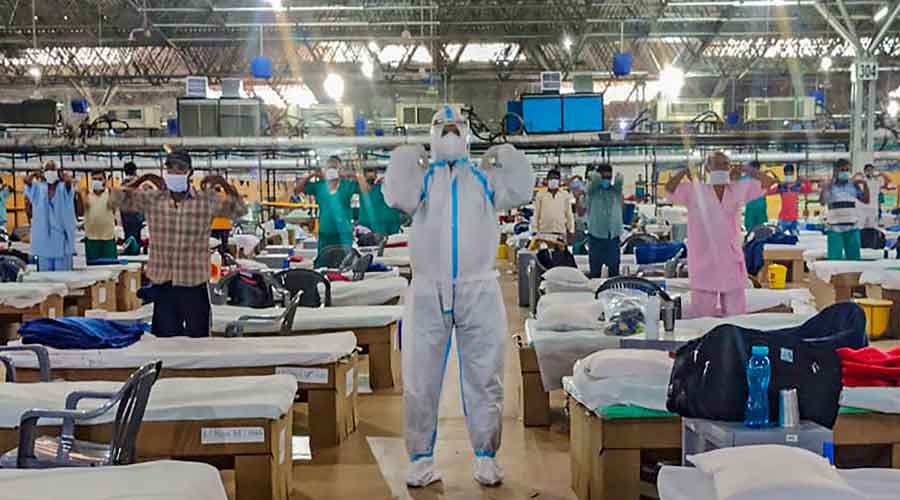 ---
---
India's count of coronavirus disease patients under medical supervision fell below 1 million for the first time on Tuesday after crossing that mark a week ago, but experts cautioned the epidemic remains huge and primed for further spread.
The number of Covid-19 patients fell by more than 27,000 over the previous 24 hours to reach 975,861 on Tuesday from 1,003,299 on Monday after three successive days with daily recoveries exceeding the daily new cases.
The numbers of Covid-19 patients declared recovered every day has exceeded the numbers of daily new cases detected for the past four days, a top official in the Union health ministry said.
"We have not seen this kind of successive increase in daily recoveries over daily new cases since May," Rajesh Bhushan, the Union health secretary said. Each day, if the number of patients recovered is higher than new cases, the load of active patients reduces.
The number of new cases has fallen over the past four days — 93,337 cases from about 881,000 samples tested on September 18, 92,605 cases from 1.2 million tests on September 19, 86,961 cases from 731,534 tests on September 20, and 75,083 cases from 933,000 tests on September 21.
New cases detected hinges on the numbers of samples tested. "It cannot be said that testing has come down, therefore these figures are showing something that is not as per reality," Bhushan said, seeking to douse concerns that the observed fall in new cases might be the outcome of fall in tests.
However, public health specialists say any abrupt drop in new cases would be worrying, particularly because the epidemic still appears to be in its growth phase and the vast majority of the population across the country remains susceptible.
"Any sudden drop would need careful review of the number of diagnostic tests done to make sure that everyone who needs a test has access to a test," said Oommen John, a physician and senior research fellow at The George Institute for Global Health, New Delhi.
The health ministry has been urging states to expand testing to help diagnose patients early. The cumulative number of samples tested in India has increased from 10 million by July 7 to 30 million by August 3 to over 60 million by September 17.
Daily testing data from the Indian Council of Medical Research and the National Institute of Epidemiology, Chennai, shows that the total number of tests done over the past week had fallen to around 7.01 million tests from 7.66 million during the previous week — a fall of around 8.4 per cent.
Infectious disease specialists point out that a four-day trend of a fall in the number of patients is insufficient to draw any inferences about the epidemic that they expect to last for several months.
"Even after the epidemic has reached its peak level, it will last for months afterward," T. Jacob John, a senior infectious disease epidemiologist and formerly at the Christian Medical College, Vellore, had told The Telegraph earlier this year.
Health officials on Tuesday iterated the need for members of the public to continue to adopt personal precautionary measures such as the use of masks, physical distancing and hand and respiratory hygiene.
"Our numbers are large — the larger numbers mean that more people could spread the infection," said Vinod Paul, a senior physician and member of Niti Aayog, the government's apex think tank and chair of the national task force on Covid-19.
"We need everyone to wear masks — we need 100 per cent compliance," Paul said. "We all need to take such precautions now more than even earlier."