Covid: Covaxin proves less effective against B.1.617.2 variant
Lab tests point to a 2.7-fold reduction in the antibody neutralisation of the variant circulating widely in India and detected in 44 countries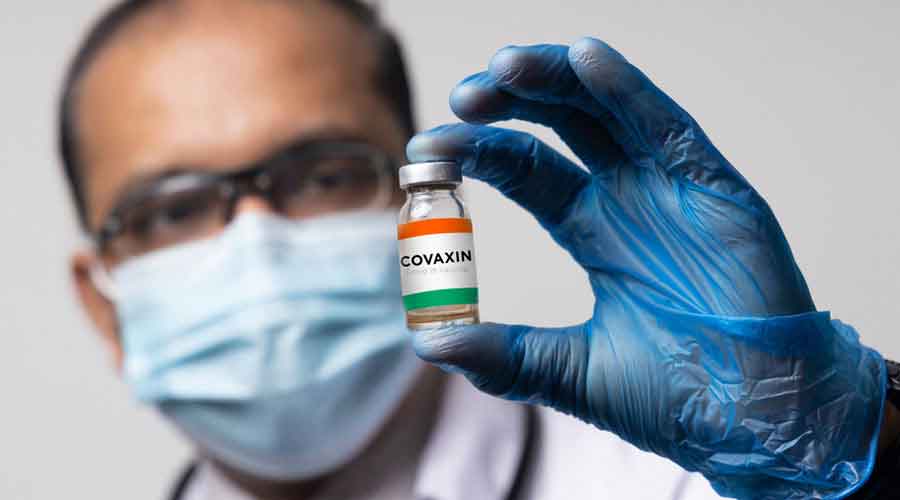 The tests involved taking blood samples from recipients of Covaxin and mixing them with the B.1.617.2 coronavirus to observe how antibodies in the samples interact with the virus.
Shutterstock
---
New Delhi
|
Published 09.06.21, 01:49 AM
|
---
A study by India's health research agency has found that antibodies generated by Covaxin, the homegrown Covid-19 vaccine, are less effective against the coronavirus variant called B.1.617.2 that scientists say has also similarly challenged other vaccines.
Lab tests by scientists at the National Institute of Virology (NIV), Pune, a unit of the Indian Council of Medical Research (ICMR), point to a 2.7-fold reduction in the antibody neutralisation of B.1.617.2, a variant circulating widely in India and detected in 44 countries.
The tests involved taking blood samples from recipients of Covaxin and mixing them with the B.1.617.2 coronavirus to observe how antibodies in the samples interact with the virus.
The results suggest a 2.7-fold lower neutralising antibody against B.1.617.2 compared with that against an earlier coronavirus variant called B1, the scientists said in a study not yet peer-reviewed but posted on medRxiv, an online preprint server.
Although there is a reduction in the neutralisation, the inactivated (killed) virus vaccine demonstrates a "protective response" against B.1.617.2, the scientists said. The whole virus present in Covaxin generates a broad immune response that "decreases the magnitude" of reduced neutralisation.
The ICMR and Bharat Biotech, Covaxin's manufacturer, had on April 21 announced that the vaccine has an efficacy of 78 per cent against Covid-19 and 100 per cent efficacy against severe disease, based on a nationwide clinical trial involving over 25,000 participants.
The safety and efficacy results are expected this month.
A medical scientist who was not associated with the new NIV study said there was emerging anecdotal evidence from observations that both vaccines used in India — Covishield and Covaxin — protect people from severe disease and death from Covid-19.
Sections of researchers, however, said that a 2.7-fold reduction in neutralisation antibody levels would still be protective only if the absolute antibody levels generated by the vaccine are high enough.
"It is critical to know what is the actual fraction of Covaxin recipients who develop high enough antibody levels — high enough so that even a three-fold reduction in antibody levels does not impact protection," a senior medical researcher who requested anonymity told The Telegraph.
Queries sent by this newspaper to the ICMR and Bharat Biotech seeking their perspectives on the implications of these findings have not evoked a response.
Covaxin is the result of joint research and development by ICMR and Bharat Biotech.
The NIV study also observed a similar reduced neutralisation against B.1.351, the coronavirus variant first detected in South Africa.
Both B.1.351 and B.1.617.2 are viewed as "variants of concern" because they contain mutations that allow them to spread faster and potentially evade immune responses.
"These results are similar to what others have shown from sera (blood samples) from people vaccinated with the mRNA vaccines (such as Pfizer) and viral vector vaccines (such as AstraZeneca/Covishield)," said Shahid Jameel, a senior virologist at the Trivedi School of Biosciences, Ashoka University.
But Jameel and others have expressed concern that the preprint claims misleadingly that the scientists who conducted the study have "no conflict of interest".
The study has authors from the ICMR and NIV, which contributed to the development of the vaccine, and Bharat Biotech, the manufacturer.
"The authors on this study have reputational or financial conflict of interest, but they formally deny this in the preprint, and this is unethical and troubling," Jameel said.