AIIMS study tracks 63 Covid patients
Covid: AIIMS scan on infections after receiving vaccines
The study noted high viral loads, stable disease but no deaths among 63 patients who were administered Covaxin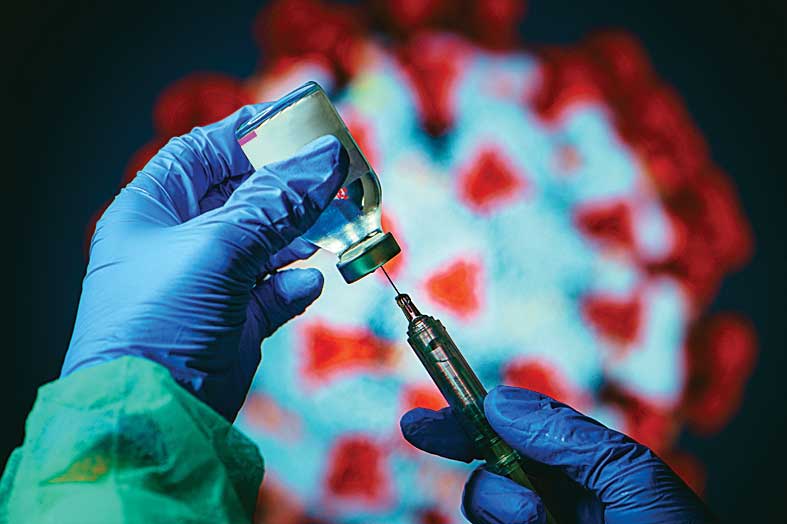 ---
New Delhi
|
Published 05.06.21, 01:18 AM
|
---
A study at the All India Institute of Medical Sciences, New Delhi, of 63 so-called "breakthrough infections" among people who had received Covid-19 vaccines has noted high viral loads, stable disease but no deaths.
The study that tracked the course of the disease in 63 Covid-19 patients who had turned up at the AIIMS emergency department is also the first to document breakthrough infections after Covaxin, the homegrown Covid-19 vaccine, had been administered.
Previous breakthrough infections in India had been reported among recipients of Covishield, the other vaccine currently used in the nationwide inoculation campaign.
The patients were ill enough to approach the emergency department, but the disease did not worsen, their biomarkers were stable, and all of them survived, researchers at the AIIMS and the Institute of Genomics and Integrative Biology who conducted the study said.
"The zero mortality observed in this set of breakthrough infections is fresh evidence for the protection available from vaccines," a medical researcher at the institute told The Telegraph.
Among the 63 patients, 53 had received Covaxin and 10 had received Covishield. The researchers have asserted that their study was not designed to measure any differences in breakthrough infections between the two vaccines.
Twenty-four patients were healthcare workers at AIIMS, an institution that provides only Covaxin. Many others were local residents who might also have received their vaccines at AIIMS.
Among the 63 patients, 36 had taken two doses, while 27 had taken a single dose. The researchers found that viral loads in the patients were high irrespective of the vaccination status or which vaccination they had received.
Some patients also showed high counts of antibodies which, the researchers said, "puts in doubt the protection offered and the clinical relevance" of the antibody counts to immunity from Covid-19.
Vaccine science specialists have underlined earlier that vaccinations do not work only through antibodies but are expected to generate other immune responses that can also fight the coronavirus.
The AIIMS-IGIB study also genome sequenced coronavirus specimens available from 36 of the 63 breakthrough infections and found 23 (63 per cent) were the variant designated B.1.617.2.
But the proportion of the variant among the samples from breakthrough infections was similar to its proportion in Covid-19 samples collected in Delhi during March and April.
"The similar proportions tells us that B.1.617.2 is not turning up more frequently as breakthrough infections — its prevalence seems to be what we see in the general community," a senior researcher said.
Urvashi Singh, a clinical microbiologist at AIIMS, and Sridhar Sivasubbu, a scientist at IGIB, led the study that involved 18 others, including AIIMS director Randeep Guleria and IGIB scientist Vinod Scaria. The researchers posted their study on bioRxiv, an online server for preprints, on Thursday.