Even richest Ambani is cutting salary
Asia's richest tycoon forgoes his salary as quarterly profits at Reliance Industries falls for first time in 3 years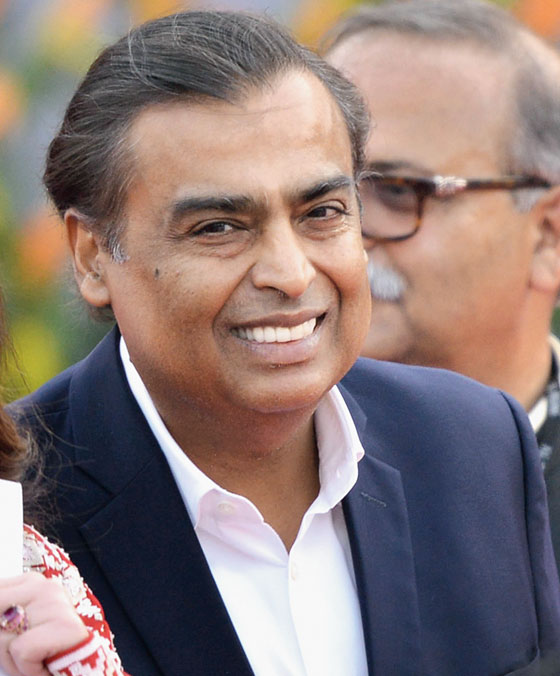 Mukesh Ambani
File picture
---
Mumbai
|
Published 30.04.20, 11:24 PM
|
---
Mukesh Ambani, Asia's richest tycoon, on Thursday decided to forgo his salary as a slump in crude prices and demand for fuels at home led to a fall in quarterly profits at Reliance Industries for the first time in three years.
The board of directors of the country's largest private conglomerate, including executive directors and top executives, will give up 30 to 50 per cent of their compensation.
Officials of the company's hydrocarbons business who earn salaries above Rs 15 lakh a year will see a 10 per cent cut in their fixed pay with a deferral of cash bonuses and performance-linked incentives.
Employees earning less than Rs 15 lakh a year have been spared.
Ambani had capped his salary at Rs 15 crore a year since 2008. "He is forgoing his salary until the company and all its businesses are fully back to their earnings potential," RIL said in a statement.
The pay cuts at the refining-to-retail and digital-to-media giant, however, presented a paradox of sorts: the company reported that its operational profits in the full year had crossed Rs 100,000 crore even as it unveiled plans to unlock a windfall of Rs 104,000 crore by the end of the first quarter on June 30.
The torrent of cash begins with a Rs 53,125 crore rights issue of shares in a ratio of one share for every 15 held —which will make it the biggest rights issue in India's corporate history.
The issue is being priced at Rs 1,257 per share, an almost 12 per cent discount to Wednesday's closing price of Rs 1426.20 on the Bombay Stock Exchange.
The rights issue — the first in three decades — is being structured in the form of partly paid shares to "enable shareholders to phase out… their investment over a period of time".
The Ambani family, which holds a 50.03 per cent stake in RIL, will subscribe to its full entitlement. It will also subscribe to any rights shares that other investors do not pick up, potentially raising its holding in the company.
But that's not all: the company said it was talking to global investors for another stake sale in Jio Platforms, the wholly owned subsidiary that houses its digital businesses, including its mobile telephony and broadband play.
Just a week ago, Facebook had revealed plans to spend $5.7 billion (Rs 43,574 crore) in Reliance's digital arm.
But Reliance Industries will be retaining only Rs 14,976 crore of Facebook's investment in Jio Platforms. The remaining Rs 28,598 crore is being scooped out as the company plans to cash out the investment it had made earlier in the entity through optionally convertible preference shares.
Aramco deal
The company also raised hopes for a massive capital infusion in its oil-to-chemicals business, which is being spun off through a slump sale to save on taxes.
Last year, it had announced that Aramco of Saudi Arabia would invest $15 billion (Rs 112,500 crore at the current exchange rate) for a 20 per cent stake in the business. Since then, there has been little progress on the deal, and a closure deadline set for March-end was missed.
But the company said the deal was on track though it might fall short of last year's jaw-dropping valuation after it made a provision of Rs 4,245 crore to reflect inventory losses in its oil refining and petrochemicals businesses.
"In spite of the Covid-19 crisis and the lockdowns, the due diligence by Saudi Aramco for the planned investment in the O2C business is on track as both the parties are committed and actively engaged," the company said in its earnings release. Debt reduction
The cash deluge is critical to the company's plans to trim its debt and achieve the goal of becoming a zero net debt company by March 2021.
Reliance has a gross debt of Rs 336,294 crore ($44.4 billion) and has liquid cash on its books of Rs 175,259 crore ($23.2 billion), leaving it with a net debt of Rs 1.61 lakh crore.
The Aramco deal and another Facebook-like cash infusion in Jio Platforms could then potentially wipe out 86 per cent of the company's gross debt, if and when that happens.
"The announcement of pay cuts ahead of results signifies some tough times for the company at least for the next few months. The rights issue size was higher than expected, though staggered payment would provide some time to shareholders to subscribe. The debt reduction plan now seems achievable though with some possible delays," said Deepak Jasani, head of research, HDFC Securities.
The sparkle in the company's performance comes from its digital services business, which saw revenues grow 40.7 per cent during the year to Rs 68,462 crore, with the segment operating profits rising 63.5 per cent to Rs 14,363 crore.
The digital play depends critically on the Jio telephony business which has ratcheted up its subscriber base to 387.5 million. The company said that the Facebook deal values Jio Platforms at Rs 436,172 crore, which would place it among the top five listed companies in India by market capitalisation within just three-and-a-half years of its commercial services.
This is a loaded comment and signifies that the Mukesh Ambani-owned entity may be eyeing another mammoth listing on the bourses soon. It's hard to say whether this will come before, or coincide with, the anticipated second cash infusion by global investors.