Baby dies untreated on Shramik train
Railway doctors had been shifted to Covid-19 hospitals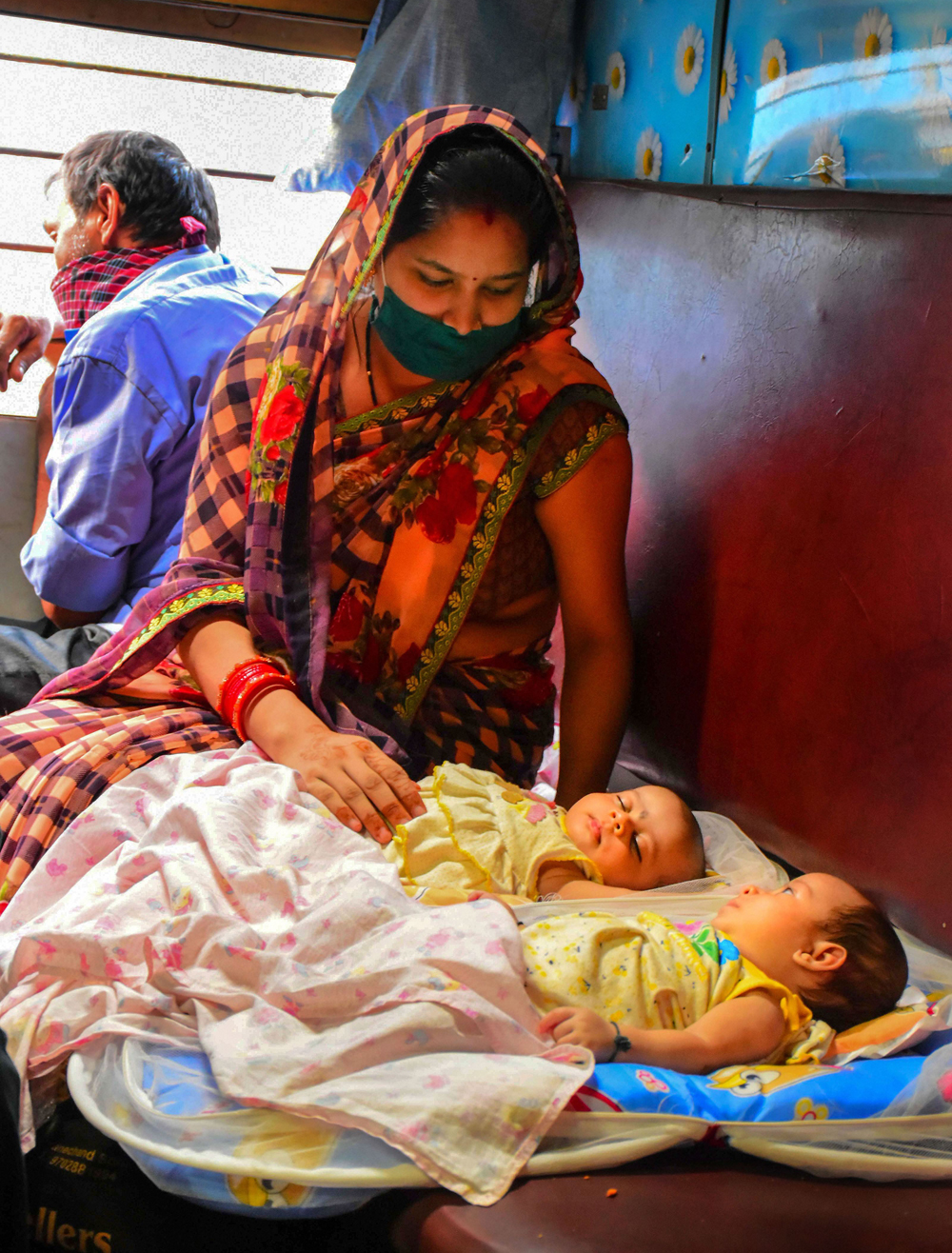 A migrant woman with her twin babies boards the Shramik Special train as she leaves for her native place, during the ongoing nationwide Covid-19 lockdown, in Jabalpur, Thursday, May 21, 2020.
(PTI)
---
Lucknow
|
Published 26.05.20, 12:15 AM
|
---
A 10-month-old boy with fever and breathing problems died untreated on a Shramik Special train in western Uttar Pradesh, with the railways allegedly failing to provide a doctor for four hours despite the family's entreaties.
Apparently, railway doctors had been shifted to Covid-19 hospitals.
By the time the first doctor became available at Tundla station, baby Raunak had died, his maternal grandfather Dev Lal said.
With the railways dragging the family off the train to a quarantine facility in Tundla, suspecting the baby had died of Covid-19, the incident did not come to light for two days.
It was only on Monday that the family could talk to the media when someone from the quarantine centre informed journalists after the young mother's condition deteriorated.
Priyanka Devi of village Notan in West Champaran, Bihar, had last November travelled to her parents' place in Noida along with the then four-month-old Raunak. Her husband Pramod Kumar is a farmer.
With the lockdown playing havoc with Lal's business of selling clothes on Noida's pavements, he decided they all — Lal, his wife Kusumi Devi, their 14-year-old son Shailendra, Priyanka and Raunak —should return to their native West Champaran.
"We managed to book tickets, at Rs 800 per head, through a tout on a Bihar-bound train for migrant labourers that was leaving from Dadri (30km from Noida). We boarded it on Saturday afternoon," Lal told reporters.
"The journey began at 4pm and we realised within 20 minutes that the baby had high fever and breathing problems. A few passengers informed railway staff at Khurja station (60km from Dadri). They said they couldn't do anything and suggested we contact the Government Railway Police at Tundla, another 120km on."
Lal said the family approached the GRP at several stations, including Aligarh (40km from Khurja), where the train stopped. But they showed no interest and said any help would be available only in Tundla," Lal said.
He said Raunak died two hours after the train had left Aligarh station and minutes before it reached Tundla at 8.30pm.
"The GRP hurriedly took the body from us at Tundla. My grief-stricken daughter was semi-conscious. The railways and police took us to the quarantine centre, trying their best to hush up the incident," Lal said. "My daughter developed high fever today and has been fainting off and on. A doctor has given her medicines."
Shiv Kumar Ponia, officer in charge of the GRP unit at Tundla, said the force had got a doctor on standby but when the train arrived, the boy was already dead.
A railway official in Tundla said on the condition of anonymity: "The body has been sent for a Covid-19 test. If the report is negative, the family can resume their journey," Ponia said.
"There were no doctors between the Dadri and Tundla stations. The doctors at the other stations had been shifted to Covid-19 hospitals in Agra, Aligarh and Firozabad a few days ago. It wasn't possible to bring them back without permission from the local administrations."