10 more positive cases in Mumbai, India count 258
Of the 39 foreign nationals afflicted, 17 are from Italy, 3 from the Philippines, 2 from the UK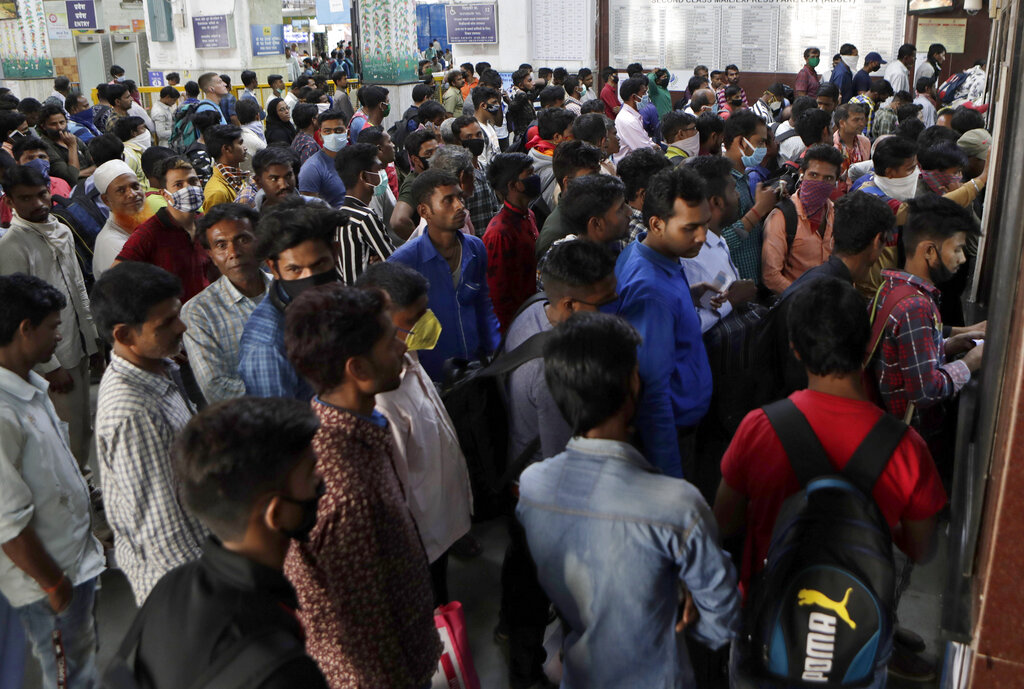 ---
---
Novel coronavirus cases in India rose to 258 on Saturday after 35 fresh cases were reported in various parts of the country, the Union health ministry said.
However, according to Indian Council of Medical Research (ICMR), 271 individuals have been confirmed positive among suspected cases and contacts of known positive cases. A total of 15,701 samples from 14,811 individuals have been tested for SARS-CoV2 as on March 21, 10 am, it said.
Among the health ministry's 258 figure are 39 foreign nationals, including 17 from Italy, three from the Philippines, two from the UK, one each belonging to Canada, Indonesia and Singapore. The total figure includes four deaths reported from Delhi, Karnataka, Punjab and Maharashtra.
"The total number of active COVID-19 cases across India stands at 231 so far," the ministry said, adding that 23 others have been cured/discharged/migrated while four have died. Maharashtra has reported the highest number of COVID-19 cases at 63, which include at least three foregners. On Saturday, state officials said 11 more positive cases were reported in the last 24 hours.
Of the 11 new cases, 10 are in Mumbai and one in Pune, state officials said on Saturday. Seven patients were admitted to Kasturba hospital, one each at Saifee hospital, Nanavati hospital and HN Reliance hospitals in Mumbai.
A coronavirus positive patient has been admitted to Naidu hospital in Pune, officials said.
Kerala has reported 40 cases, including seven foreign nationals, while Delhi has reported 26 positive cases, which include one foreigner.
Uttar Pradesh has recorded 24 cases, including one foreigner.
Karnataka has 15 coronavirus patients. The number of cases in Ladakh rose to 13 and Jammu and Kashmir four.
Telangana has reported 19 cases, which include 11 foreigners.
Rajasthan has reported 17 cases, including two foreigners. Gujarat has seven cases.
In Haryana, there are 17 cases, which include 14 foreigners. Tamil Nadu, Andhra Pradesh and Uttarakhand have reported three cases each. West Bengal, Odisha and Punjab each reported two cases while Puducherry, Chhattisgarh and Chandigarh reported one case each.
'Quarantine couple' made to get off Delhi-bound Rajdhani
A couple was made to get off a Delhi-bound Rajdhani train on Saturday after co-passengers noticed a home quarantine seal on the husband's hand, the railways said, urging people to avoid non-essential travel for the safety of fellow citizens amid a spurt in coronavirus cases.
It said the Delhi-based couple boarded the Bangalore City-New Delhi Rajdhani at Secunderabad Saturday morning. When the train reached Kazipet in Telangana at 9:45 am a co-passenger noticed the quarantine mark — authorities are putting such marks on suspected coronavirus cases using indelible ink — on the husband's hand. The woman too had the home quarantine seal. Their co-passengers then informed the TTE on board the train. The train was briefly detained and the couple was admitted to a hospital. The coach was completely sanitised in Kazipet and locked, officials said. The air conditioning was also switched off. The train left for its destination at 11.30 am. The railways has reported two other incidents when people asked to remain in home quarantine were found travelling on trains. Of the total people detected in the two instances, 12 later tested positive for the novel coronavirus.
After Nipah and floods, coronavirus puts damper on wedding
After the Nipah virus and the floods, it is now the coronavirus that has forced two youngsters to postpone their wedding, which was supposed to be held on Sunday, for a third time.
Premchandran (26) and Sandra (23), childhood sweethearts from Eranhipalan, Kerala had originally fixed their wedding for May 20, 2018, However, it was postponed as there was a ban on social gatherings due to the Nipah virus outbreak in May 2018, following which came the devastating floods of August.
Now, their couple, who were to be married on March 20 this year, have to postpone the big day due to restrictions imposed in the wake of the Covid-19 outbreak.
Thrice the marriage has been deferred, with the state government imposing a ban on large gatherings, but the couple is hopeful, looking forward to tie the knot in September this year, relatives said.
Kerala has reported 40 positive cases. Over 40,000 people are under surveillance.
Sex workers shut shop in Bhiwandi
Mumbai prepares for a complete lockdown in light of the Covid-19 pandemic, and daily wagers, including sex workers, seem to be worst affected in the crisis.
Over 300 sex workers, in the town of Bhiwandi in the Thane district, decided to keep their trade shut as a precautionary measure.
Dr Swati Khan, who runs a centre for children of sex workers, held a meeting with them on Friday, where it was decided that sex trade will not be carried out in the area for the next couple of days, and no customer would be allowed to enter the locality.
More than 300 sex workers operate in the Hanuman Tekdi area of Bhiwandi, and the centre, which is affiliated to Shramajivi Sanghatana, cares for their children.
Meanwhile, president of the Sanghatna, Vivek Pandit said the organisation will provide daily essentials to workers and their families for the next two weeks during the lockdown.
Maharashtra has the highest number of cases in the country.
Goa govt imposes section 144, bans gatherings
The Goa government, on Saturday morning, imposed section 144 of the Criminal Procedure Code (CrPC) across the state to prohibit large gatherings, in order to prevent the spread of coronavirus.
Health Minister Vishwajit Rane said that the state government has also issued an order banning inter-state transport, except for the supply of essential commodities, from Saturday night onwards.
Private vehicles may be allowed to enter the state only after the passengers are thoroughly screened. Private events, including weddings, are banned till further orders.
Health authorities have imposed several restrictions at the state-run Goa Medical College and Hospital, including suspension of visiting hours.
The health department will issue a show-cause notice to a private hospital, which had refused to admit a patient with coronavirus symptoms.
Cases will be registered against those who forward fake messages about the pandemic.