Congress steps up chowkidar chant
Emphasis on the slogan is an attempt to dilute the political fallout of developments in the Supreme Court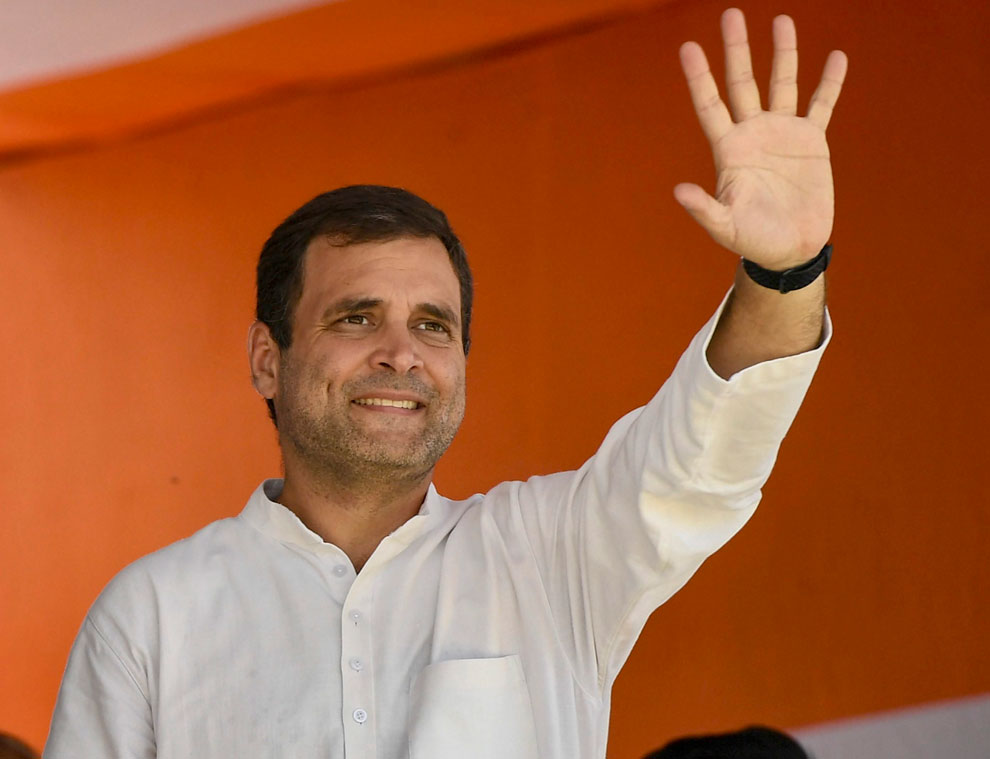 ---
---
The Congress on Wednesday sent out a loud message that its "chowkidar chor hai" slogan would remain the mainstay of its campaign against Prime Minister Narendra Modi, aware that Rahul Gandhi's apology in the Supreme Court might create misgivings in people's minds.
While Rahul stressed at public rallies in Uttar Pradesh and Madhya Pradesh that the slogan had become an expression of popular disgust, the Congress said party leaders and workers would repeat it across the country.
Sources said the emphasis on the slogan was an attempt to dilute the political fallout of developments in the Supreme Court.
The court has told the Congress chief to file an "additional affidavit" by Monday tendering an unconditional apology for his claim that the court had concurred with his remark "chowkidar chor hai" in connection with alleged wrongdoing by Modi in the Rafale deal.
Lawyer and Congress spokesperson Abhishek Manu Singhvi has told the court Rahul would apologise.
Rahul began both his public addresses with this subject. "The BJP has written to the Election Commission that I cannot use the word chowkidar. Wah! Only Modi can use the word chowkidar. He became chowkidar and went on a stealing spree. Now he says everybody is a chowkidar," he said in Barabanki. "Modiji, the entire Hindustan is not chor, only one chowkidar is chor. All others are honest. Nobody else stole Rs 30,000 crore to give to Anil Ambani."
As people cheered and repeated the slogan, Rahul said: "You can try anywhere in the country, in any social group. You go to a hardcore RSS worker and say chowkidar. He will be rattled and will restrain himself from mouthing 'chor hai'. Now I say chowkidar and the people complete the slogan. This has entered deep into people's hearts."
At Hoshangabad in Madhya Pradesh a few hours later, chants of "chowkidar chor hai" started as soon as Rahul took the mike. "This is the voice of the people, this comes from the heart," Rahul smiled. "Now I have to discourage people… par rukta nahi hai (but it doesn't stop)."
In Delhi, party spokesperson Pawan Khera told a media conference: "The apology was only in a particular context, that the slogan was attributed to the Supreme Court. We respect the judiciary, we built institutions. We have apologised. But the government and the Prime Minister misled the court, lied to the court by giving wrong facts and hiding crucial facts relating to the Rafale deal."
Khera added: "Modi made false claims that the court gave him a clean chit in the deal…. Modi not only misled the court but also lied to the entire country. Chowkidar chor bhi hai, jhootha bhi hai."
Khera said every Congress worker would use this slogan as it is not only related to Rafale but also because the chowkidar has cheated the nation in every sphere of governance.