Chor slogan will continue: Congress
Cong chief who addressed two public rallies on Tuesday, repeatedly chanted "chowkidar chor hai" along with the audience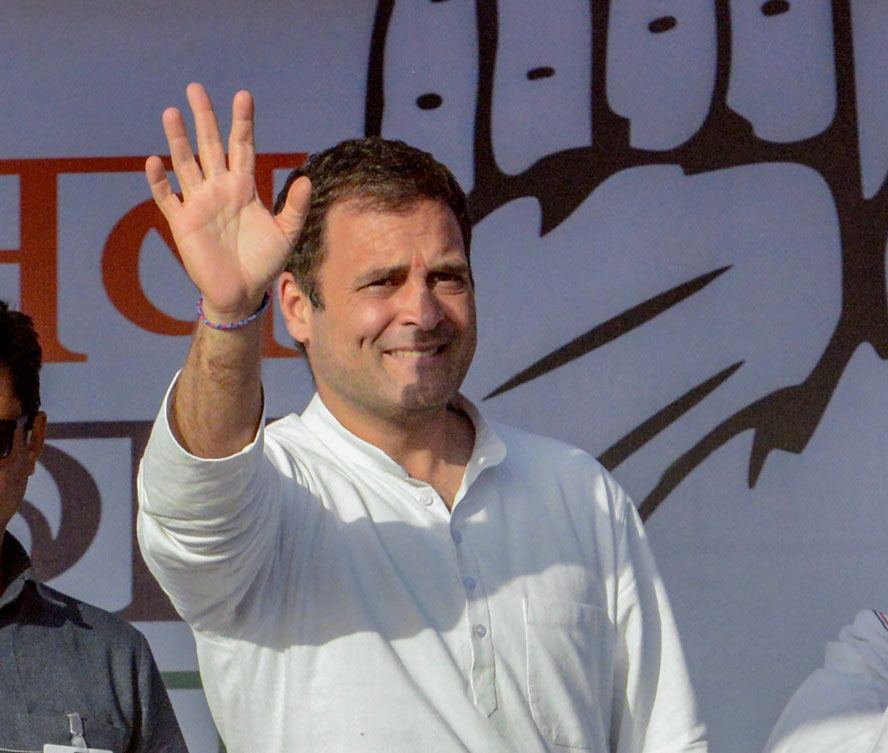 Congress President Rahul Gandhi at an election rally at Sihora in Jabalpur district on Tuesday, April 23, 2019.
(PTI)
---
New Delhi
|
Published 24.04.19, 02:22 AM
|
---
The Congress on Tuesday announced that the "chowkidar chor hai" slogan would continue irrespective of the Supreme Court issuing a notice to Rahul Gandhi as the facts of the Rafale deal had nothing to do with the ongoing contempt case.
Contesting the perception that Rahul had expressed regret for using the slogan, Congress spokesperson Abhishek Singhvi said: "Neither Rahul nor the Congress regrets the slogan and the political campaign going on for the past 18 months to bring out the complicity of Prime Minister Narendra Modi and others in the Rafale deal. The regret was expressed by Rahul only in the specific context of the claim that the Supreme Court too had endorsed the slogan."
After the BJP's Meenakshi Lekhi filed a contempt case and the Supreme Court issued a notice to him, Rahul on Monday expressed "regret" to the apex court that in the heat of political campaigning he had juxtaposed the slogan "chowkidar chor hai" while citing the court's recent ruling on the Rafale review petition.
Arguing that the chapter should have been closed after Rahul's detailed explanation, Singhvi, who is representing the Congress president in court, said: "The BJP is politicising the matter. The court has issued notice and asked us to reply by April 30. We will do the same."
Betraying no sense of nervousness at the BJP's attempt to get him embroiled in legal wrangles, Rahul, who addressed two public rallies on Tuesday, again repeatedly chanted "chowkidar chor hai" along with the audience.
Addressing a rally at Jabalpur in Madhya Pradesh, the Congress chief declared that the new government formed after the Lok Sabha elections would order an inquiry into the Rafale deal.
"An inquiry will happen and nobody will be spared. Two names will appear in the inquiry — Modi and Anil Ambani."
Rahul then said "chowkidar", to which the audience replied in unison: "chor hai."
The Congress president rubbed the message in: "Modi lectures the nation on corruption. I have dared him to debate corruption but he is frightened. Call me to 7 Race Course and I will expose you in 20 minutes.
"You ask where from money will come for NYAY (the minimum income-guarantee scheme the Congress has promised). From the pocket of your 'chor' friend Anil Ambani, direct. And have you heard of Jay Shah who turned Rs 50,000 into Rs 80 crore in three months? Son of Amit Shah, the murder accused. Wah, kya shan hai, murder accused!"
At another rally in Rajasthan's Dungarpur, Rahul repeated the allegations of wrongdoing in the Rafale deal and chanted "chowkidar chor hai'.