Rahul's 'chor' overdrive to fight canard
Rahul did not express regret for his slogan per se but BJP spokespersons claimed he had accepted he "lied"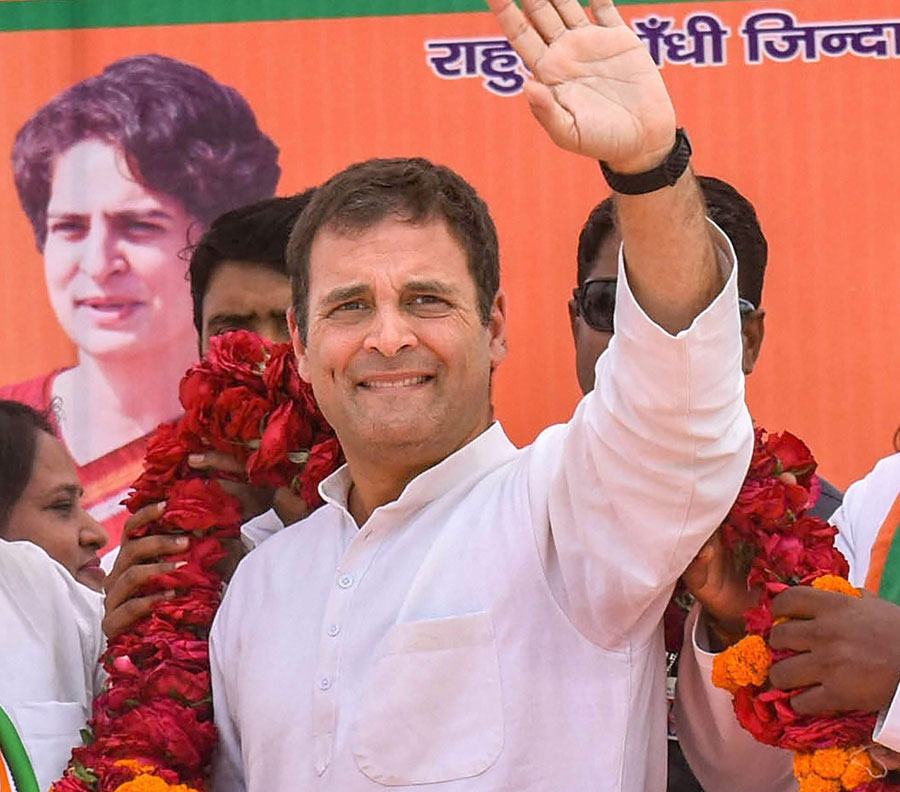 ---
---
Rahul Gandhi on Monday repeatedly chanted "Chowkidar chor hai", apparently to counter a perception that he had apologised to the Supreme Court for this slogan, which seeks to portray Prime Minister Narendra Modi as corrupt.
The Congress president had expressed "regret" to the apex court that "in the heat of political campaigning" he may have appeared to attribute the slogan to the court, creating the impression that it had found Modi guilty of corruption in the Rafale deal.
Although Rahul did not express regret for the slogan per se — nor was he required to — some BJP spokespersons claimed he had accepted he had "lied on Rafale", implying he had backtracked on the charges against Modi.
Soon after some media outlets began giving coverage to such views, the Congress president tweeted: "On May 23, people's court will give the verdict of a kamal-chhap chowkidar (lotus-stamp watchman) being the thief. Justice will be done. The chowkidar who looted the poor to benefit rich friends will be punished."
Rahul chanted the "Chowkidar chor hai (The watchman is a thief)" slogan several times at his rally in Amethi. After the speech, he stepped out to talk to the media, aware that more was needed to counter the perception about him apologising for the slogan.
"There is only one slogan in the country today: 'Chowkidar'…" he told the reporters, and the Congress supporters around him immediately responded with "chor hai."
This was repeated several times before Rahul declared: "Nobody can run away from the truth. An investigation will be done and the person who gave Rs 30,000 crore to Anil Ambani (an allusion to the allegation that Modi had personally ensured the Rafale offset contract went to Anil Ambani's company) will be punished."
The Congress too launched a counter-offensive against attempts to portray Rahul as having apologised for the slogan.
"Fakery has no boundaries. Lies no limitations, disinformation no confines!" party communications chief Randeep Surjewala tweeted.
"BJP's blasphemous misrepresentation of Rahulji's reply to the SC is itself a criminal contempt of court proceedings. Issue is sub-judice, stop passing verdict today! We reiterate — only one chowkidar is chor."
Surjewala attacked the media too, saying: "Modiji & his bhakt channels are habitual offenders in spewing lies!"
Congress leaders highlighted that Rahul had used the opportunity provided by the contempt case in the apex court to reaffirm his allegations about corruption in the Rafale deal and assert that it merited a joint parliamentary committee probe.
He had also clarified that he had made the statement that is under the scanner on the basis of initial media reports and the versions of supporters, and without having had a chance to read the court order.