Congress slams BJP after SC verdict
Priyanka described the order as a slap in the face of the government which nurtured gender biases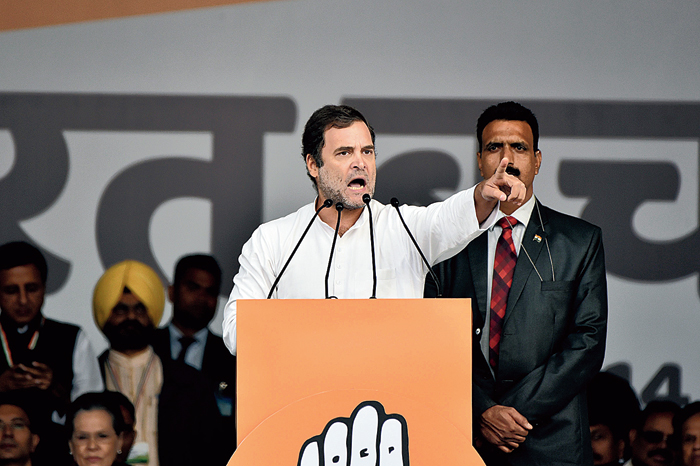 ---
---
The Congress on Monday blasted the Narendra Modi government's "myopic vision" on women's capabilities as it hailed the Supreme Court order on woman officers in the army getting command positions on par with male officers. The party also welcomed the grant of permanent commission to all women, regardless of their years of service.
Reacting to the verdict, Rahul Gandhi tweeted: "The Government disrespected every Indian woman, by arguing in the Supreme Court that women Army officers didn't deserve command posts or permanent service because they were inferior to men. I congratulate India's women for standing up & proving the BJP Government wrong."
Congress general secretary Priyanka Gandhi Vadra also described the order as a slap in the face of the government which nurtured gender biases.
Party's communication chief Randeep Surjewala said: "The government's attempt to underestimate women's valour and capabilities is not only an insult of the Constitution but also against the tradition and cultural ethos of the country. The court has exposed the anti-woman mindset of the BJP government that gave regressive arguments like domestic responsibilities and physical weaknesses of women. They also said that male officers would not accept woman's command."
The Centre didn't lose the opportunity to exploit the symbolism of women's empowerment by allowing captain Tania Shergill, a woman army officer, to lead the all-male army contingent on Army Day on January 15 this year. This laudable gesture, however, wasn't in tune with the government's position in the court.
The Chief of Defence Staff Bipin Rawat had also questioned women's role in combat role.
BJP spokesperson Meenakshi Lekhi, however, countered the Congress, arguing that the central government under Manmohan Singh had opposed women's role in combat operations in 2010 and 2012.
She said the Narendra Modi government told the court that it was ready to grant combat role to women and a policy for permanent commission was formed in 2019.
"Prime Minister Modi announced granting of combat role to women in the army from the ramparts of Red Fort on August 15, 2019. Our commitment to empowerment of women is far greater. We have today created history."
Congratulating every Indian and the Prime Minister, Lekhi said: "The matter was pending in (the) Supreme Court since 2010. The UPA government had gone in appeal against the high court order. Rahul Gandhi should get his facts correct before attacking our government. Additional affidavits were filed by (the) UPA government opposing permanent commission to women."