Congress retains Temisgam seat in Ladakh
Party candidate Tashi Tundup wins bypoll by defeating BJP's Dorjay Namgyal by 273 votes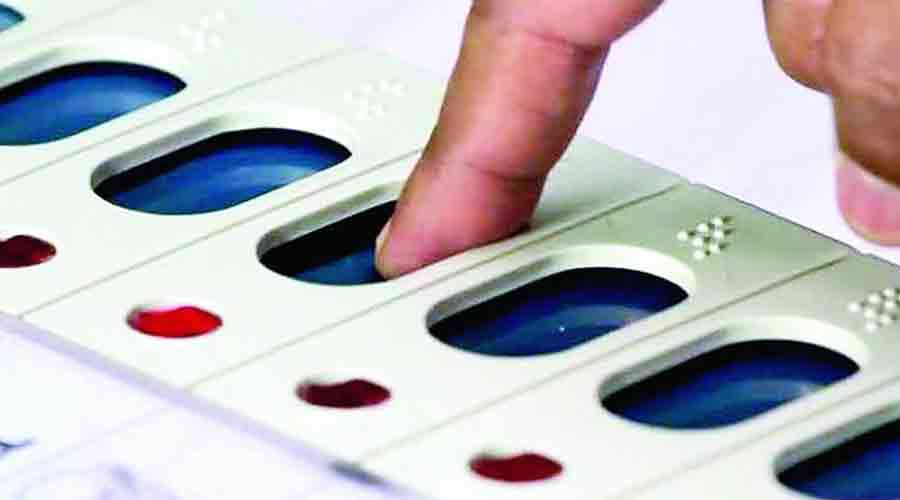 Representational image.
File picture
---
Srinagar
|
Published 18.09.22, 12:48 AM
|
---
The Congress on Saturday retained the Temisgam seat in the BJP-led Ladakh Autonomous Hill Development Council (LAHDC) amid growing anger in the region against the Centre's alleged reluctance to give it special status.
Congress candidate Tashi Tundup won the bypoll by defeating the BJP's Dorjay Namgyal by 273 votes. The Congress candidate polled 861 votes to the BJP's 588. The LAHDC runs the administration of Leh.
The seat had fallen vacant after the death of the then Congress councillor. The voting, held on September 13, saw an unprecedented 98.7 per cent polling.
In October 2020, the BJP had retained power by winning the election to the 26-member LAHDC, bagging 15 seats on the promise that the aspirations of Ladakh would be considered. The Congress had won nine while two Independents had emerged victorious.
A member of the Leh-based Apex Body of People's Movement that is fighting for Ladakh's special status said Saturday's outcome was a wake-up call for the BJP and a reflection of the people's anger against the party.
"The BJP engaged in a high-pitched campaign and offered sops like erecting 4G towers in the area, but despite that they lost. People are angry as they are yet to get the promised safeguards. Youths are also angry because of rising unemployment," a member said, requesting anonymity as the Movement is "non-partisan" and should not be seen "taking sides".
Ladakhi Buddhists had cheered the 2019 scrapping of Jammu and Kashmir's special status and the grant of Union Territory status to the region. They have since been fighting unsuccessfully for special status for Ladakh under the Sixth Schedule of the Constitution under which jobs and land rights are reserved for locals.
Senior Congress leader Jairam Ramesh congratulated the party committee in Ladakh and took a dig at the BJP's central leadership and Ghulam Nabi Azad, who quit the Congress recently.
"Here is some breaking news for Modi, Shah and Azad. The Congress party has defeated the BJP by a convincing margin in the Temisgam bye-election to the Ladakh Hill Council. Congratulations to the Ladakh District Congress Committee!" he tweeted.
The social media handles of Ladakh's BJP leadership ignored the defeat and appeared busy wishing Prime Minister Narendra Modi on his birthday.
Ladakh's BJP vice-president Dorjay Angchuk played down the defeat. "It was not an important election. It was a competition between two villages where the bigger village won," Angchuk told The Telegraph. Asked about the Movement member's claim about Ladakhis being angry, the BJP leader told this correspondent to talk to his seniors on such matters.
The Movement member said the Centre had set up a committee to look into their demands but no progress had been made. "There were a couple of rounds of talks but they have been sitting on our demands," he said.