'This is not politics but about democracy'
Facebook hate speech handling 'destabilises' Indian democracy: Congress
A WSJ report had suggested the social media giant condoned hate posts by the Hindutva ecosystem to protect its business prospects in the country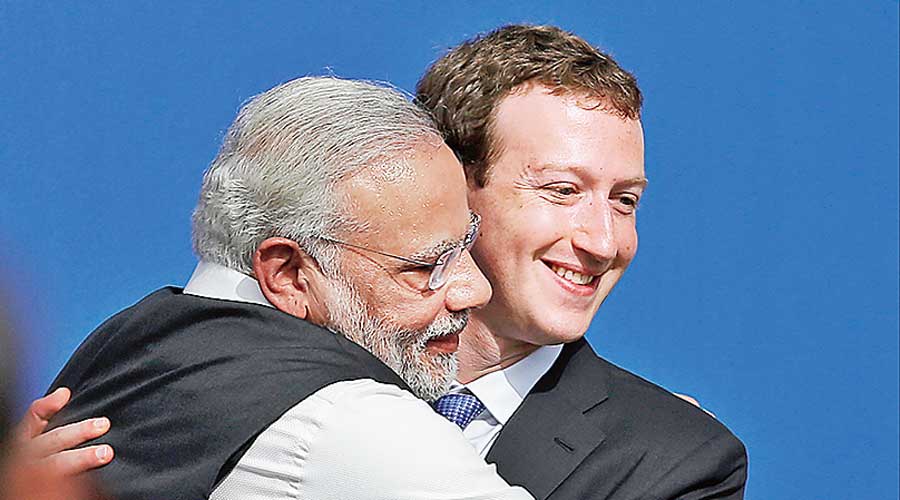 Modi with Zuckerberg in the US in September 2015.
AP
---
New Delhi
|
Published 18.08.20, 01:06 AM
|
---
The Congress on Monday said Facebook's inaction on hate content "destabilises" India's democracy and voiced shock at the Narendra Modi government's silence on the American company's different ethical standards for different countries.
"It is not a Congress versus BJP matter. It is about India's democracy and society. Instead of refuting the Wall Street Journal (WSJ) report or investigating the nexus, the government is attacking the Congress. We are raising concerns for democracy. Facebook chief Mark Zuckerberg has been questioned in many countries," Congress spokesperson Supriya Shrinate said.
The WSJ report had suggested Facebook condoned hate posts by the Hindutva ecosystem to protect its business prospects in the country.
"Facebook has different rules for different countries and that is not acceptable. The rules for India are dramatically different and are bent as per their convenience. In Singapore while deposing before policy makers, Facebook said they… can't take down offensive content without it being brought to their notice. Ironically, in India, despite complaints and red flags being raised by their own trust and safety teams, hate content has been allowed to continue," Shrinate said.
"Across the world in many countries, Facebook has removed pages and has issued press releases for that, citing 'coordinated inauthentic behaviour.' But why has Facebook never done something similar with rumour-mongering and hate speeches in India?" the Congress spokesperson asked.
"There is enough and more objectionable content that exists on its platform, including creating acrimony between communities, abusing women and maligning political leaders," she said.
While the Congress had on Sunday said the WSJ report was only a confirmation of what it knew all along and that it had lodged complaints with Facebook since 2018, Trinamul Congress MP Derek O' Brien had raised the matter in the Rajya Sabha in June 2019. Decoding how the BJP won the election, he said: "There is also an undisclosed alliance. The alliance with the Facebook, it is a sordid story."
After the WSJ report triggered a political storm, Congress MP Shashi Tharoor, who heads the parliamentary standing committee on information technology, has written to Facebook seeking its response on the allegation that it did not act against hate speech, fearing damage to its business interests.
Repeating the party's demand for a Joint Parliamentary Committee probe into the matter, Shrinate expressed shock that the Facebook applied a different ethical standard in India, allowing commercial interests to be the driving force.
"India is one of the most thriving democracies in the world and anybody or any organisation or any platform which undermines that by indulging in hate-mongering should not be spared. With all responsibility, I will say that Facebook's inaction destabilises our democracy."
Pointing out that Facebook is replete with hate posts that continue to fester animosity, the Congress spokesperson said: "Facebook-owned WhatsApp awaits a payment licence. The possible profits in India, a market where the messaging app has 40 crore users, is undeniably huge. In fact, many have raised eyebrows on the social media giant's deal with Mukesh Ambani-controlled Reliance Jio. Facebook bought a little under 10 per cent stake in Jio for Rs 43,574 crore, which is the largest minority stake investment by a tech company anywhere in the world."
PTI quoted a Facebook spokesperson as saying: "We prohibit hate speech and content that incites violence and we enforce these policies globally without regard to anyone's political position or party affiliation. While we know there is more to do, we're making progress on enforcement and conduct regular audits of our process to ensure fairness and accuracy."