Congress manifesto: Bid to scrap sedition law and Kashmir policy become Arun Jaitley's targets
The Congress has said it will review force deployment in Kashmir and omit the sedition law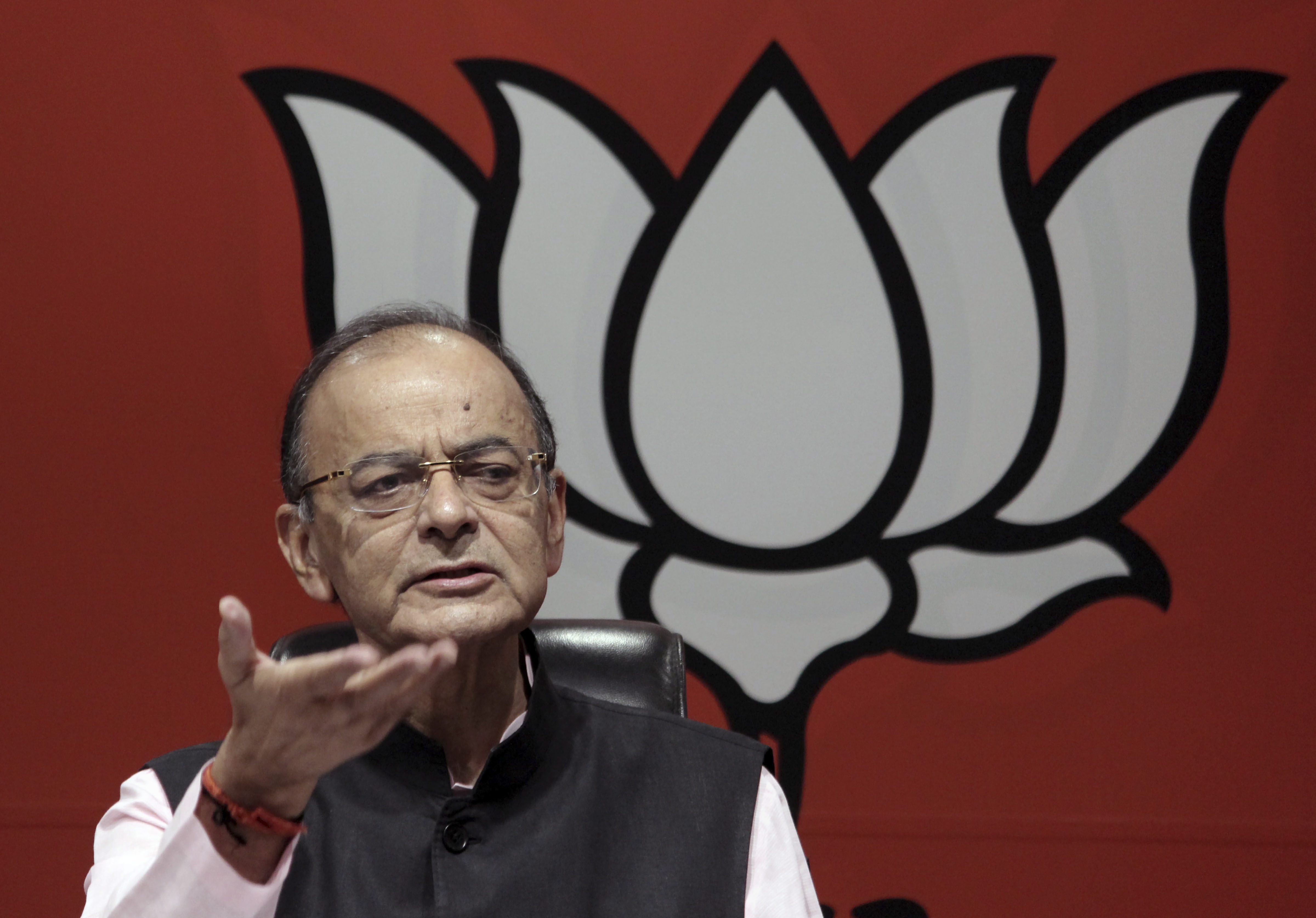 Finance minister Arun Jaitley at the news conference in New Delhi on April 2.
PTI
---
New Delhi
|
Published 02.04.19, 01:23 PM
|
---
Union finance minister Arun Jaitley, who was deployed by the BJP today to counter the Congress's manifesto, said the promises made by Rahul Gandhi were 'unimplementable' and 'dangerous'.
He reinforced his party's focus on national security, the main campaign plank of the BJP,  by focusing largely on sections in the manifesto that were on Jammu and Kashmir and on omitting Section 124A of the Indian Penal Code that defines the offence of sedition.
The Congress said in the manifesto that Section 124A 'has been misused and, in any event, has become redundant because of subsequent laws' and so would be omitted. In the same section,  tiled 'review of laws, rules and regulations', the party said it would 'amend the Code of Criminal Procedure and related laws to affirm the principle that 'Bail is the rule and jail is the exception'.' 
Jaitley said the suggested relaxation regarding bail was done to help Maoists and terrorists and some of the ideas in the document could encourage the 'Balkanisation of India' and were drafted by the Congress president's friends in the 'tukde tukde gang'. 
In the separate section on Jammu and Kashmir, the Congress promised to review the deployment of armed forces in the state, 'move more troops to the border to stop infiltration completely and reduce the presence of the army and central armed in the Kashmir Valley, and entrust more responsibility to the J&K police for maintaining law and order'. It also said that the Armed Forces (Special Powers) Act and the Disturbed Areas Act in J&K will be reviewed. 'Suitable changes will be made in the text of the laws to balance the requirements of security and the protection of human rights,' the text read. 
Jaitley attacked this section, saying that the Congress wanted 'mukadme (ciriminal cases)' against personnel of the armed forces. 'Those people who laid down their lives for the country, you want them to be prosecuted at the behest of terrorists, their friends or their relatives?' he asked. 'Kehte hain ki sena ki maujudgi ko dilute kar do, taki patthar phenke waley sadkon pe aa jaye (the Congress says the presence of the army has to be diluted so that stone throwers can have a field day),' he said, perhaps interpreting the Congress's plan to review security deployment in the Valley. 
He mocked the Congress's approach for talks to improve the situation in Kashmir and scoffed at the party for dedicating a complete section to Kashmir, while not mentioning Kashmiri Pandits anywhere in the section.

On the Nyuntam Aay Yojana (Nyay), the direct cash benefit scheme unveiled by Rahul, Jaitley said the Congress had concealed from voters that the plan would be implemented with state help.