'Modi looking to sell off assets, destroy MSMEs'
Cong demands probe into heroin haul at Adani-operated port
Party communications chief Randeep Surjewala cited a news report that said the same company had imported a much larger quantity of heroin in June, undetected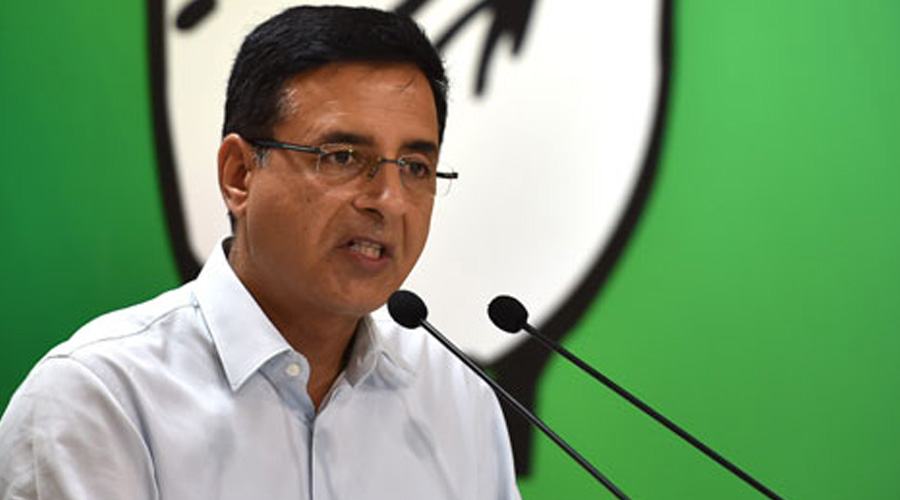 "The Narendra Modi government's objective is clear: sell off national assets, destroy small and medium businesses, hand over everything to a few companies and push the youth into drugs," Surjewala said.
File picture
---
New Delhi
|
Published 23.09.21, 01:26 AM
|
---
The Congress on Wednesday demanded investigations by sitting Supreme Court judges into the smuggling of heroin through the Adani-operated Mundra port in Gujarat, and into allegations that e-commerce giant Amazon had paid Rs 8,546 crore in bribes in India as "legal fee".
While officials have said nearly 3,000kg heroin was seized at Mundra port last week, Congress communications chief Randeep Surjewala cited a newspaper report that said the same company had imported a much larger quantity of heroin — 25,000kg — in June but it had gone undetected.
"The Narendra Modi government's objective is clear: sell off national assets, destroy small and medium businesses, hand over everything to a few companies and push the youth into drugs," Surjewala said.
"These two sensational disclosures have proved that the Modi government has taken a contract to sell India's future. Their motto is obvious: take money and allow the loot."
Surjewala added: "Now we realise they took Rs 8,546 crore from the e-commerce giant. Who in the government — which official or which politician — took the bribe? Was this bribe meant for changing policies to destroy small businesses and suit e-commerce? Six companies of Amazon paid the money as what they called 'legal fee'. How are these companies inter-related?"
Surjewala asked whether Modi, who is on a US tour, would ask President Joe Biden to initiate a criminal investigation against Amazon and whether the Prime Minister would himself order an inquiry by a sitting Supreme Court judge.
Amazon has promised to look into the matter, as lobbying for business is a crime in both the US and India.
On Monday, a report by The Morning Context, a research and media company, had stated that Amazon had initiated an investigation against some of its legal representatives for allegedly bribing Indian government officials, PTI reported.
PTI said that while initially Amazon had declined to comment on the news agency's query on the matter, later in the evening, an Amazon spokesperson said a line item from its statutory filings on legal fees had been misrepresented.
The line item is "actually termed legal and professional expenses that includes not just the legal costs but also the costs related to other professional services such as outsourcing, tax consultants, customer research, logistic support services, merchant onboarding services, customer service cost, etc", the spokesperson said.
"For instance, for the year ended March 31, 2020, the legal fee was Rs 52 crore, from the total legal and professional expenses of Rs 1,967 crore," the spokesperson added.
Surjewala said the same company whose consignment of 3,000kg heroin was seized last week had imported 25,000kg heroin in the garb of semi-cut talcum powder in June.
"The cost of the stuff in the market is Rs 175,000 crore. Where is that stuff? Being sold to India's youth? The same route was used for that consignment also. Why no investigation against Mundra port owned by Adani?"
The Deccan Chronicle newspaper has reported that 25,000kg of heroin was imported in June through a little-known Vijayawada firm but the stuff never came to Andhra Pradesh.
"If the Andhra firm has to import something, why will it not use the ports of Visakhapatnam, Thiruvananthapuram or Goa instead of opting for the Mundra port in Gujarat?" Surjewala asked.
He said reports suggested that the company was only a conduit and had received a commission of Rs 10 lakh. He said the government must find out who the real operator of the drug cartel was.
"Will the Prime Minister answer: were the Narcotics Bureau, CBI, directorate of revenue intelligence, Intelligence Bureau sleeping? Or are they meant only to harass critics of the government?" he said.
"Is it not a breach of national security? How is such a huge drug cartel flourishing under the nose of the government?"
Surjewala also said that more than 1.14 crore jobs were lost in the last one year.