Rahul bonds with students over dinner
The youngsters found Rahul 'warm and affable'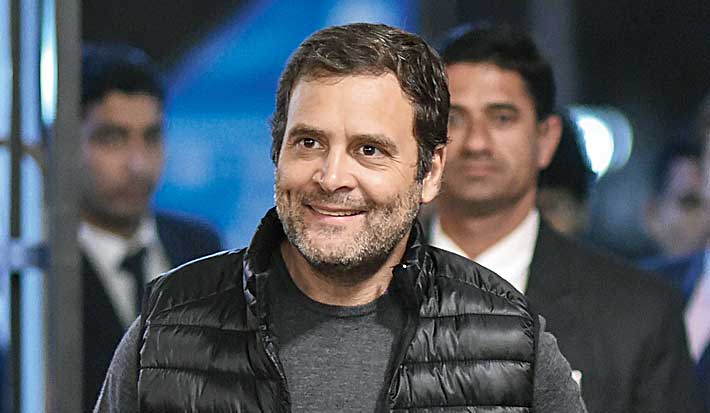 Rahul Gandhi arrives for the interaction with students in New Delhi on Friday.
(PTI)
---
New Delhi
|
Published 02.02.19, 09:12 PM
|
---
Rahul Gandhi has floored Pratishtha Deveshwar. "He is not an 'I know everything' kind of person…. Such a friendly and humble person, he was actually serving me," the 20-year-old student of Lady Shri Ram College gushed.
Pratishtha was among seven students from different parts of the country who had a "surprise" dinner interaction over Chinese food with Congress president Rahul where they shared their ideas about improving the lives of people and were promised that some of the suggestions would be included in the party manifesto.
Asked what Rahul thought of her, Pratishtha said: "He told me that 'you are pretty impressive for a 20-year-old', which is a compliment I am going to hold onto for my entire life. He knows how to give importance to everyone."
"He was open to a conversation and discussion in trying to understand things," said Pratishtha. "You do not expect such things from a person of this stature. It really breaks the ice between the big politicians and the 'aam aadmi'," the political science student said, referring to Rahul serving her food during the two-hour interaction at an upscale restaurant in New Delhi on Friday.
Pratishtha said Rahul told her that he would work on issues such as making colleges and universities more accessible.
"I also suggested that the Congress needs to come out with its manifesto in Braille…. He assured me that they will do so," she said.
The youngsters found Rahul "warm and affable".
With the general election drawing near, Rahul has begun an outreach programme named Apni Baat Rahul Ke Saath. The seven students were the first to interact with him as part of the initiative. Rahul will have several such sessions with students.
Critics pointed out that the Congress has often mocked Prime Minister Narendra Modi over his interactions with students.
Congress leaders, however, said Rahul's interactions were more "personal", where he took out time to listen to people. The view was endorsed by Pratishtha.
Abhilash Karri, an IIT student from Mumbai, recalled how surprised they were when they saw a beaming Rahul walking into the dining area. The students had been told they would have an interaction with the Congress, but not that it would be with the party chief himself.
Kunal Ramteke of the Tata Institute of Social Sciences said he discussed caste-based discrimination with Rahul, adding that the Congress president was sensitive to the issue. "I hope he will implement the suggestions to end caste-based discrimination.... His talk was very inspirational," Kunal said.
Abhilash said he stressed on making education accessible to all by introducing a fee structure that can be afforded by the underprivileged.
"We also discussed the effects of (the proposed) 10 per cent reservation…," Abhilash said, referring to the quota the government has lined up for the economically backward. "I did not know that he (Rahul) was coming. It was a great moment for me," he said.
Rohan Reje Mathews, an engineering student in Karnataka's Dharwad and LGBTQ activist, said the interaction was "pretty nice".
Shemaila Ali Khan, an MBBS student from Delhi, said she highlighted the education of Muslim girls.
Anil Kumar Maurya, a law student from Agra, discussed the atrocities against Dalits and expressed hope that the Congress would take it up.