Cong blames govt for staggering fuel, essential commodity prices
The INC has been holding demonstrations across states and will now organise news conferences to send the message to the Centre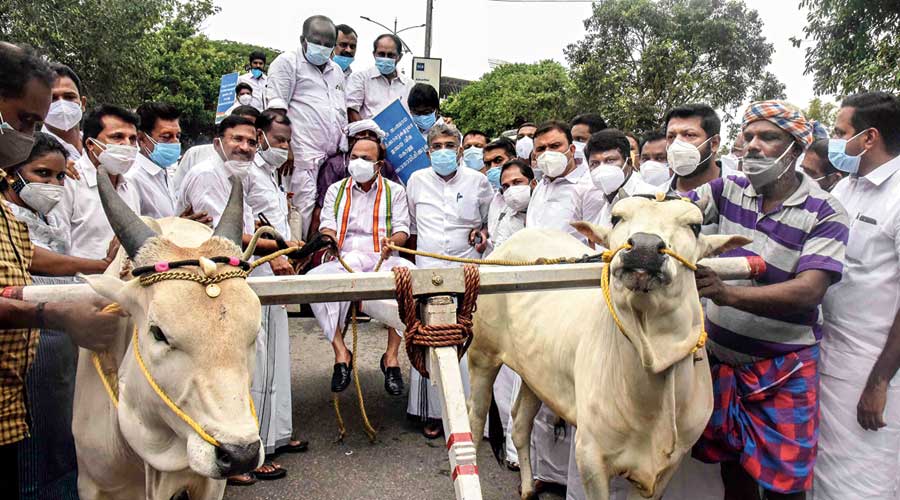 Congress leader VD Satheesan (centre) with party workers at a protest rally against the hike in fuel prices in Kochi on Monday.
PTI
---
New Delhi
|
Published 14.07.21, 02:13 AM
|
---
The Narendra Modi government is directly to blame for the steep prices of petroleum products and other essential commodities that are squeezing people already struggling with loss of incomes or jobs in a pandemic, the Congress said on Tuesday.
"The government and the RBI have set an inflation target of 4 (+/- 2) per cent. Consumer price inflation has breached the upper limit of 6 per cent and is now 6.26 per cent. Food inflation is at 5.58 per cent, pulses inflation is at 10.01 per cent, fruits at 11.82 per cent, transport at 11.56 per cent, fuel and light at 12.68 per cent and oils at 34.78 per cent.
"Will the government please tell the people what they should eat, how they should light their homes and how they should go to work?" former finance minister P. Chidambaram said at a news conference here.
Demanding an immediate and substantial reduction in petroleum prices, Chidambaram said: "Inflation, even in a normal time, would be intolerable. The present is not a normal time.
A pandemic is raging across the country. The pandemic has resulted in jobs being axed, unemployment rising to 8.1 per cent and incomes/ wages being cut for millions of working people.
In such a situation of widespread distress, inflation has broken the back of the people, and we hold the Narendra Modi government directly responsible for it."
Chidambaram said the inflation "has not been caused by a spurt in demand". "On the contrary, private consumer demand is low," he said.
"This inflation has not been caused by excess liquidity or too much money in the hands of the people. This inflation has been caused by the wrong policies of the government and its inept management of the economy," he added.
Pointing out that the UPA government had kept petrol price at Rs 65 a litre and diesel at Rs 44 when international crude oil price was $125 per barrel, Chidambaram said the Modi government was selling petrol for over Rs 100 and diesel for over Rs 90 when crude was around $75 per barrel.
"The sole reason for the exorbitant prices is the levy of cesses by the government. Total cesses levied by the central government on petrol and diesel are Rs 33 per litre and Rs 32 per litre, respectively. Through these cesses alone the Centre collects approximately Rs 4.2 lakh crore every year and keeps all that money to itself. This is exploitation and greed of the worst kind," the veteran leader said.
The Congress has been holding demonstrations across states and will now organise news conferences to send the message that the Modi government was profiteering off people's miseries.
Senior leaders, including some from the rebellious group of 23, have been tasked to communicate the message effectively. Mallikarjun Kharge, Kamal Nath, Salman Khurshid, Anand Sharma, Digvijaya Singh, Shashi Tharoor, Shaktisinh Gohil, Ajay Maken and Manish Tewari will address the media across the country.
Rahul Gandhi set the tone of the discourse with an acerbic tweet: "Khaya bhi, mitron ko khilaya bhi — bas janata ko khane nahin de rahe (Ate and fed friends — just not letting the public eat)."
खाया भी, 'मित्रों' को खिलाया भी-
बस जनता को खाने नहीं दे रहे।#PriceHike pic.twitter.com/FLjJvn5KJ8

— Rahul Gandhi (@RahulGandhi) July 13, 2021
The tweet appeared to be a response to Modi's campaign slogan "Na khaoonga, na khane dunga", through which he had made a promise of honesty.
Posting another article that suggested millions of Indians pushed into poverty were selling family gold for survival, Rahul said: "Come rain or shine, no respite from the Government of India's economic mess."
Chidambaram had earlier said: "A government that is concerned about the welfare of the people — and their hardships and burdens — will not turn the other way when every household is agitated about the rise in prices. The government has continued to pretend that the concern about price rise is a false concern and, if the government ignores the issue, the issue will go away. The Congress condemns the callous negligence on the issue of price rise."