Congress and Naidu soldier on despite predictions of Modi comeback
Effort to remove any hurdle in the way of Opposition unity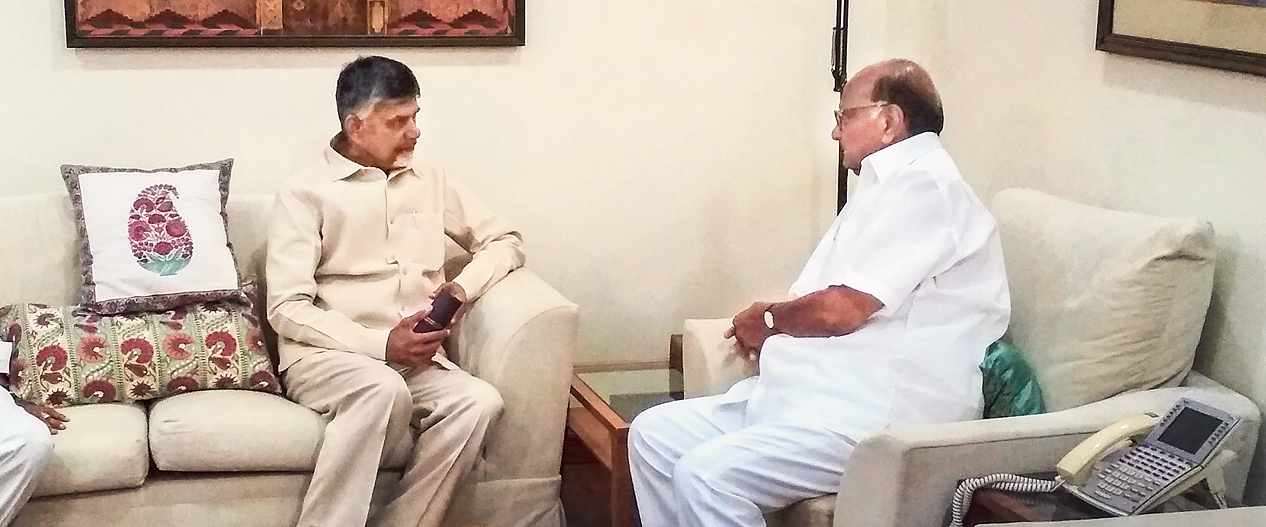 Chandrababu Naidu (left) meets Sharad Pawar in New Delhi on Sunday.
(PTI)
---
New Delhi
|
Published 19.05.19, 10:43 PM
|
---
Although exit polls on Sunday predicted the return of the Narendra Modi government, the Congress and other Opposition parties worked towards sewing up a majority in anticipation of a hung verdict, with the BJP well below a majority.
While senior Opposition politicians have been careful not to discuss the possible scenarios openly till the results are out on May 23, Andhra Pradesh chief minister Chandrababu Naidu's frenetic efforts suggest their calculations are at odds with the definitive picture painted by the exit polls. The Congress leadership has got in touch with Mayawati, Mamata Banerjee and Akhilesh Yadav.
Naidu met Congress leaders Rahul Gandhi and Sonia Gandhi apart from CPM general secretary Sitaram Yechury and NCP chief Sharad Pawar. He briefed them on his meeting with Mayawati and Akhilesh, which took place in Lucknow on Saturday.
Sources said both heartland allies were cautious and had advised Naidu to wait for the results. The Congress did not confirm speculation of a meeting lined up between Mayawati, Rahul and Sonia on Monday.
The effort is to remove any hurdle in the way of Opposition unity.
"Right now the discussions are only about arranging the numbers to stop Modi. We don't see Modi coming anywhere near the exit poll projections and want to ensure the BJP finds it extremely difficult to attract new partners," an Opposition leader said.
Congress leaders privately insisted the party would win around 150 seats and the BJP would fall short of 200.
Many Congress politicians argued that the exit polls' prediction of a bigger-than-2014 mandate for Modi defied political logic. While the resistance to the BJP was far stronger and more organised this time than in 2014, Modi had lost much of his sheen and was facing the wrath of several sections of society, they said.
But while they cited instances of exit polls getting it all wrong in the past, a few of them conceded that the consensus among the projections was worrying.
"Usually we get a wide range with difference of up to 100 seats. This time there is unanimity that the BJP will cross the halfway mark or come close to it. We didn't see this coming on the ground," a former minister said.
Some privately expressed concern about the electronic voting machines (EVMs) and said the Opposition had failed to do enough to force the tallying of at least 25 per cent of the votes with the paper-trail slips.
As voting in the final phase ended, Rahul Gandhi tweeted: "From Electoral Bonds & EVMs to manipulating the election schedule, NaMo TV, 'Modi's Army' & now the drama in Kedarnath; the Election Commission's capitulation before Mr Modi & his gang is obvious to all Indians. The EC used to be feared & respected. Not anymore."
Former finance minister P. Chidambaram tweeted: "Polling is over. Now we can say that the 'pilgrimage' of the PM in the last two days is an unacceptable use of religion and religious symbols to influence the voting. Our charge had been that the EC was sleeping on the job. Now, we can go further and say that the EC completely surrendered its independence and authority. Shame!"