Cloudburst pushes Uttarakhand village to stone age
Six families shift to cave, wait for government relief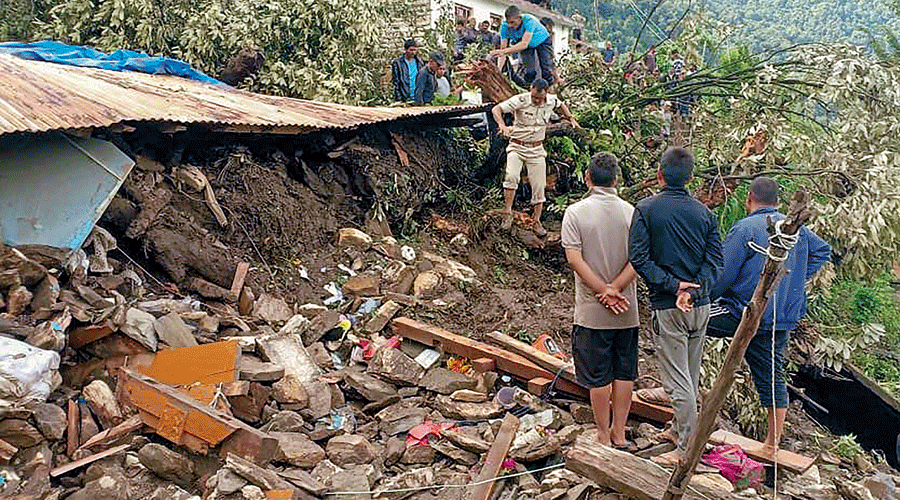 ---
|
Lucknow
|
Published 24.07.20, 03:32 AM
---
Six families from an Uttarakhand village had to resort to stone-age ways of protecting themselves against nature when a cloudburst triggered landslides and house collapses killed at least 10 people in their district on Monday.
These 25-odd people from Thapa village in Munsiyari tehsil of Pithoragarh district shifted to a nearby mountain cave on Tuesday, the 2013 deluge that killed at least 8,000 people in Kedarnath and Badrinath still fresh in their memory.
"Heavy rain increases the chances of landslides, which would have caused our homes to collapse. So we shifted to the cave in the hills near our village," Hira Singh, a villager, told reporters over the phone.
He said the six families were spending the nights in their rocky chamber and their days under makeshift "plastic tents" outside the cave.
Singh said that 41 of Thapa's 47 families had left for other places on Monday. But the remaining six had no relatives outside, nor enough money to survive elsewhere.
"We have been trying to inform people in the government about our situation but they are yet to respond or make any arrangements to shift us somewhere else," he said.
Almost every rainy season, some or other part of Uttarakhand witnesses cloudbursts. There have been half a dozen in the seven years since the 2013 calamity, causing fatalities almost every time.
But while the state government claims its disaster response force is well prepared and equipped to meet such emergencies, villagers say they rarely receive timely alerts or help in the form of rescue or relief.
Tikait Singh, a resident of Tanga village in Bangapani tehsil, 46km from Munsiyari, said he had to climb 800 feet up a mountain amid pelting rain to be able to get a mobile signal and alert a local politician.
"Only when the politician got in touch with the district authorities did they learn about the cloudburst," he said.
According to the state government, three houses caved in on Monday at Tanga. Seven bodies were retrieved by a rescue team on Wednesday but four people were still missing. One injured man is being treated in hospital.
At Gaila village in the same tehsil, three of a family were buried alive on Monday when their home collapsed and five others suffered injuries.
Two houses collapsed in Madkot village the same day, killing a cow and a goat. The residents had already left in fear of a landslide.
Madkot, set at an elevation of 920 metres, is 22km from Munsiyari, which has an altitude of 2,200 metres. Bangapani is located at an altitude of 1,250 metres.
"Landslides have started in the periphery of Thapa and can happen anytime in the village," said Mahiman Singh, former village panchayat chief of Thapa who has shifted to Pithoragarh town, 110km away.
Pithoragarh district magistrate Vijay Kumar Jogdande said: "Whenever anything untoward is taking place, we have been trying our best to reach the spot. We have asked local authorities to send relief material and medical teams to the affected families and shift them to safer places as soon as possible."