Masood Azhar kin: China shields hijack plotter
Chinese move in UN Security Council's 1267 Sanctions Committee is latest in a series of swipes that Beijing and New Delhi have traded in recent days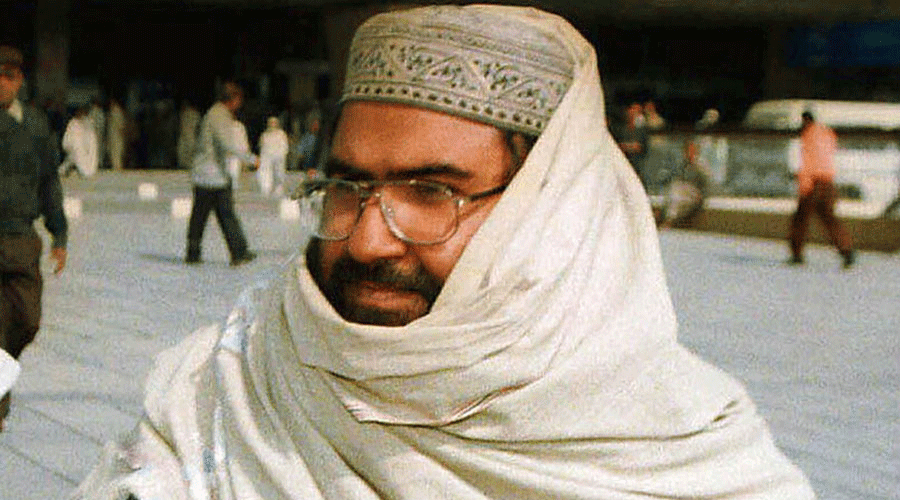 ---
New Delhi
|
Published 12.08.22, 02:57 AM
|
---
China on Wednesday did exactly what India's permanent representative to the UN had a day earlier criticised it for doing: stall proposals to ban terrorists.
Beijing placed on technical hold a move by India and the US to sanction Abdul Rauf Asghar, Jaish-e-Mohammad deputy chief and younger brother of banned terrorist Masood Azhar, delaying  the process by up to six months.
The Chinese move in the UN Security Council's 1267 Sanctions Committee is the latest in a series of swipes that Beijing and New Delhi have traded in recent days, needling each other on sore points.
From China's viewpoint, India has failed to reaffirm its belief in the "one-China policy" since Nancy Pelosi, Speaker of the US House of Representatives, visited Taiwan last week, escalating tensions in the region.
Although India was among the first countries to accept the one-China policy in 1949, New Delhi has not made any reference to it since 2010.
Sources said India had moved a proposal in the Sanctions Committee to list Asghar, with the US co-sponsoring it, on Wednesday. China placed a technical hold on the proposal while all other 14 member countries in the Security Council were supportive of the listing proposal, the sources claimed.
In June, China had placed on hold a joint proposal by India and the US to put the Lashkar-e-Toiba deputy chief, Abdul Rehman Makki, on the sanctions list.
Asghar is accused of involvement in the planning and execution of numerous terror attacks, including the hijack of an Indian Airlines flight from Kathmandu to Kandahar in December 1999, the Parliament attack of 2001 and the Pathankot terror strike in 2016.
Makki is alleged to have raised funds and incited youngsters to plan strikes against India, including the Mumbai terror attacks.
On Tuesday, while presenting India's position at the UNSC briefing on "Threats to international peace and security caused by terrorist acts", permanent representative to the UN Ruchira Kamboj had made a clear allusion to China without naming it.
"The practice of placing holds and blocks on listing requests without giving any justification must end," Kamboj said.
"It is most regrettable that genuine and evidence-based listing proposals pertaining to some of the most notorious terrorists in the world are being placed on hold. Double standards and continuing politicisation have rendered the credibility of the Sanctions Regime at an all-time low."
China had stalled the proscribing of Jaish-e-Mohammad chief Masood Azhar by the UNSC Sanctions Committee for years, using the technical hold provision repeatedly, till finally yielding in 2019.
Beijing's stalling of Asghar's sanctioning comes at a time new irritants have crept into bilateral relations, with India having nudged Sri Lanka into deferring docking rights to a Chinese "research/survey" ship in Hambantota port.
The Chinese ship, Yuan Wang 5, was to make a port of call at Hambantota from August 11 to 17. But Colombo asked it to defer the visit last weekend after India raised security concerns about the presence of the ship, which can track missiles and satellites close to the Indian shore.
China subsequently accused India of exploiting Sri Lanka's economic vulnerability to interfere in Colombo's relations with other countries, making an oblique allusion to the widely acknowledged assistance that New Delhi has extended to the island nation in its hour of crisis.