Centre to send Covid teams to 4 states
The health ministry said that each 'multi-sectoral' team will also work with the local authorities to achieve early diagnosis and adequate follow-up of cases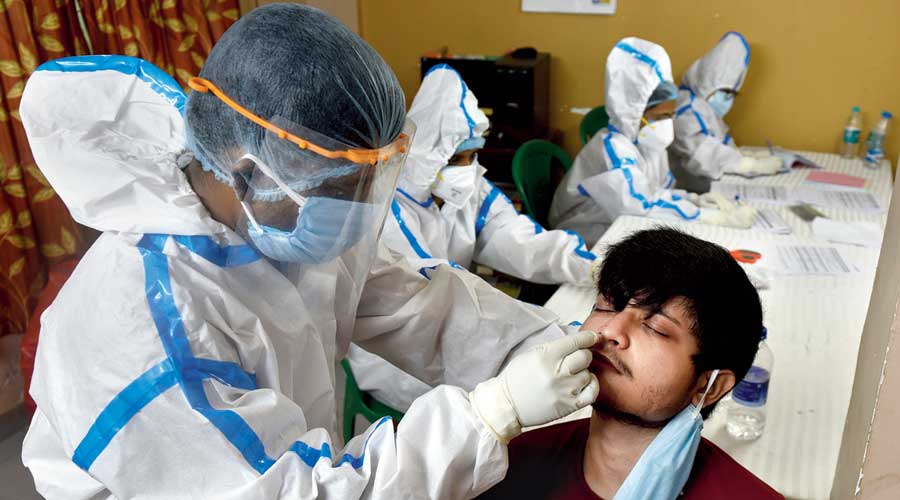 ---
---
The Union health ministry plans to deploy central medical teams to Chhattisgarh, Jharkhand, Odisha and Uttar Pradesh to help with containment, surveillance, testing and clinical management of the coronavirus disease amid a sudden surge and high mortality in these states.
The health ministry said on Monday that each "multi-sectoral" team would also work with the state authorities to achieve early diagnosis and adequate follow-up of cases.
Each "multi-sectoral team" will include an epidemiologist and a public health expert.
The 7-day average daily new cases in all four states, among others, have increased over the past two weeks — from 475 on August 16 to 1,311 on August 30 in Chhattisgarh, 702 to 1,578 in Jharkhand, 2,018 to 3,201 in Odisha and 4,544 to 5,407 in Uttar Pradesh.
The Covid-19 mortality rates in the four states are lower than India's average of 1.78 per cent on Monday.
The cumulative mortality rates are 0.9 per cent in Chhattisgarh, 1.1 per cent in Jharkhand, 0.5 per cent in Odisha and 1.5 per cent in Uttar Pradesh.
The health ministry did not specify on Monday what it meant by "high mortality" in the four states.
But health officials have earlier told The Telegraph that the ministry keeps track of changes in mortality and "immediately" alerts states when there are any increases. The ministry has said all states should aim to reduce the case fatality rate to less than 1 per cent.
Public health experts view Chhattisgarh, Jharkhand, Odisha and Uttar Pradesh as among states where the Covid-19 epidemic for weeks lagged behind others such as Delhi, Gujarat, Maharashtra and Tamil Nadu, but are now experiencing a surge in cases.
"India has multiple Covid-19 epidemics — different geographical areas are in different phases of the epidemic," said D.C.S. Reddy, a community medicine specialist and member of a Covid-19 task force on epidemiology and surveillance set up by the Indian Council of Medical Research (ICMR).
The central government has been deputing its teams from time to time to visit various states to interact with local authorities and "get a first-hand understanding" of the challenges faced by them, the ministry said.
The Centre had earlier deployed similar teams to Bihar, Gujarat, Maharashtra and Bengal, among other states.
India on Monday recorded 78,512 new Covid-19 cases, raising the country's total number to over 3.62 million, of whom over 2.77 million have recovered, 781,975 patients are under medical supervision and 64,469 have died.