Centre seeks four weeks' time on ex gratia to kin of Covid dead
The govt said that the payment process is under 'active consideration' and requested time to come out with 'comprehensive and robust guidelines'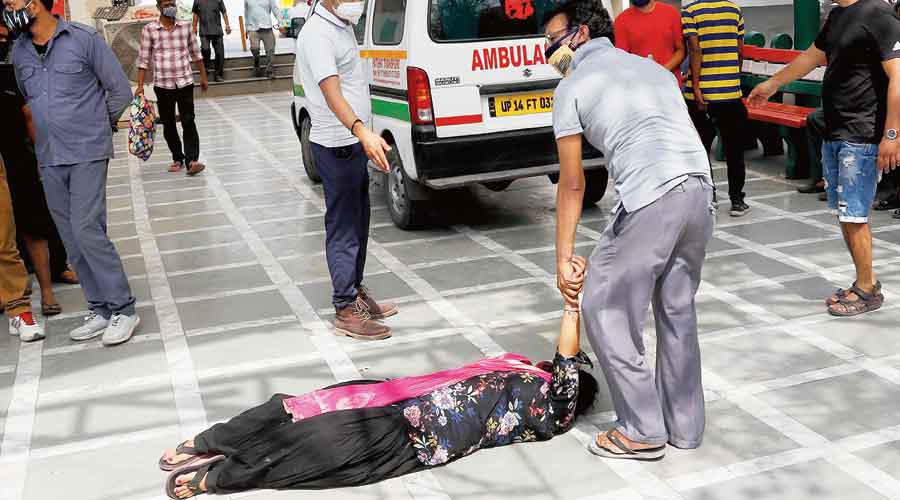 ---
New Delhi
|
Published 22.07.21, 01:21 AM
|
---
The Centre has informed the Supreme Court that the direction to make ex gratia payments to the families of the Covid dead is under "active consideration" and sought an additional four weeks' time to come out with "comprehensive and robust guidelines".
The apex court had ruled on June 30 that the relatives of patients killed by Covid would have to be paid ex gratia under a central law, brushing aside the Narendra Modi government's contention that such payouts were not mandatory.
But the court had declined to fix the amount at Rs 4 lakh each, which the petitioners had sought on the basis of central guidelines issued in 2015 for disaster victims' survivors. The court had asked the National Disaster Management Authority (NDMA) to decide the size of the payment within six weeks.
In an affidavit filed before the top court on Tuesday, the Centre pleaded that it wanted to go for an "in-depth examination" of the matter as any "accelerated formulation" of the ex gratia amount would lead to "undesirable results".
Covid has officially claimed over 4.18 lakh lives in India so far.
The court had on June 30 also directed the government to simplify the procedure for issuing death certificates to avoid unnecessary harassment of the claimants.
In its affidavit filed through standing counsel B.V. Balram Das, the Centre said on Wednesday: "The applicant respectfully submits that the exercise to frame appropriate guidelines for payment of ex gratia to the victims of the Covid-19 disaster under Section 12(iii) of the DMA (Disaster Management Act) is in active consideration of the NDMA and going on.
"It is submitted that this exercise, though at an active advanced stage, requires a little more in-depth examination before the same is finalised and implemented. Any accelerated formulation, in the respectful submission of the applicant, may result in undesirable results."
The affidavit added: "In view of the aforesaid, the applicant… is respectfully praying that this Hon'ble Court, in the interest of justice, be pleased to extend the time of six weeks granted to the applicant… to frame guidelines as enumerated in para 16(1) of the judgment dated 30.06.2021 by another four weeks so as to enable the NDMA to come out with comprehensive and robust guidelines. The present application is made bonafide and in the interest of justice."
Unlike compensation, ex gratia is an amount given as a succour to the affected or kin to tide over a sudden tragedy.
The court had passed the directions while dealing with a batch of petitions filed by advocates Reepak Kansal and Gaurav Kumar Bansal and a couple of other interveners pleading for a minimum Rs 4 lakh ex gratia to the kin of all persons who had died on account of the pandemic.