Bricks & bullets fly in Bihar bandh
Clashes and vandalism reported from different parts of the state in a bandh called by the RJD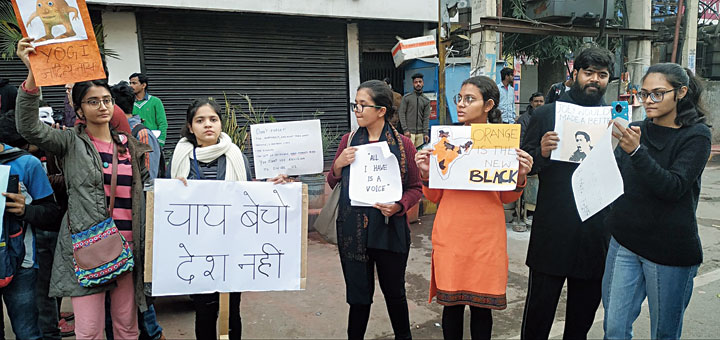 Students hold placards during a protest in Patna on Saturday against the Citizenship (Amendment) Act and the National Register of Citizens.
Picture by Sanjay Choudhary
---
Patna
|
Published 21.12.19, 09:20 PM
|
---
Bihar came to a standstill on Saturday amid a massive response to and violence during a bandh called by the RJD, the Congress and other Opposition parties against the Citizenship (Amendment) Act and the proposed all-India National Register of Citizens (NRC).
Clashes — between agitators and police as well as bandh supporters and bandh opponents — arson and vandalism were reported from different parts of the state.
Bandh supporters — mostly RJD cadres — swarmed on roads and railway tracks since early morning, disrupting train and vehicular traffic. At several places they smashed windows and windscreens of automobiles, including buses. They also stopped trains and climbed onto engines.
Aurangabad town, around 145km southwest of Patna, was the worst hit by violence. Protesters clashed with cops, who later conducted a house-to-house search operation and thrashed people at will.
"They (protesters) pelted bricks and stones from rooftops and also threw country-made bombs. Some policemen have been injured. The situation was brought under control by use of a bit of force by the police," said Aurangabad district magistrate Rahul Ranjan Mahiwal.
"We have arrested 25 persons so far. The violence seems to have been premeditated."
Bricks and bullets flew as bandh supporters and opponents clashed at Phulwarisharif on the outskirts of Patna. The police later managed to disperse the warring sides.
Munger, Bhagalpur, Araria, Purnea, Katihar, Kishanganj, Muzaffarpur, Samastipur, Begusarai, Khagaria, Vaishali, Siwan, Gopalganj, Jehababad, Nawada, Kaimur, Bhojpur and Patna districts also saw violence.
Bandh supporters damaged vehicles including buses in Patna, and also attacked media persons — blaming them to be cronies of the ruling powers.
RJD leader Tejashwi Prasad Yadav led a march in Patna. Senior party leaders including former Union minister Raghuvansh Prasad Singh, former state minister Abdul Bari Siddiqui, RJD Bihar
president Jagadanand Singh and MLA Bhai Birendra were also present.
"Prime Minister Narendra Modi's government has taken recourse to bringing laws to divide the society and country," Tejashwi said, addressing supporters at Patna's Dak Bungalow Chowk. "CAA and NRC are a conspiracy to destroy our secular social fabric. These black laws will have to go. We will keep up vigorous protests to oppose dictatorial powers."
Bihar Congress chief Madan Mohan Jha too led a march and demanded that the Centre immediately withdraw CAA and the NRC.
"Priority of the central government should have been employment, health, education and economy, but it has derailed the entire country. The entire country is protesting the acts of the BJP," said RLSP leader Upendra Kushwaha, who staged a sit-in at Dak Bungalow Chowk.
RJD supporters blocked roads with buffaloes in Hajipur in Vaishali district. The cattle were decorated with posters denouncing the CAA and the NRC.
Slogans such as "Modi tere raj mein, katora mil gaya haath mein (Modi we have got a begging bowl in your rule)" were heard in many places.