BJP, Sena clinch seat-share deal
Hindutva, nationalism and the Ram temple in Ayodhya were common ground for the BJP and the Sena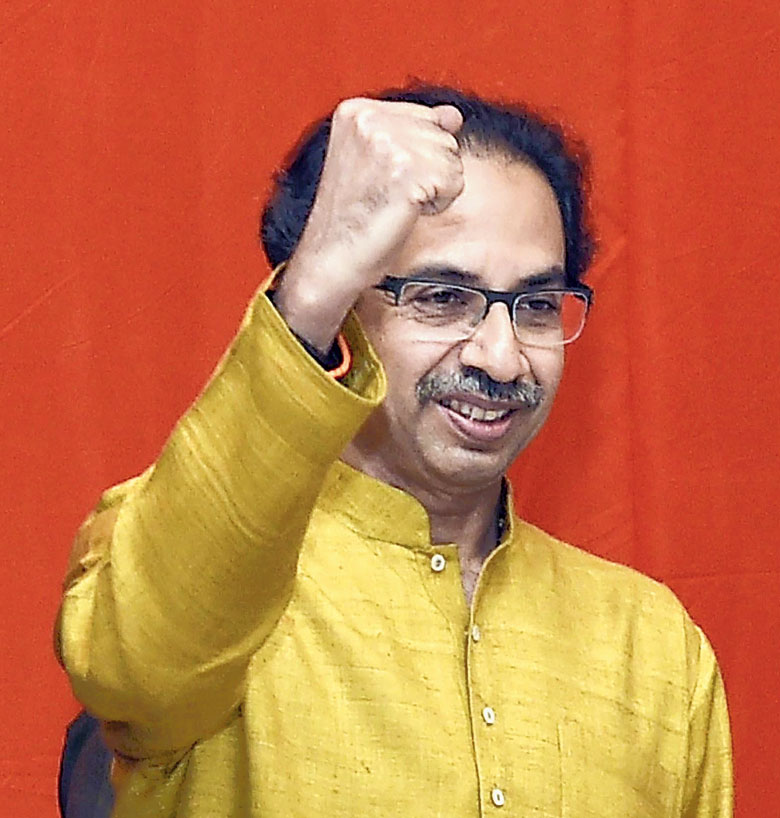 ---
|
Mumbai
|
Published 18.02.19, 10:13 PM
---
The BJP on Monday agreed to the terms its increasingly belligerent ally Shiv Sena had set to seal a seat-share deal for the upcoming parliamentary elections, both parties realising the need to sink their differences with the Opposition working towards a grand coalition.
Of the 48 Lok Sabha seats in Maharashtra, the BJP would contest 25 and the Sena 23, chief minister Devendra Fadnavis said as BJP national chief Amit Shah looked on.
For the Assembly polls scheduled later this year, the two parties would divide the seats equally between them after accommodating other allies.
"In the Lok Sabha, the BJP will contest 25 and the Sena 23 seats. In the Assembly, we will talk to our other allies and, after leaving out seats for them, the rest would be divided equally," Fadnavis said.
There was no mention of the Sena's third demand — the Maharashtra chief minister's chair that the BJP now holds. Sources said that would be settled later.
"At this moment it is important for both the parties to sink their differences and work towards a common goal. Even the Sena realises that on its own it cannot form the government in Maharashtra," a BJP leader said.
Shah, who reached Mumbai on Monday evening to hold talks with Sena chief Uddhav Thackeray, thanked the Sena and Punjab ally Akali Dal.
"The Shiv Sena and the Akali Dal have been with us in our good and bad times. There were little differences but those have been resolved now and I am happy," Shah said, adding the alliance would win 45 seats in Maharashtra.
The Sena has been one of the most vocal critics of the Narendra Modi government and Shah since the two parties went their separate ways for the Maharashtra Assembly polls in 2014.
The belligerence was evident in editorials published in the Sena mouthpiece Saamana. Uddhav had even gone to the extent of echoing Congress chief Rahul Gandhi's words — chowkidar chor hai (custodian is thief) — in connection with the Rafale deal.
On Monday, Uddhav said: "Amitji, whatever happened is in the past. Now we will work with our hearts together."
Fadnavis said Hindutva, nationalism and the Ram temple in Ayodhya were common ground for the BJP and the Sena. "We have been allies for 25 years (and have) run successful coalitions. We are both pro-Hindutva parties though there are differences. We feel all nationalist parties should come together as a challenge is being thrown at all nationalist forces in the country."
The announcement also comes in the backdrop of the BJP's defeat in three states last year — Rajasthan, Madhya Pradesh and Chhattisgarh — and the formalisation of an alliance between the Samajwadi Party and the BSP in Uttar Pradesh.
Shah and the party's minder for Tamil Nadu, Piyush Goyal, will be in Chennai on Tuesday to hold talks with the ruling AIADMK.