BJP for give-and-take on Assam-Meghalaya border issue
There are at least 12 areas of differences between Meghalaya and Assam which remain unresolved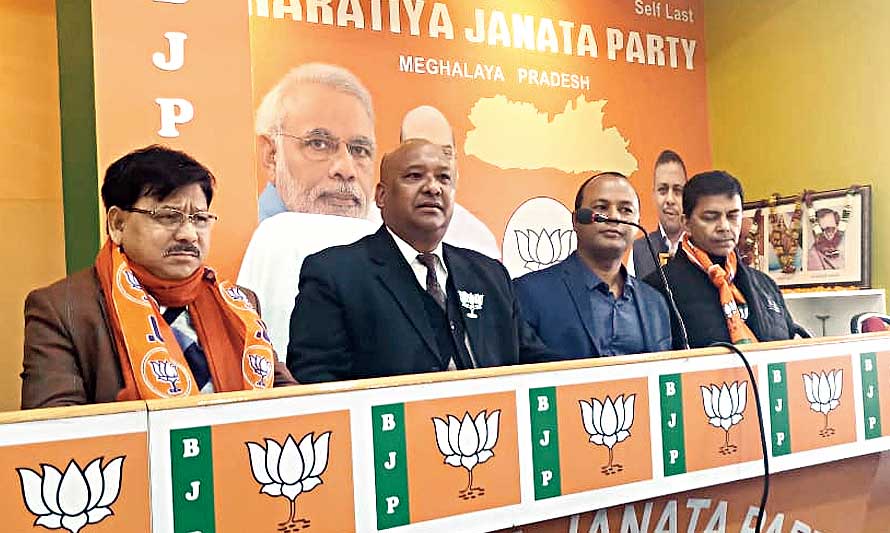 Ernest Mawrie (centre) speaks in Shillong on Tuesday
Telegraph picture
---
Shillong
|
Published 18.02.20, 06:58 PM
|
---
The Meghalaya unit of the BJP will take up with Assam chief minister Sarbananda Sonowal the pending inter-state boundary dispute while suggesting a "give and take policy" to resolve the imbroglio.
Addressing reporters here on Tuesday, BJP state president Ernest Mawrie said after March, a delegation of the party would meet Sonowal to discuss the pending dispute which has been plaguing both states for decades.
"During elections, every political party promises to resolve the dispute. But after the elections, everything is forgotten. We have resolved to take up the issue with Assam," Mawrie said, adding that it would be beneficial for both sides as a BJP government is in place in Assam.
He said a team would be formed to take the proposal forward and stakeholders, including traditional institutions, autonomous district councils and others, would also be involved.
There are at least 12 areas of differences between Meghalaya and Assam which remain unresolved. These include Tarabari, Gizang, Hahim, Langpih, Borduar, Boklapara, Nongwah-Mawtamur, Khanapara-Pillangkata, Desh Doomreah, Block I & II, Khaduli-Psiar and Ratachera, covering 2,729.14 sq km.
These were identified and categorised by the joint official committee constituted as a result of a meeting between chief ministers of the two states on May 26, 1983.
These areas have seen disputes from time to time in which mostly Assam government officials allegedly show high-handedness towards the people of Khasi-Pnar community living on the border.
On the proposal that the BJP has to resolve the dispute amicably, Mawrie suggested a "give and take policy".
On alleged corruption, which has surfaced in the Meghalaya Democratic Alliance government in which the BJP is a partner, Mawrie said he would take up the reported corruption cases with the central leaders in Delhi.
To a query on whether the BJP was satisfied with the performance of the government, Mawrie said there were some areas of concern which required to be reviewed.
The party will conduct an in-depth survey to know how many local youths are employed in the central government institutions in the state.
"We will also ensure that all the schemes from the central government are properly implemented in the state," Mawrie said.
The state BJP has reorganised its office-bearers.
David Kharsati, John Manner Marak, K.C. Boro, Bianca Kyndiah, Thomas Marak and Dipayan Chakraborty have been appointed as vice-presidents.
Former minister Sing Mulieh and party leader G.C. Nongbet will be the general secretaries.
Sarwan Jhunjhunwala has been appointed the treasurer. Six secretaries have been appointed. Krison Langstang will head the BJP Yuva Morcha while Pramod Koch will lead the Kisan Morcha.