Development plank takes a back-seat
BJP falls back on familiar Hindutva card as Gujarat polls near
Party president JP Nadda promises 'anti-radicalisation cell' while releasing BJP's election manifesto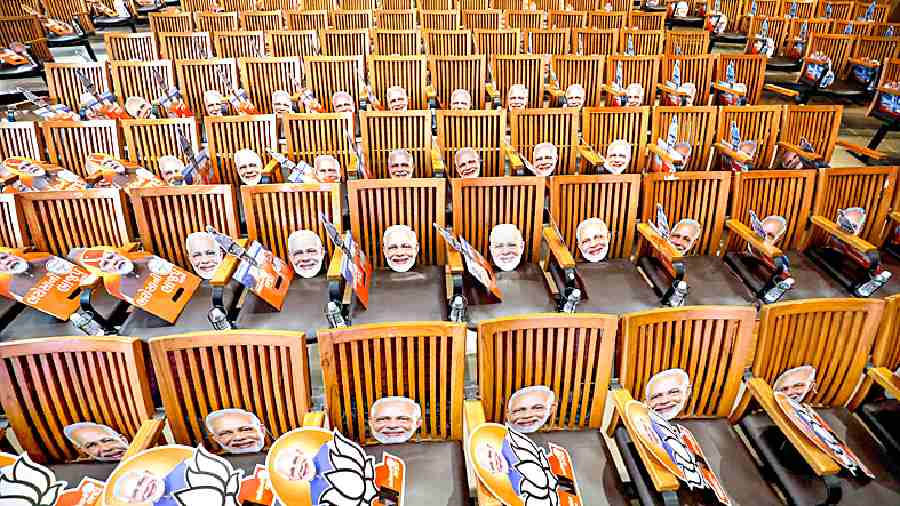 Modi masks on chairs during the release of the BJP manifesto in Gandhinagar on Saturday for the Gujarat Assembly elections.
PTI
---
Ahmedabad
|
Published 27.11.22, 03:46 AM
|
---
The BJP is rolling out the Hindutva artillery as the first round of polling nears in Gujarat, somewhat relegating the so-called "development plank" to the background. 
J.P. Nadda, the party's national president, on Saturday promised to launch an "anti-radicalisation cell to identify and eliminate all threats of destabilisation as well as the sleeper cells of radical groups, terrorist organisations and anti-India forces".
The declaration, made while releasing the BJP's election manifesto with just over 96 hours left for voting to kick off, came less than 24 hours after Union home minister Amit Shah asserted at poll rallies that his party had established "permanent peace in Gujarat" after Congress-supported perpetrators of violence were "taught a lesson" in 2002. 
Nadda did not explain why the anti-radicalisation cell was needed if "permanent peace" was prevailing in Gujarat as Shah had claimed. The BJP president spoke of supportive legislation to establish the anti-radicalisation cell.
Stating that no other party could win in Gujarat and their promises were redundant, Nadda elaborated that "a new law will be brought to help identify those who damage private and public properties. These anti-India forces will be identified and penalised."
The BJP's Gujarat manifesto doesn't stop at that. Nadda said the proposed uniform civil code would be implemented in toto. In his words: "We will ensure complete implementation of the Gujarat Uniform Civil Code Committee's recommendations." 
Not just Shah and Nadda, Assam chief minister Himanta Biswa Sarma and Uttar Pradesh's Yogi Adityanath have also shovelled polarisation fuel into the campaign.
At rallies in Gujarat on November 22, Sarma referred to the grisly Shraddha Walkar murder case and stated that "many more Aftabs" (a reference to the accused, Aftab Poonawalla) would emerge in every city of India if the country did not have a strong leader.
Asserting a necessity to have the BJP in power across the country, Sarma said: "So, it is very important that Narendra Modi be made Prime Minister again, for the third time, in 2024."
On November 19, Adityanath was given a rousing welcome with several bulldozers amid slogans of "Bulldozer Baba" in Morbi — the town that saw a devastating bridge collapse that claimed 135 lives on October 30.
Adityanath said this was an opportunity for him to address the people where "Bhagwan Krishna, Mahatma Gandhi, Sardar Patel and PM Narendra Modi were born".
Speaking about the Kashi Vishwanath temple and Ambaji temple, Adityanath said:  "Anyone who went to these places before 2014 would never believe the facelift they have got since then. Would there be a Ram Mandir today under Congress rule? Narendra Modiji and Amit Shahji threw out Article 370 from Kashmir. Who could do that?" 
Citing a possible reason for the emphasis on such issues, political and social scientist Achyut Yagnik said the BJP "knows well that its development model is not gaining any traction".
"Hindutva has been internalised in the middle classes in Gujarat through the various religious sects that have proliferated over the decades.... Hindutva always works at the crunch time when all other issues, be it price rise, unemployment or land rights, get conveniently subsumed under it. You can't speak of employment promises to an unemployed youth," Yagnik said.
Political analyst Vidyut Joshi said: "Rousing religious emotions as well as creating a fear psychosis are time-tested tools that work the best when the party is in a crisis whereas their economic policies are at variance with the aspirations of the common people, especially in the rural and semi-urban and tribal areas. Hindutva is one umbrella which successfully accommodates all contradictions under it."
The BJP manifesto proposes to establish a Gujarat Institute of Technology, convert 20,000 government schools into Schools of Excellence and create 20 lakh employment opportunities.
Nadda said Rs 10,000 crore would be earmarked to develop agricultural marketing infrastructure and Rs 25,000 crore for irrigation facilities. Nadda said the BJP would make Gujarat a $1-trillion economy over the next five years.
The BJP will offer medical insurance worth Rs 10 lakh under the Ayushman Bharat scheme, develop three medi-cities and two state-of-theart hospitals. The manifesto envisages Shramik Credit Cards for labourers with collateral-free credit up to Rs 2 lakh.
A Mukhyamantri Free Diagnostic Scheme with a corpus of Rs 110 crore will ensure free-of-cost diagnostic services for households from the economically weaker sections.
Nadda promised that the BJP government would start mobile delivery of ration across all 56 tribal sub-plan talukas (tehsils) and ensure Rs 100,000 crore under the Vanbandhu Kalyan Yojana 2.0 for all-round socio-economic development of tribal communities.
The manifesto provides for the Birsa Munda Adi Jati Samriddhi Corridor between Ambaji and Umergram to connect all tribal district headquarters with a highway.