Bihar top cop seeks, gets VRS ahead of polls
Pandey could contest the Buxar seat for the upcoming Assembly elections on a ticket of either Nitish's JDU or ally BJP: Sources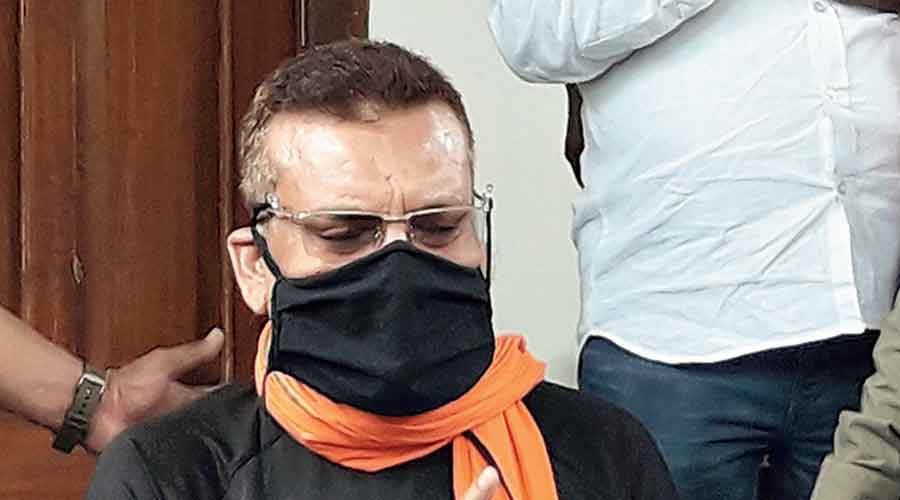 ---
|
Patna
|
Published 24.09.20, 01:57 AM
---
Bihar director-general of police Gupteshwar Pandey, who had aggressively pursued the Sushant Singh Rajput death case and questioned actress Rhea Chakraborty's "aukaat" (a derogatory word for stature) to comment on chief minister Nitish Kumar, has taken voluntary retirement and said people want him to join politics.
Pandey, who had taken VRS in 2009 as well ostensibly to contest elections but had been reinstated later by Nitish's government despite administrative and procedural objections, was to retire in February 2021.
The DGP submitted his VRS application late on Tuesday night, and the state and central governments promptly waived the three-month notice period. IPS officer S.K. Singhal has been made the Bihar DGP till further notice.
Sources said Pandey could contest the Bihar Assembly elections, due in November, on a ticket of either Nitish's JDU or ally BJP.
Rhea's lawyer Satish Manshinde issued a statement saying: "The request for VRS by DGP Bihar Gupteshwar Pandey and granting VRS by Bihar government and Union government in 24 hours is as fast as Bihar government's transfer of FIR against Rhea to CBI and acceptance of it by the Union government. This is not justice for SSR (Sushant Singh Rajput), but justice for Gupteshwar Pandey."
Pandey had made the "aukaat" comment against Rhea when her lawyer said in the Supreme Court that the Nitish government was playing politics over Sushant's death.
The DGP was unusually vocal about the case after the actor's father K.K. Singh registered an FIR in Patna in July, accusing Sushant's girlfriend Rhea and her family and friends of abetment of suicide and cheating.
No evidence has been produced so far for the charges of cheating and abetment to suicide but Rhea is now behind bars on drug charges related to the case, which is being investigated by the CBI, the Narcotics Control Bureau and the Enforcement Directorate.
The BJP government at the Centre, aided by a section of the media, has been accused of using Sushant's death to try to divert attention from the pandemic and the economic crisis and to destabilise the Maharashtra government.
Shiv Sena Rajya Sabha member Sanjay Raut said on Wednesday: "People will not trust the party that fields him (Pandey) as a candidate. The agenda behind his rajkiya tandav (dance of destruction at the government's behest) over Maharashtra and Mumbai is clear now. He was running a political agenda with his statements and is now going to be rewarded for it."
Pandey said his premature retirement had nothing to do with Sushant's case.
Asked if he would take the political plunge, Pandey said: "I will first consult the people and then decide. People from Buxar, Begusarai and Bagaha are contacting me. The people are pressurising me to join politics."
Recently a former Bigg Boss contestant had released a video hailing Pandey as "Robin Hood Bihar ke". The video featured shots of Pandey in uniform and had praised his achievements, including how he had raised his voice in Sushant's case. Neither the government nor Pandey objected to the album.
In 2006, videos had surfaced showing a man resembling Pandey showering money on a woman dancer in Sasaram. He was then a DIG. A probe was held and his salary increment stopped in 2008, but the order was not eventually implemented.
In 2012, a couple had accused Pandey, then the police chief of Muzaffarpur, of involvement in the murder of their 12-year-old daughter, Navruna Chakravarty. The CBI is probing the case and had examined Pandey in 2018.