Bihar situation makes me sad: Lalu in letter
'Had I been there, I would have spared nothing to provide relief to the people'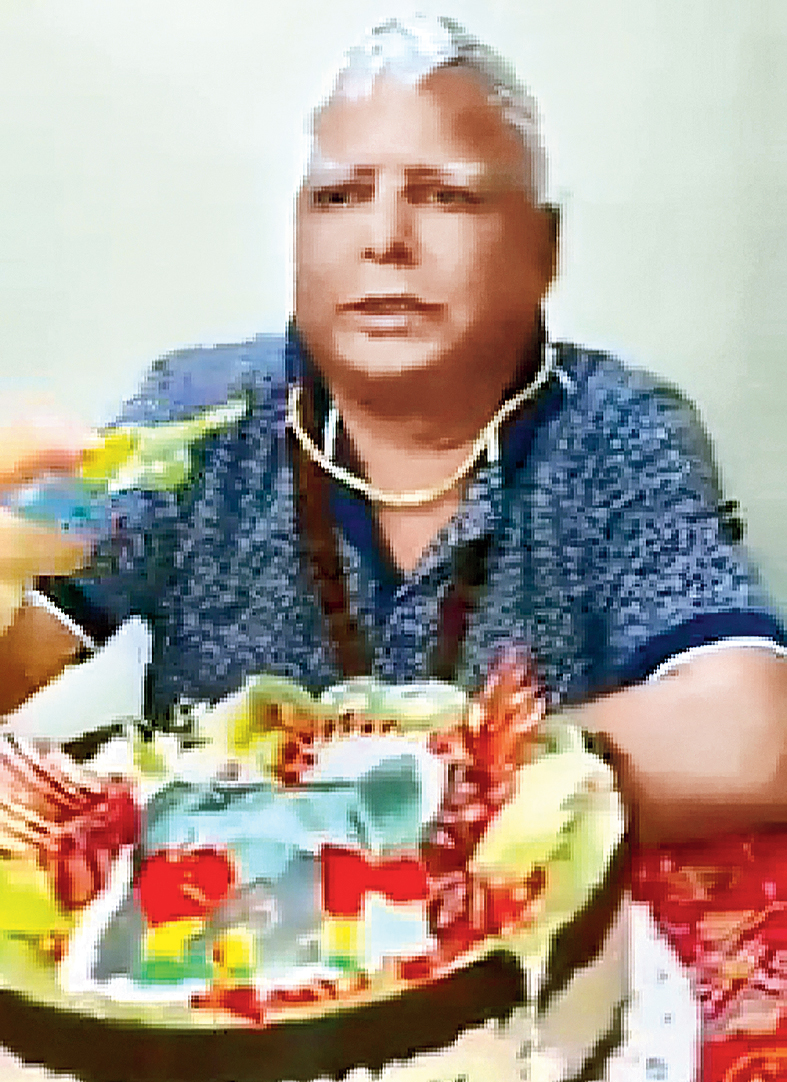 Lalu Prasad celebrates his birthday at his ward at RIMS in Ranchi on Thursday.
(PTI)
---
Suri
|
Published 12.06.20, 07:51 PM
|
---
Incarcerated Rashtriya Janata Dal (RJD) chief Lalu Prasad thanked the people of Bihar on Friday for showering good wishes on him on Thursday on his birthday and expressed sadness over the present situation in the state in which they are suffering.
Serving time in fodder scam cases, Lalu is at present undergoing treatment at
the Rajendra Institute of Medical Sciences (RIMS) in Ranchi. RJD sources said he gave the letter to his son Tejashwi Prasad Yadav when he went there to meet him on his birthday.
"I am sad at the situation of Bihar. Politics is miles away from my mind while the pain of our brothers and sisters of the state is deeply ensconced in it. Had I been there, I would have spared nothing to provide relief to the people," Lalu said in the letter addressed to the people of the state.
Stressing that every congratulatory message to him on his birthday was like a support to the agitation, fight against injustice, fountain of hope and a ray of change, Lalu, who is now 73, said that though he was not well at this juncture of age, his enthusiasm and obsession for working for the people has not decreased even a bit.
"Lalu still has the same energy with which he had left his village Phulwaria (in Gopalganj district) to go to Patna to remove inequality between the high and low, feudalism and dictatorship. It is the affection and faith of the people of Bihar that has not allowed this energy to diminish," the RJD chief said in the letter.
Praying that the danger of Covid-19 passes away from Bihar soon and the state again smiles, the RJD national
president said: "Today the people of my state are in trauma and sorrow. They are living without basic amenities, walking on the roads, and dying of hunger. Whenever I hear the story of crying labourers or feel their tear drops, I want to slap their shoulder in my own style and say why do you worry when I am with you."
"But I am forced by the circumstances and locked in the chains of conspiracy. I regret those who are free and in power, yet are helpless. I wonder how could they sleep or eat," Lalu added.
The RJD boss also praised the leadership of Tejashwi, and the way he is taking ahead the work started by him (Lalu). He also thanked the party workers for feeding 5 lakh people to celebrate his birthday.
Senior RJD leaders told The Telegraph on the condition of anonymity that Lalu's emotional letter was not only to thank the people, but also "instill confidence among them in this hour of crisis that the party was standing with them."