Bihar police officer lynched in North Dinajpur village
Three persons were arrested by Bengal cops on Saturday in connection with the incident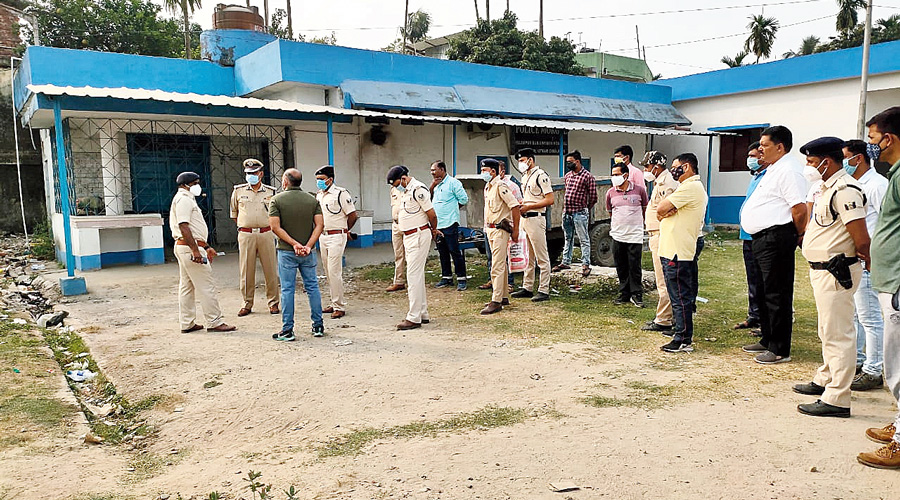 Senior police officials from Bihar at the incident site at Panthapara village in Uttar Dinajpur district.
Sanjay Choudhary
---
Patna
|
Published 11.04.21, 12:07 AM
|
---
A Bihar police officer was allegedly lynched by a mob in a village in North Dinajpur district of Bengal on Friday night where he had gone probe a theft case, police said.
Three persons were arrested by Bengal police on Saturday in connection with the incident. Raids were going on to apprehend others involved in the incident.
Kishanganj station house officer Ashwini Kumar, 50, had gone with his team to neighbouring Panthapara village in connection with a case of motorcycle theft registered at his police station.
"Our Kishanganj SHO Ashwini Kumar had gone to Panthapara to conduct a raid in connection with a case of motorcycle theft in his area. A mob lynched him there," Purnea range inspector-general of police Suresh Prasad told reporters.
Asked whether Bengal police were also present at the spot, Prasad said: "They were also coming. They arrived there. We do not have complete information. We will see what has happened."
However, a media release by the Bihar police headquarters said that Ashwini had gone with the force from his police station and other police stations to the village to question an accused.
"The local villagers attacked the police team during the questioning in which SHO Ashwini Kumar was martyred. An FIR under proper sections is being registered against the accused," the release said.
The arrested persons have been identified as Firoz Alam, Abuzar Alam and Sahinur Khatoon. Prasad and Kishanganj superintendent of police are camping at the spot.
"The Bengal director-general of police has assured Bihar DGP of full cooperation in the case," the release said.
Ashwini's body was taken to Islampur sub-divisional hospital in Bengal for post-mortem and then brought to Kishanganj where senior police officers and his colleagues paid tributes. His body will be later taken to his native village Panchu Mandal Tola under Janaki Nagar police station in Purnea district. Ashwini's wife and three children live in Patna.
Asked about the number of police personnel in the team that went with Ashwini, additional director-general of police (headquarters) Jitendra Kumar told The Telegraph that he did not have the exact figure.
Asked whether the police personnel who had gone with the SHO were also injured, he said: "The team members have received minor injuries — nothing that could be called worrisome."
However, the incident raises several questions like the reason for the police team to decide to go and question an accused at midnight, the efforts made by the policemen accompanying Ashwini in saving him and whether Bengal police provided the desired cooperation.
"These things will come out in the course of investigation. I have talked about the incident. I have nothing to more to say beyond whatever is given in the media release," Jitendra told this newspaper.
However, sources said the entire operation was botched up as the police team had not anticipated that the villagers would get aggressive.
The armed police personnel who had gone with Ashwini allegedly fled, they said.
Bihar Policemen's Association president Mrityunjay Kumar Singh alleged: "Our inspector was killed due to the non-cooperation of Bengal police. He had asked them for back-up force, but it was not provided. There is no law and order left in Bengal. We are requesting the Union home ministry to intervene in the matter and take strict action against those responsible for the death of Ashwini."
Bihar police have started the process to provide grants and benefits to the kin of the deceased officer. A member of his family will be provided a government job.