Bihar floods hit 3 lakh people
Darbhanga worst affected district; Met department has predicted rains will continue for the next 48 hours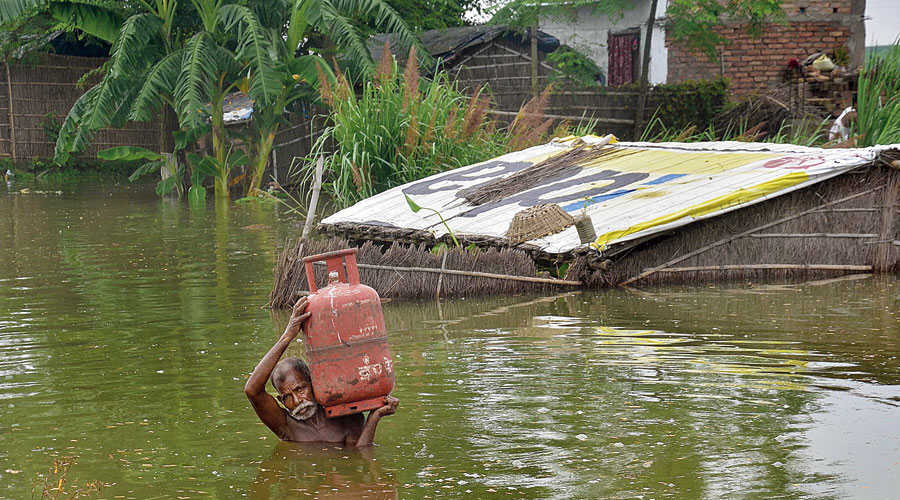 ---
Patna
|
Published 20.07.20, 03:32 AM
|
---
At least eight districts of Bihar and around 3 lakh people have been affected as flood fury hits the state on Sunday. The government swung into action and launched rescue and relief operations.
The situation could worsen further as heavy rains are continuing in north Bihar and Nepal, and the meteorological department has predicted that it will continue for the next 48 hours.
Darbhanga is the worst affected district as embankments along Kamla Balan river breached at several places and affected 1.58 lakh people. East Champaran, Sitamarhi, Sheohar, Supaul, Kishanganj, Muzaffarpur and Gopalganj are the other affected districts.
A disaster management department (DMD) flood report said that around 12,000 persons have been displaced in the affected districts of which 2,300 are in relief camps. 
Several other districts like Katihar, Saharsa, Araria, Madhubani and Samastipur have also been affected by floods to some extent though the state government is yet to recognise it. Floodwaters from Bagmati river have entered a couple of low-lying wards in Darbhanga town also, leading to a heavy rush of people to buy essential commodities, lest they become marooned for a few weeks.
"Floods have come early this year because of a heavy onslaught of rains. We thought of keeping some grocery to sustain us for a month if the situation deteriorated," said Dhirendra Jha, a teacher and resident of Darbhanga.
Zamindari embankments built for agricultural purposes along Dhaus river in Gopalpur in Darbhanga district got breached at a couple of places, while Kamla Balan and Bagmati rivers in spate are also playing havoc. The Kusheshwarsthan area has also been affected.
"Around 30,000 families in low-lying areas of the district have been affected by floods. We have started 11 community kitchens at which 2175 people had food on Sunday. We have also started plying 150 boats to ferry people," Darbhanga DM Thiyagrajan SM told The Telegraph.
Kosi river, also known as the 'sorrow of Bihar' has brought floods in Supaul and Saharsa districts, forcing a large number of people to abandon their huts and pitch tents made of polythene sheets on national and state highways running through the areas.
The river has breached smaller roads at many places, disrupting communication with block and district headquarters.
Though the floods have started just now, an acute crisis is the making as paddy crop, cattle fodder, huts are getting destroyed and a scarcity of potable water is also being noticed.