Bengal on PM's radar
Modi used the Bihar outcome as a launch pad to boost the morale of party workers, particularly in the neighbouring state where the BJP has never been in power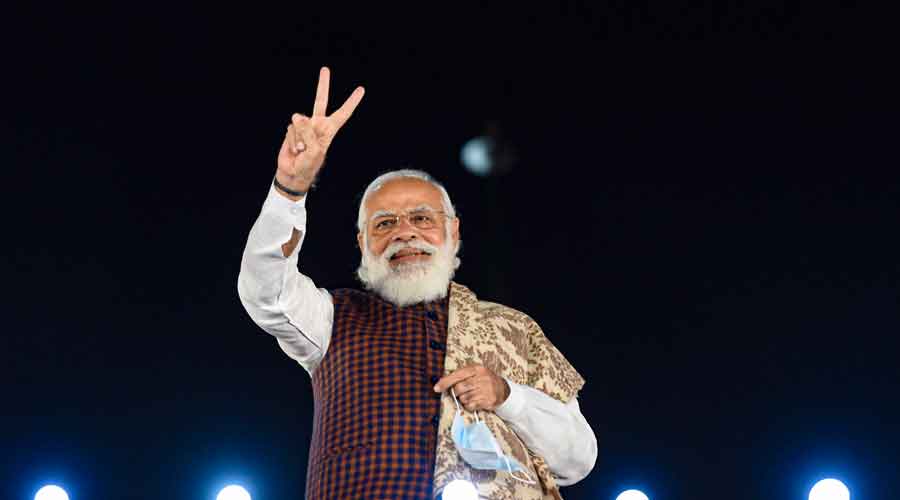 Prime Minister Narendra Modi flashes the victory sign in New Delhi, a day after the NDA garnered majority in the Bihar Assembly elections
PTI
---
New Delhi
|
Published 12.11.20, 01:21 AM
|
---
Prime Minister Narendra Modi on Wednesday endorsed the continued leadership of Nitish Kumar in Bihar and appeared to turn his gaze towards poll-bound Bengal where he read out the "writing on the wall" to the BJP's rivals.
"Those who can't challenge us through democratic ways have taken to killing BJP workers in some parts of the country," Modi said without naming Bengal, where Assembly elections are due in 2021. He was speaking at the BJP headquarters here to celebrate the Bihar and bypoll victories.
"I don't need to warn. That will be done by the people. Elections come and go, victory and defeat happen.… This dance of death can never be allowed in a democracy. It can't win a mandate and this writing on the wall should be read," Modi said amid loud slogans of "Bharat Mata ki jai".
The BJP believes that the victories in Bihar and the by-elections have provided the party with the perfect optics to gear up for the Assembly elections in Bengal and Assam next year. Modi appeared to be using the Bihar outcome as a launch pad to boost the morale of party workers, particularly in Bengal where the BJP has never been in power.
Modi drew attention to the BJP's rise from "two MPs and two rooms" to "every corner of the country".
He said the BJP was the only party to have increased its strength after three terms in power --- a reference to the BJP winning the highest number of seats among the NDA partners --- but backed chief minister Nitish to lead the government.
"We, workers of the BJP, shall work under the leadership of Nitish Kumar and leave no stone unturned to serve the people," Modi said.
The endorsement from the BJP's talisman would put to rest speculation over the leadership of the NDA in Bihar after the poll results pulled the BJP to 74 seats, pushing Nitish's JDU to third spot with just 43 seats.
The Prime Minister devoted the better part of his 40-minute speech to lauding the BJP for winning the trust of the people election after election. He highlighted how the BJP had won not only in Bihar but across the length and breadth of the country in the by-elections and emerged as a true national party.
"Not just in Bihar, we won in Manipur in the far east, Gujarat in the far west, Karnataka and Telangana in the south, in Madhya Pradesh and in Uttar Pradesh," Modi said.
"Today the BJP resides in the heart of every citizen of the country.… If you work sincerely for the development of the country, people will bless you."
Modi seemed to be chipping away at the perception that women were "silent voters" of Nitish. Referring to discussions on "silent voters" in Bihar, he said women had been the largest backers of the BJP because the party had ensured their safety, security and dignity.