Tejashwi rallies witness huge turnout of youths
RJD vows to give jobs, not 'pakodas'
Runaway unemployment could be a reason for youngsters flocking to the young leader's rallies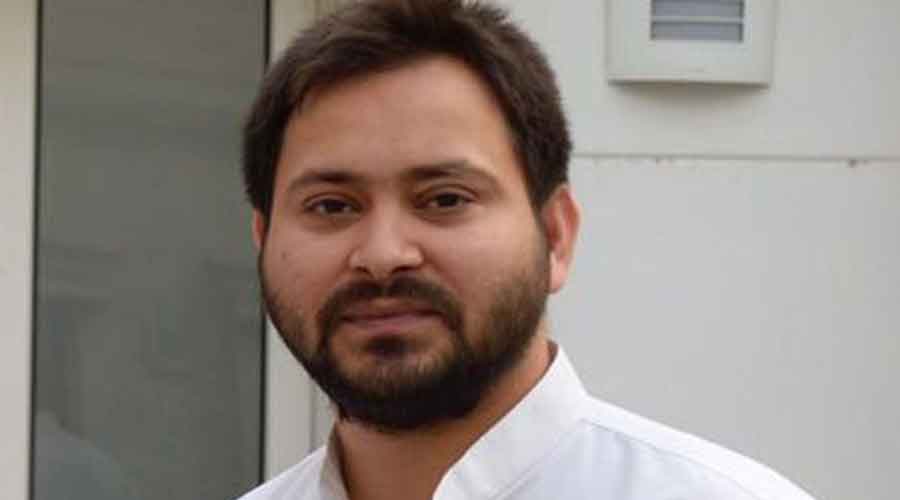 Tejashwi Prasad Yadav
File picture
---
Patna
|
Published 25.10.20, 12:00 AM
|
---
Bihar's main Opposition party, Lalu Prasad's Rashtriya Janata Dal, has in its Assembly election manifesto promised to provide 10 lakh government jobs immediately, waive farm loans, develop smart villages and offer better healthcare facilities.
"This is not a manifesto, this is our vow. This is our determination to bring a change, which is going to come true. The aim is to develop Bihar," RJD leader Tejashwi Prasad Yadav said on Saturday.
"Our first cabinet decision after coming to power will be to provide 10 lakh government jobs. We could have promised 1 crore jobs like other parties just for the sake of elections, but we did not because we have to fulfil the promise," he added.
"And when we say jobs, these will be government jobs. There is a distinction between job and employment. Frying pakodas, cleaning garbage or drains are also employment. But we are talking about government jobs," Tejashwi said, taking a dig at Prime Minister Narendra Modi who had said in 2018 that selling fritters was also a type of employment.
Tejashwi's election rallies are witnessing a huge turnout of youths, which is said to have caused some worry in the NDA camp. Political experts said that runaway unemployment could be a reason for youngsters flocking to the young Tejashwi's rallies.
Arguing that 10 lakh jobs would fulfil the requirements of Bihar's workforce, Tejashwi, the chief ministerial candidate of the Grand Alliance, took a swipe at chief minister Nitish Kumar and the BJP, which has promised 19 lakh jobs in its manifesto released earlier this week.
"Nitishji gave up on hearing about 10 lakh jobs and asked where was the money. If he cannot, then how is the BJP promising to provide jobs? They are just trying to fool the people," the RJD leader said.
The RJD, which is leading the Grand Alliance that includes the Congress and three Left parties — the CPM, CPI and the CPI-ML — is the last among the bigger parties to release its manifesto. The state's 243 seats will vote in three phases on October 28, November 3 and 7. The results will be announced on November 10.
The RJD manifesto includes messages from former chief ministers Lalu Prasad and Rabri Devi.
While Lalu has sought to remind voters how he had taken Bihar towards equality and harmony and how the state had slipped on the development index in the past 15 years, Rabri has said living in Bihar had become a problem.
"People are drowning in sorrow. Unemployment, crime, scams, atrocities on women are at the extreme. This indicates that Nitish has completely failed as chief minister," Rabri said.