Modi praises Nitish role in 'new Bihar'
The PM's pat for him comes as a relief for the JDU at a time another NDA ally, Lok Janshakti Party, has been castigating the CM and threatening to field candidates against his party's nominees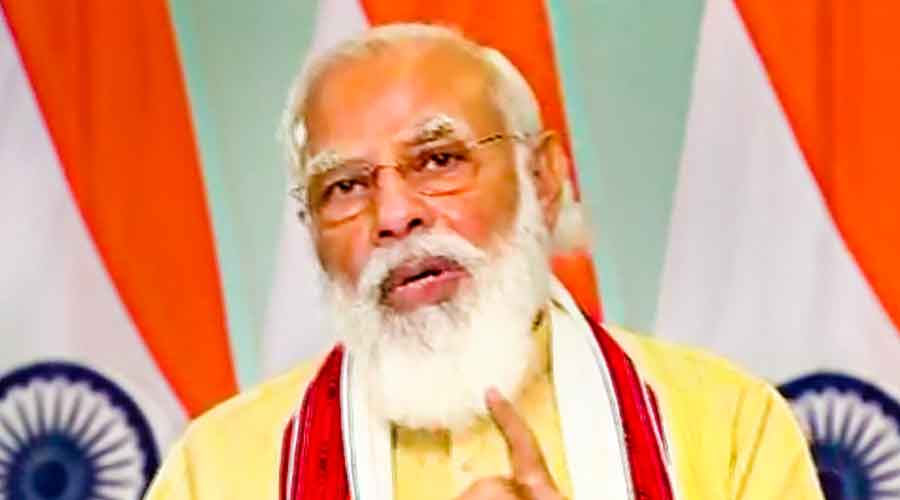 ---
---
Prime Minister Narendra Modi on Sunday credited Bihar chief minister Nitish Kumar with a "big role" in achieving a "new India and new Bihar", appearing to endorse him as the face of the NDA in the poll-bound eastern state.
Modi's pat for Nitish comes as a relief for the Janata Dal United at a time another NDA ally, the Lok Janshakti Party of Ram Vilas Paswan, has been castigating the chief minister and threatening to field candidates against JDU nominees.
Nitish's relations with Modi had historically been fraught, with the JDU leader once "banning" the then Gujarat chief minister from campaigning for the NDA in Bihar and later quitting the alliance when Modi was made its prime ministerial candidate for the 2014 elections.
As he inaugurated three petroleum projects in Bihar on Sunday, Modi painted a grim picture of the state's level of development before Nitish assumed power in late 2005. He, however, did not name Lalu Prasad or the Rashtriya Janata Dal.
"There was a time when road connectivity, rail connectivity, Internet were not even discussed (in Bihar). Being a land-locked state, Bihar faced many challenges," the Prime Minister said from Delhi through videoconferencing.
"Nitish Kumar certainly has played a big role in the (movement) towards a new India and new Bihar."
Modi's thumbs-up to Nitish comes at a time the JDU has been worried not just about the LJP's attacks but also about a BJP lobby that has been alleging simmering anti-incumbency against the chief minister and suggesting the polls be fought in Modi's name.
The real test will come when the allies work out the seat shares. Many in the JDU fear that as quid pro quo for the endorsement of Nitish as the NDA's face in Bihar, the BJP might demand a larger seat share.
Relations between the JDU and the LJP have soured over Paswan's criticism of Nitish's handling of the pandemic and the migrant crisis, and Nitish's act of joining hands with former chief minister Jitan Ram Manjhi, a Dalit rival of Paswan.
This is the second time in recent days that Modi has launched development projects in Bihar and sought to connect with its voters.
On Sunday, he began his speech with a few lines in Angika, a dialect spoken in the Bhagalpur region. Last week, he had spoken Bhojpuri, another Bihari dialect, while launching a raft of animal husbandry and fishery schemes.
Modi said many education institutions had been established in Bihar under the leadership of Nitish, stressing that Bihari youth were earlier forced to migrate to other states for higher studies.
He praised the people of Bihar, particularly the youth, saying the intellect and hard work of the state's migrants had contributed immensely to the development of many states across the country.
"It will not be an exaggeration to call the state a powerhouse of talent," Modi said.