Amit Shah gives Bihar the miss
Giving TV interviews last month after recovering from Covid-19, he had said he was fit and fine and would campaign in the state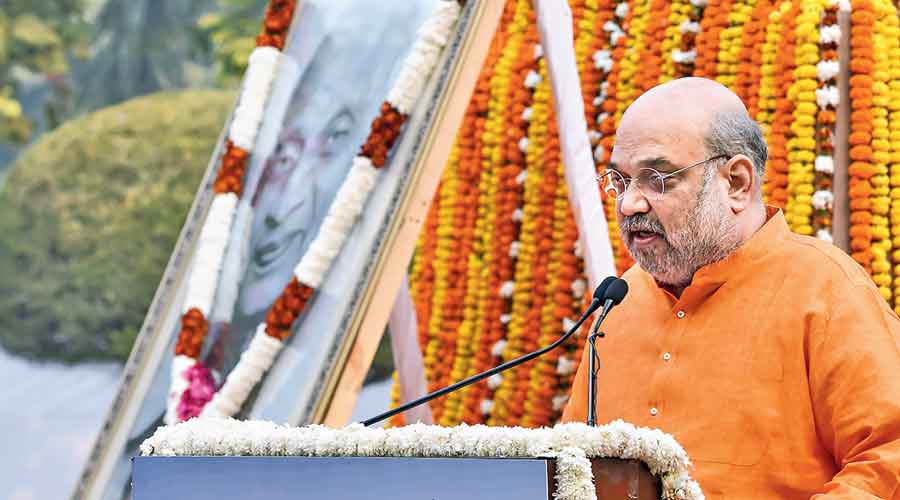 ---
New Delhi
|
Published 03.11.20, 02:02 AM
|
---
Home minister Amit Shah has stayed off the Bihar poll campaign that's nearing closure, going back on his own promise and in the process raising eyebrows in Delhi's political corridors.
Giving TV interviews last month after recovering from Covid-19, Shah had said he was fit and fine and would campaign in Bihar.
"I will go to Bihar after October 25," Shah had said in an interview to ZEE News on October 20. "I'm fully fit now. I had corona and later there was weakness and due to inadequate immunity level, doctors had advised isolation," Shah had said, seeking to dismiss rumours about his health.
So far, however, he has not gone to Bihar and there are no plans yet, party insiders said. The second phase of voting is on Tuesday and the Bihar poll campaign for the last phase closes on November 5.
Some party leaders said Shah was keen to campaign but had been advised not to for health reasons. "Though Shah was fit and fine, doctors have advised him precaution and rest for some more time," a leader said.
However, the home minister has been stepping out of home and attending events. He was seen with the President and the Vice-President on October 31, paying tribute to Sardar Vallabhbhai Patel.
Before this he had also attended the Police Commemoration Day event and made a speech.
Shah is also scheduled to be in Bengal for two days from November 5, to take stock of the party's organisational preparedness for the polls next year. Earlier, BJP chief J.P. Nadda was to go to Bengal but in a change of plan the party has announced Shah would go instead.
Observers are pointing to all this to question the "health reasons" excuse. People in political corridors are wondering why Shah is ignoring the Bihar polls and going to Bengal. While BJP leaders are tight-lipped, the Opposition camp privately is citing this as an indication of the NDA's defeat in Bihar.
"We too were hearing about Shah's campaign but now he seems to have backed out. Shah seems to have sensed sure defeat," a Congress leader said.
Shah's absence has attracted attention and led to all kinds of whispers since he was the chief strategist and campaigner in the last Bihar polls.
As BJP chief then, he had led an aggressive campaign, holding rallies, road shows and backdoor strategising. His speech in the final rounds still rings in Bihar where he had said that if the Nitish-Lalu-Congress combine wins then crackers would burst in Pakistan. This was read as a sign of desperation in the BJP camp staring at a defeat.
"It is a similar kind of situation now too and so Shah has pulled himself out," an RJD leader said.
In Shah's absence, Nadda is in the lead role. He is holding rallies, road shows, giving interviews to stress that even if the BJP gets more seats, the chief minister' post will go to ally Nitish Kumar.
This reiteration, many party leaders feel, was a wrong strategy and could cost the party dearly. "Our committed voters don't want Nitish as chief minister. So why are we repeatedly exhibiting our commitment to make Nitish CM?" a Bihar BJP leader wondered and said this could turn away upper caste voters.
Conspiracy theories doing the rounds in Delhi have it that with Shah keeping off the Bihar campaign, the entire responsibility, if the NDA loses, would have to be borne by Nadda.
Since Nadda took over from Shah in January this year, the BJP has lost polls first in Delhi and then Jharkhand. A hat-trick would surely cast a shadow on Nadda's image.