Modi savours litti chokha after Delhi defeat
The PM has sent the first postcard to the people of Bihar expressing his love for litti chokha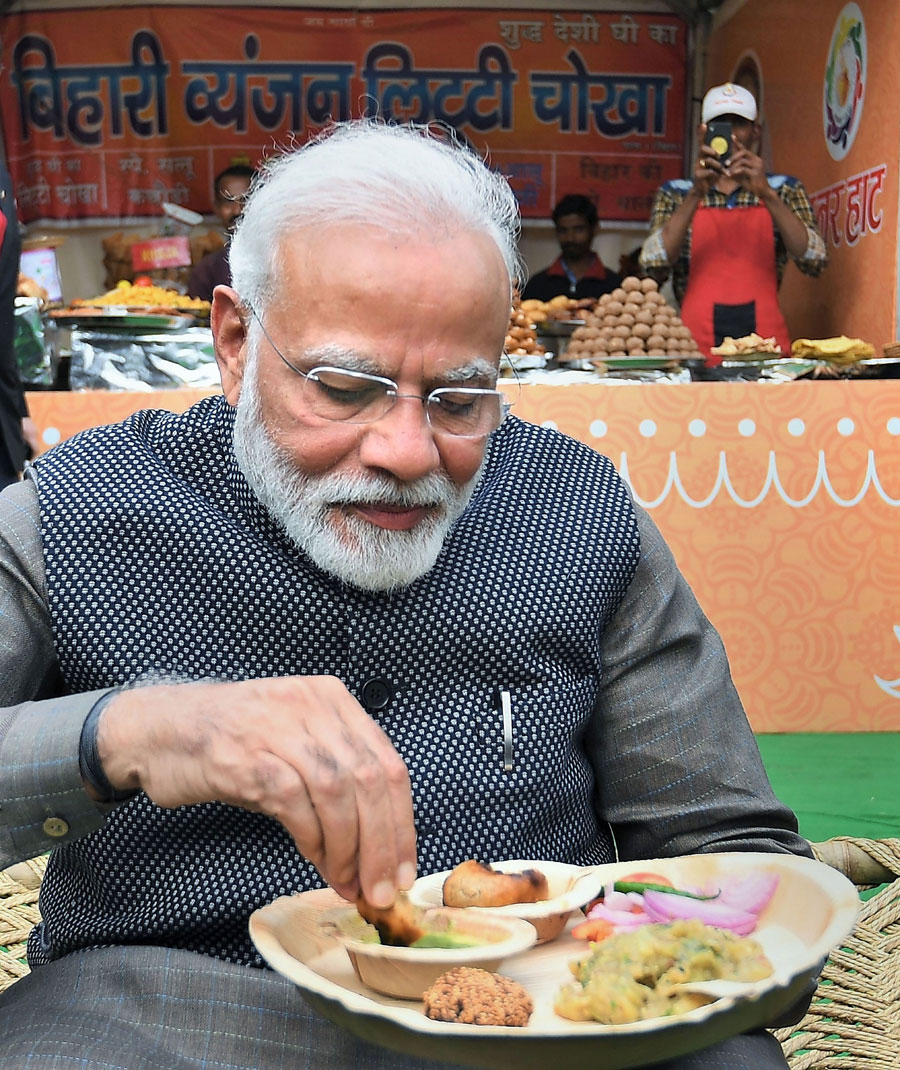 ---
---
The BJP is not wasting any time after its Delhi Assembly elections defeat. Narendra Modi relishing litti chokha at the Bihar stall of the 'Hunar Haat' near the India gate on Wednesday indicates that all eyes are on the Bihar Assembly elections.
The gesture is not meaningless, considering the fractured mandate the people of Bihar served to its political parties in the 2015 Assembly elections. Despite the 'Modi wave' in the country, it was the Rashtriya Janata Dal which emerged as the single largest party that year, followed by the Janata Dal (United), BJP and the Congress.
The present chief minister Nitish Kumar, who won the 2015 Assembly elections in alliance with the RJD and the Congress, broke away from the Mahagatbandhan in mid 2017 and joined hands with the BJP.
Had tasty Litti Chokha for lunch along with a hot cup of tea... #HunarHaat pic.twitter.com/KGJSNJAyNu

— Narendra Modi (@narendramodi) February 19, 2020
Political strategist Prashant Kishor, came out against both of his previous clients—JD (U) and BJP on Tuesday when he questioned the sincerity of Nitish Kumar, and JD (U) leader over his ideology of Gandhi. Kishor's firm I-PAC was roped in by the BJP for its 2014 Lok Sabha campaign.
"In all my talks with Nitish Kumarji, he always emphasized to me that he cannot abandon the values and teachings of Gandhi, JP (Narayan), and Lohia… I want to understand how he would be able to do that when he is standing with the party which worships Godse," Kishor said at a press conference in Patna on Tuesday.
The voting pattern indicates that Bihar is going to be a different battleground than Delhi. The entire poll dynamics could eventually change if Lalu Prasad, the principle strategist of the Mahagatbandhan, is released on bail towards the end of the year.
For now, it's Modi who has sent the first postcard to the people of Bihar expressing his love for litti chokha.