Bhubaneswar Municipal Corporation assigns 11 transgender persons to persuade tax defaulters to pay their dues
Within a fortnight, they have been able to collect Rs 31 lakh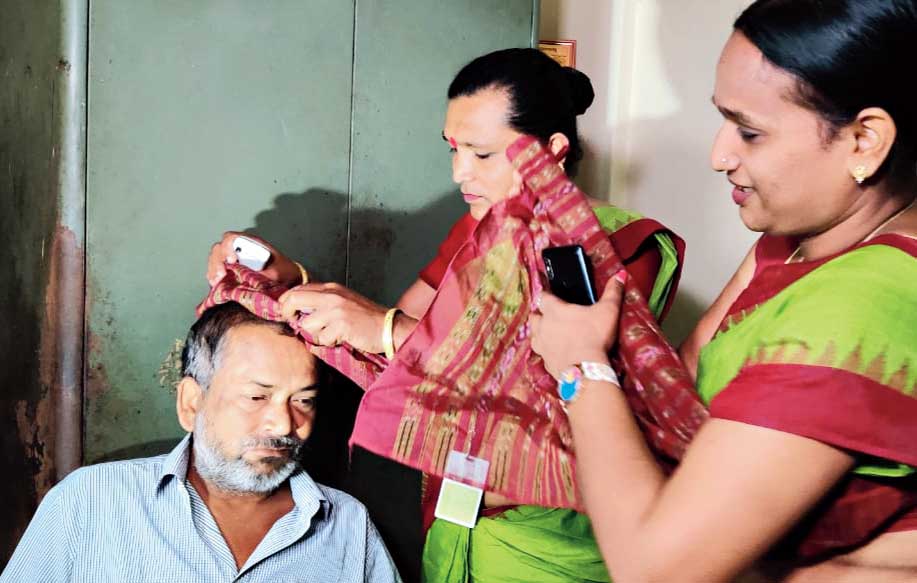 ---
Calcutta
|
Published 23.02.20, 08:38 PM
|
---
The Bhubaneswar Municipal Corporation, which runs the capital city of Odisha, has assigned 11 transgender persons to persuade tax defaulters to cough up their dues.
The corporation and the collectors are enthused by the initial response to the drive that was launched a fortnight ago. Many defaulters have paid up, apparently to spare themselves the possibility of embarrassment although one of the collectors said they had been extremely courteous.
The corporation says its intentions are noble: create a new avenue for transgender people and also facilitate the collection of dues.
But an activist working on transgender persons' labour rights and work conditions expressed the fear that the drive would "deepen existing prejudices" and perpetuate the same fear and loathing that are held against the community.
Meghna Sahoo, one of the collectors who leaves for work around 10am in their uniform (green sari and red blouse), knocks on houses and business establishments to remind major tax defaulters to pay their dues.
"We are collecting the tax with the tagline: Tax Dijiye, Dua Lijiye (Give tax and take blessings). We are very polite in our behaviour," Sahoo said.
"We started work only a fortnight back. The response so far has been good. Within a fortnight, we have been able to collect Rs 31 lakh," Sahoo, who appears to be in her late twenties, told The Telegraph.
Srimanta Mishra, deputy commissioner of the civic body, confirmed that the initiative had paid off.
Mishra said: "The response has so far been good. With this initiative, we have been able to fulfil two objectives. It creates a new avenue for transgender people and also helps to collect our dues."
Sahoo, an MBA degree holder from Sambalpur University, said the transgender people "signed an MoU with the corporation" before they got going. "We have been assigned a job to collect Rs 11 crore. We will earn 1 per cent on up to Rs 30 lakh tax collected. Similarly, 1.5 per cent will be given on tax collected between Rs 40 lakh and Rs 60 lakh. We will get 2 per cent of the tax amount if we collect more than Rs 60 lakh," she said.
Isn't the target of Rs 11 crore a bit stiff?
"We will adopt a new strategy in March to achieve the target," Sahoo said. "We will involve ward officers of the BMC in our effort. With their help, we will send notices immediately to the defaulters and remind them to pay the money. We will also remind them that their money will be utilised for creating better avenues and facilities for the people of Bhubaneswar."
Sahoo added: "We cannot immediately force our community members to change their habits, like moving out late in the night to meet potential customers. But once they start earning money, they will quit all their bad habits. We are quite hopeful of making a change in their habits and culture through our initiative."
Sahoo has set up an NGO for this purpose.
But Anindya Hajra, an activist with Pratyay Gender Trust in Calcutta, said: "The act of employing transgender persons as collection agents for loan defaulters needs to be understood in the context of existing social attitudes that mark the very community, in the first place, as those whose traditional profession is viewed as routine extortion and the community as nuisance creators.
"This deepens existing prejudices that are held against the community and pushes them further towards a precariousness typical of the informal labour economy where transpersons find little or no work or where their labour conditions are already mired in complications."
Hajra added: "In a situation where, according to the NHRC, more than 90 per cent of transgender persons are deprived of any economic opportunity, the apparent progressive step of giving employment to transgender persons fails as a social experiment since it employs them exactly in the same work role for which they are despised as a gender and community. It perpetuates the same fear and loathing that are held against them, maintaining a virtual and literal status quo."