Bhima-Koregaon case: Varavara Rao shifted to hospital from prison
He has been sent to Mumbai's JJ Hospital after a public outcry over his deteriorating health in an overcrowded prison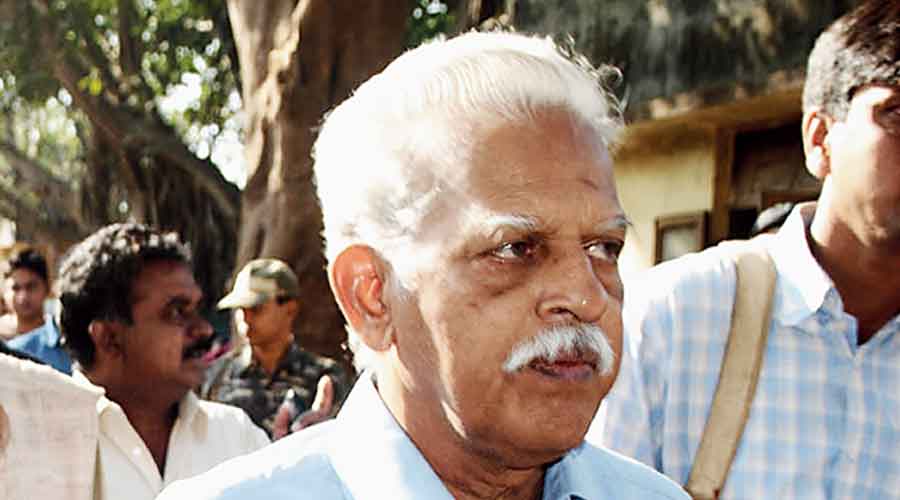 Varavara Rao
File picture
---
New Delhi
|
Published 15.07.20, 01:29 AM
|
---
Poet Varavara Rao was shifted to Mumbai's J.J. Hospital on Monday evening after a public outcry over his deteriorating health in Navi Mumbai's overcrowded Taloja Central Prison.
The 79-year-old Telugu litterateur has been in jail since 2018 in connection with the Bhima-Koregaon violence, a case that is currently being probed by the National Investigation Agency.
Prison superintendent Kaustubh H. Kurlekar told The Telegraph on Tuesday: "His condition is stable and he has been sent to J.J. for age-related difficulties. Further treatment will be done on the advice of the doctors there."
Ranjit Mankeshwar, associate dean of J.J. Hospital and its attached Grant Government Medical College, told this newspaper that Rao's stay in hospital would depend on the results of the tests he was undergoing.
"He was sent here with a complaint of giddiness. A workup is being done on him," Mankeshwar said.
A workup is a group of tests that are done to evaluate the complete health of a patient.
Several MPs, intellectuals, activists and Rao's family in Hyderabad had demanded that he be shifted to a hospital immediately, after he seemed to hallucinate during a phone call with his wife last Saturday.
Co-accused prisoner and his caregiver Vernon Gonsalves had told the family that Rao had been unable to perform daily routines like walking, brushing his teeth or going to the bathroom by himself.
Rao had been admitted to J.J. Hospital in May, and his electrolyte levels had been found to be low.
Lawyer Susan Abraham, Gonsalves's wife, as well as a family member of Rao in Hyderabad said on Tuesday that they had not been contacted yet by prison officials or the hospital.
The Elgaar Parishad meeting by Ambedkarites in Pune on December 31, 2017, was meant to commemorate the second centenary of the Battle of Koregaon against the Peshwa's army. The meet is being probed for alleged Maoist incitement of the violence that followed, and a purported plot to attack the Prime Minister's rallies. Besides Rao, 10 others are behind bars in the case.